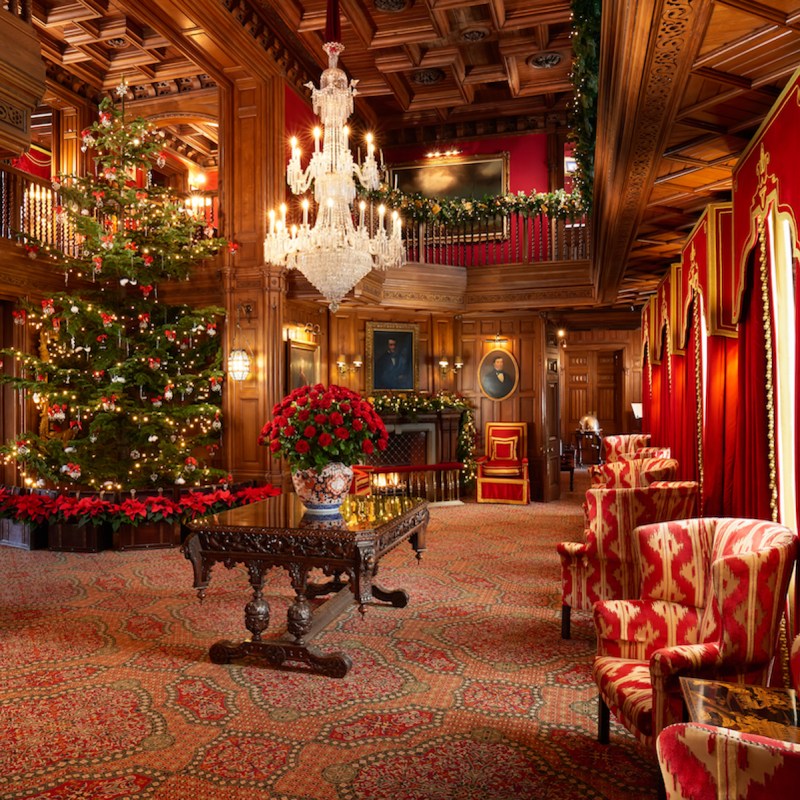 The Emerald Isle is the perfect place to film holiday movies with its gorgeous landscapes, charming villages, and quaint seascapes. It is easy to see why Hallmark recently filmed not one but two movies in Ireland.
Hallmark filmed As Luck Would Have It and Christmas at Castle Hart entirely in Ireland in 2021. Christmas at Castle Hart was a festive romantic comedy that premiered on the Hallmark Channel on November 27, 2021. It was part of the Countdown to Christmas programming.
Ireland has so many locations to make your holidays merry and bright. Villages and towns festively decorate with holy symbols, lights, and large trees for the holiday season. Churches build cribs to display the Nativity and the arrival of the wise men also known as the three kings.
With the countdown to Christmas now underway, we've decided to look at some of Ireland's most magical and festive locations that would make for perfect backdrops in a Hallmark Channel Christmas movie. Each of these towns was either used for actual filming or has a castle that would be perfect for a future film.
1. Howth
Howth Castle is the movie's primary setting in As Luck Would Have It. It is a 14th-century fortress sitting on the peninsula of Howth Head located on the outskirts of Dublin.
The spirit of Christmas is abundant, and the decor is spectacular during the holidays. The castle has extensive gardens and grounds that are beautifully decorated. 
Dreaming of Dublin – your dream vacation awaits you
Dreaming of Bray – your dream vacation awaits you
Top guest reviews
Best Hotel I've ever gotten off Expedia – nice for a change when a place far exceeds expectations!
Everything was great, our only complaint was that the room was very small.
The room was tired & small difficult to find enough space for two suitcases, the ensuite had nowhere to hang a towel, no where in the shower to place toiletries, the floor was v old. The roller blinds didn't work & the walls were v thin so you could hear the next door neighbour's tv . All the doors slammed shut,the bedside table was also the kettle stand due to size of room. The bed was uncomfortable. the food was v average & the woodfired pizza van parked to the side at the front of the hotel blew smoke directly into the bedroom
Read Less ∧
Read More ∨
2. Glencullen
A small village, Glencullen is situated in the mountains near Dublin and is the home of Johnnie Fox's Pub. The Pub has been around since 1798. It appeared in the movie As Luck Would Have It.
Similar to many Irish homes, candles are placed in windows. The Irish use tinsel, lights, and baubles as holiday decorations in Glencullen.
3. Dalkey
In the movie As Luck Would Have It, Dalkey, a scenic seaside town, is shown, and the gorgeous Dalkey Castle and Heritage Center doubles as the municipal office. This tiny, wealthy neighborhood goes all out with decorations to make sure everyone has plenty of holiday cheer during the holidays.
The Dalkey Castle hosts a Castle Christmas Experience with Santa and Christmas at the Castle events.
4. Bray
If you watched As Luck Would Have It, you probably remember the Matchmaking Festival. It actually took place at Killruddy House and Gardens, located near the small festive town of Bray.
The spectacular 17th-century mansion is one of Ireland's most gorgeous countryside manors. It is especially festive with garlands, wreaths, and big bright bows during the holidays.
This building is quite popular and has also appeared in Camelot, The Turning, and other movies.
5. Lisdoonvarna
This tiny town is the actual host of a huge singles festival each year in September. The Matchmakers festival in the movie As Luck Would Have It is patterned after Lisdoonvarna's festival. With a population of about a thousand people, this small town celebrates Christmas in a big way with a light-up ceremony, The Burren Christmas Family Fayre, and a Fireside Sing Song.
This festive town is on the west coast of Ireland and is definitely Hallmark material.
6. Bettystown
Six 300-year-old thatched luxury cottages are seen in As Luck Would Have It. They appear as the bed and breakfast that the girls stayed in.
Six miles of beautiful sandy beaches can be viewed from the cottages which lie between Layton and the quaint village of Bettystown.
Bettystown celebrates the holidays with many lights and community arts and craft fairs.
7. Kinvarra In Galway Bay
In Christmas at Castle Hart, several sites in Kinvarra are showcased. The bed and breakfast exterior is Connolly's Pub. The Dunguire Castle is located in Kinvarra and it is considered one of the most photographed medieval strongholds in Western Ireland.
Doonagore Castle also appears at the beginning of Christmas in Castle Hart. This 16th-century castle overlooks the village of Doolin and Galway Bay.
8. Ennis
The small town of Ennis has approximately 25,000 friendly faces in the community and a vibrant culture. During the holidays, the village is decked out with festive decorations, and community festivals highlight the holidays, making Ennis the perfect setting for an Emerald Isle Hallmark movie.
Ennis is home to the Knox Pub, which represented Langhan of the Glaslough in the Castle Hart film. It has a perfect location as it's close to spectacular scenery.
Most of the filming of Christmas at Castle Hart took place at Dromoland Castle in Ennis. This early 19th-century castle has medieval origins tied back to the 15th and 16th centuries.
Many of the interior room shots were filmed at the Dromoland Castle. The castle hosts its own Christmas at the Castle events, and they decorate with lots of twinkling lights, luxurious Christmas decorations, and a spectacular gingerbread house.
Another interesting tidbit about this castle: You can now check in and stay at the 450-acre estate.
9. Bunratty
Remember the Christmas market scenes in the Castle Hart movie? These scenes took place at Bunratty Folk Park.
The chapel Aiden tries to restore in Castle Hart was Ardcroney Church — another building located in Bunratty.
The Lough Cutra Castle plays three different roles in the Castle Hart movie. It serves as the suite where Brooke and her sister stay. Secondly, it appears as the residence of the Duchess and finally as the home of a Baron.
This Gothic Revival Manor built in the late 18th century can now be rented out for private events such as holiday parties and weddings. Can you imagine getting married in this romantic castle?
The tree lighting scene also takes place in the picturesque Bunratty Village, and Bunratty Castle is also featured in the Castle Hart Hallmark movie.
For the holidays, Bunratty hosts a Christmas Trail of Lights. The trail takes you on a magical walk through the woods with twinkling lights in Bunratty Folk Park. Returning this year is the Bunratty Polar Express Train and a Victorian Carousel along with other festive events.
The Hallmark movies also showcase some other scenic and romantic locations in Ireland. Let's look at the most memorable sites…
10. Cliffs Of Moher
O'Brien's Tower overlooks the towering Cliffs of Moher. These spectacular cliffs form a 509-foot wall on the west coast of the isle for approximately nine miles.
Both Christmas at Castle Hart and As Luck Would Have It had segments filmed here. The horseback riding sequence was filmed in front of this famous landmark.
11. Powerscourt Waterfall
This magnificent waterfall has been featured in various TV series and films. It resides on the Powerscourt Estate near Ennis Kerry. You may have viewed this impressive cascade in Excalibur and different TV series as well as Hallmark movies.
If you dream of visiting charming romantic castles on the Emerald Isle, there are several additional ones that welcome overnight stays and could easily be the next castle featured in a Hallmark Christmas movie.
12. Ashford Castle, Cong
This is one of Ireland's top hotel destinations. You have probably seen stunning photos with the Irish landscape as the backdrop. Ashford Castle is over 800 years old, and when you visit, you feel like you are part of a fairytale.
Once a home, it is now a luxurious place to stay. Each room is unique, and the castle is full of culture and history.
Ashford Castle hosts lots of fun activities, especially around the holidays — and the festive decorations are beautiful. They also have state-of-the-art spa facilities for guests to enjoy.
13. Kilkea Castle Hotel, Kilkea
You will feel like a royal when you sleep in this castle. A top-notch hotel in Ireland, Kilkea Castle Hotel is beautiful outside and inside. There are lovely gardens to enjoy and lots of modern amenities.
Kilkea is the closest castle hotel to the Dublin Airport.
14. Lough Eske Castle, Donegal
If you are looking for a luxurious experience, this fairytale castle that is a five-star hotel is right for you. Fluffy bathrobes are provided in each room.
Lough Eske Castle is home to a spectacular swimming pool overlooking the castle grounds within an atrium. It also has a steam room, sauna, fitness center, and more.
15. Dunboyne Castle Hotel And Spa, Dunboyne
Located on 21 acres of beautiful countryside, Dunboyne Castle Hotel and Spa is the perfect place for sheer relaxation. This large Georgian mansion has 145 rooms, so you are sure to find one that suits your needs. They also have an outdoor hot tub, steam room, sauna, and other amenities.
The rooms are spacious and beautiful, especially during the holiday season when they don festive decorations.
We've shared some of the places in Ireland that we feel are perfect for Hallmark movies. From Bunratty to Bettystown and beyond, there are plenty of quaint Irish villages, castles, scenic countrysides, and historic homes that will warm your heart and make perfect settings for a holiday film.
Pro Tips: If you haven't watched Christmas at Castle Hart, it is scheduled to be replayed several times during the next few weeks. You can also enjoy more Hallmark Christmas coverage here.