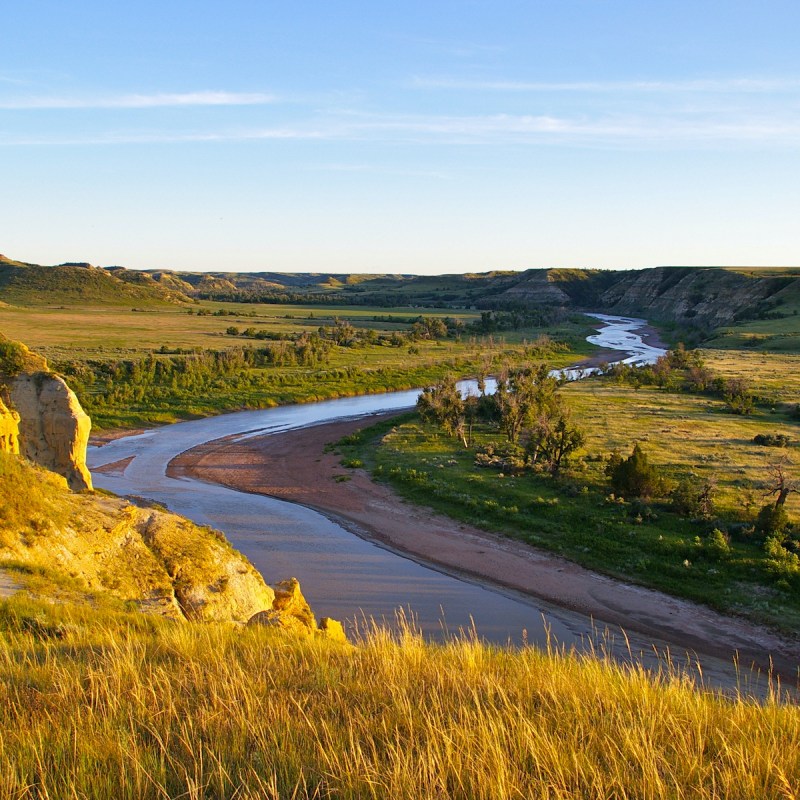 I don't know if 2022 is going to be another year for record-setting attendance in parks, but visitation has been trending up for years, and there's no sign of a change in the trend.
Take Yellowstone for instance. It's fairly busy every year. Well, in 2022, the park's going to be celebrating its sesquicentennial (aka its 150th birthday), so it's a good guess that the publicity involved is going to keep visitation going strong.
But what if I gave you a great alternative? Kind of like a junior version of Yellowstone — thermal features, trees, hiking, camping — but without having to wait in line to get in.
That's what my recommendations for 2022 are all about: While the busiest parks are still learning to adapt to crowds, let's head to under-appreciated parks — ones that compare favorably to the more crowded parks, but without the crowds.
I'm a retired park ranger, having spent a quarter-century working in parks around the country. To help me out, I've asked friends in the online ranger community for their favorite under-appreciated parks, and where they go to get away from it all. They gave me their recommendations, then suggested I be careful who I tell to keep things quiet.
So just between you and me, here are some places to hide out at. If you tell anyone about them, tell them not to tell.
1. Lassen Volcanic National Park
Lassen would be that alternative to Yellowstone I was alluding to. Both put on an amazing display of geothermal wonders. Both have great camping, hiking, lakes, and streams. But by visiting Lassen, you'll be able to enjoy all of these with a bit less planning and at a bit more of a relaxed pace.
One might think that because it's in California, Lassen was destined to be crowded. However, its location is in the northeast corner of the state, so for many of those in the big cities, it might as well be on the moon.
The more southerly latitude gives the park a bit of a longer season than Yellowstone as well.
Campgrounds here are some of the nicest in the NPS.
There are plenty of easy-to-moderate hikes to pick from, but I'm going to recommend one that's short but challenging — just because it's something that Yellowstone can't offer. The Cinder Cone Trail goes up a volcanic cinder cone with a view at the top that will knock your socks off. So yes, expect it to be like a stair-stepper machine, and bring good boots. Only 2.5 miles in, steep in places, and no shade. Bring water. If this is too far for you, give it a bit of a try just to have the experience. No shame in turning back.
The east side of the park was heavily impacted by fire in 2021. This might keep some people away, and some restoration operations might impact your visit, so keep an eye on the park's reopening plans.
2. Theodore Roosevelt National Park
Instead of the Grand Canyon, try Theodore Roosevelt National Park.
While the vast majority of the Grand Canyon is inaccessible wilderness, Theodore Roosevelt is easily accessible. Both are geological wonders, but at Theodore Roosevelt, these wonders are a lot more accessible. There's even a river that runs through it. Not the mighty Colorado, but the you-can-wade-across-it Little Missouri.
If there was one person that is a central figure in the national parks, it's Theodore Roosevelt. His birthplace is a national historic site. His inauguration site is a national historic site. He has an island turned into a national memorial for him. Millions come to see his face carved into Mount Rushmore.
So you'd think that Theodore Roosevelt National Park, in the North Dakota badlands that inspired his love of the outdoors would be a mecca for national park visitors, coming en masse to share the experience that helped mold the man who molded the national park system.
And you'd be wrong.
Theodore Roosevelt National Park in North Dakota is a park for isolation. Both the north and south units offer great hiking, expansive vistas, easily accessible wilderness, abundant wildlife, and not many visitors. The south unit is the most popular.
This is a wonderful park for hiking due to the elevation (or lack thereof) and abundance of trails.
Oh, and for wildlife, too. There are bison and wild horses.
The adjacent wilderness area is also a good alternative to Petrified Forest National Park with the Petrified Forest hike well worth the trip. If you're headed to the north unit, check out the Caprock-Coulee Trail. You can do the Nature Trail portion for an easy 0.8 miles, or the entire 4.5 miles for something more strenuous.
The front country campgrounds are nice, too, located in the cottonwoods for a good amount of shade.
Although the north and south units are the largest, the third unit, Elkhorn Ranch, is the site of Theodore Roosevelt's ranch. Only the foundation remains. The area is still quite remote. The last few miles of the road are unpaved, and often in poor condition.
3. Bandelier National Monument
Bandelier is a hidden gem of a park. Whatever you think you might appreciate about it, there's always more to love.
As you explore its archeological wonders, not only will you see them, you'll climb on them, sit on them, even respectfully handle them.
And although the park is all about cultural history, it's actually worthy of park status due to its natural beauty. There are only a few miles of roads, but over 70 miles of trails.
The Pueblo Loop Trail (what, for years, was called the Main Loop Trail) is the don't-miss-it hike, but the park is a hiking buffet. To help you pick the right trail (and there really are no wrong ones), the park has gone a step above the rest in putting virtual hikes on its website so you can sample the trails to help make your choice.
You can compare the park in cultural resource terms to Mesa Verde, but it does hiking that much better. You can compare it to any good hiking park, but it has all of the archeological sites to hike to, and through.
And although it does get busy on weekends and holidays, it's never as jammed-packed as other parks of its caliber.
Pro Tip: Bandelier is one of the few parks that offers guided, long-distance backcountry hikes with a ranger. Routes and distances vary, ranging from a low of about 3 miles to a serious 16-mile 8-hour day hike. I've guided hikes before, but taking a group for 16 miles, well, I've got to hand it to them. Dates are limited; call the visitor center for reservations.
4. Devil's Postpile
If you're looking for a park in California's Sierra Nevada mountains that's an alternative to Yosemite, take a look at Devil's Postpile.
The park is attracting more people, such as discouraged Yosemite users who didn't secure their entry permit in advance. But still, it's out of the way on a one-way road, so most people won't give it a second thought.
Bad for them, good for you.
Devil's Postpile is a cool little park in a terrific neighborhood.
The Devil's Postpile formation itself is well worth the visit. But what's worth making it a longer stay is the park's access to everything that makes the region awesome — from mountain lakes to hot springs.
Front country camping is plentiful if you include the park campground and nearby Forest Service campgrounds in your selection.
Should you need other amenities, or want to stay in a hotel or bed and breakfast, the resort town of Mammoth Lakes is nearby.
My favorite time to visit the east side of the Sierras is in the fall — but don't make it too late. The park closes for the winter. It's just west of the ski area at Mammoth Mountain and receives an incredible amount of snow.
5. Guadalupe Mountains National Park
If you're tempted to visit Yellowstone for its 150th anniversary, consider visiting Guadalupe Mountains. It's also celebrating an anniversary in 2022: 50 years as a park.
Both Yellowstone and Guadalupe Mountains are well known for their backcountry hiking experiences. Guadalupe Mountains is primarily a road-free wilderness experience. It doesn't have the major front-country infrastructure of Yellowstone. Come for the hiking and camping.
Hiking options are plentiful. There are trails to suit everyone's abilities and endurance.
The two developed campgrounds are nice and typical for an arid environment. The majority of camping is in the 10 wilderness campgrounds. (I mentioned that the park is primarily a wilderness experience, right?)
The park does get busy on weekends in its two short peak seasons, spring and fall. Midweek, not so much. And outside of peak season, not much at all. As you would expect by its location in west Texas, adjacent to the New Mexico border, summer is hot. Winters are relatively mild but can have some seriously chilly weather due to the park's elevation.
The elevation also gives a bit of a surprise for this part of the world — fall colors. From mid-October to mid-November, in some of the canyons, there are actual deciduous trees with actual leaves that will turn color. While this may not impress those in the northeast, for this part of the world, it's quite something.
Oh, and if you're looking for additional comparisons to other parks, both Guadalupe Mountains and Yosemite are known for massive monoliths known as El Capitan. The Guadalupe Mountains version is part of a fossilized reef. So you can also compare it to Capitol Reef National Monument (except the Guadalupe Mountains version was a real reef, and the other just looked like one to those who named it.)
Pro Tip: The park is often combined with a visit with nearby Carlsbad Caverns National Park and White Sands National Park. Those traveling west on Interstate 10 can also pick up Chiricahua National Monument and Saguaro National Park in Arizona on the trip.
TravelAwaits features other expert ranger tips about national parks: