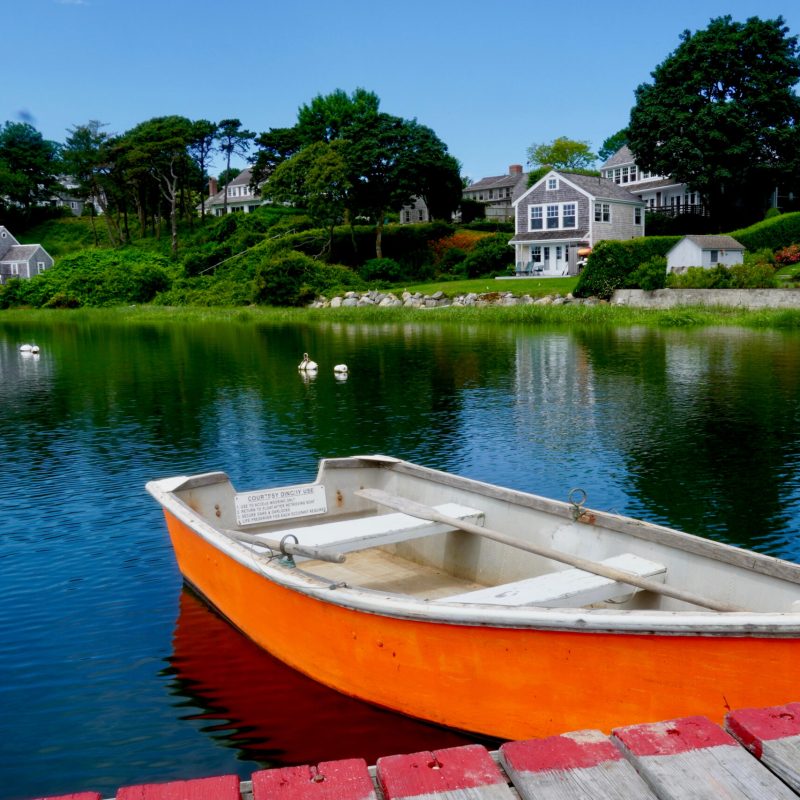 If the charms of small town life are calling your name, then one of our favorite small towns should be on your travel list for 2022. Whether you're looking for a unique weekend getaway, or want to take a quiet day trip from a big city, the small towns on our list are full of history, outdoor adventure, and delicious dining options. From authentic tastes of Germany and Sweden to historic mining towns to little villages nestled in the mountains, you can choose the small town experience that best suits you with one of our charming picks.
1. Helen, Georgia
You'll find the spirit of a lively German village right here in the U.S. when you visit the charming town of Helen, Georgia. Helen feels like a true alpine town and sits within the Blue Ridge Mountains which offer plenty of opportunities for hiking and taking in the beautiful scenery. Many of the unique shops in Helen feature imports from Germany so you can find authentic Bavarian clothing, food, decor, and more. You'll also find the Bavarian cuisine you crave at many of Helen's restaurants and you can even play a fun round of mini-golf at an alpine-themed course. Explore all of our recommendations for Helen and other Bavarian villages in the U.S. here!
2. La Conner, Washington
If you're traveling to the Seattle area in 2022, there are so many quaint towns just a day trip away, one of our favorites being La Conner, Washington. You'll find great shopping here, with large antique shops and small, locally-owned boutiques. There are also three museums to visit and many small art galleries to browse. La Conner is situated in the Cascade Mountains so you can also enjoy beautiful scenery and keep your eyes peeled for sightings of sea lions, eagles, otters, and more. If you want to take a scenic drive outside of town, you can explore quiet farm roads and search for wildflowers. For all our tips for La Conner and other charming towns outside of Seattle, see our full list.
3. Fairhope, Alabama
If Southern hospitality is what you're after, you'll find it aplenty in the quaint town of Fairhope, Alabama. The town is easy to explore on foot and you'll enjoy beautiful scenery along the many walking paths in town. Most of the paths are lined with flowering trees and plants and will take you through the charming town square and along Mobile Bay's eastern shore. Along the way, you can stop at small art galleries, cozy coffee shops, and eclectic boutiques. The town is known for its many festivals and celebrations so if you want to experience the fun be sure to plan your trip around one of these annual events!
4. Chatham, Massachusetts
The adorable Cape Cod town of Chatham is the perfect place for a relaxing beach getaway. It's centrally located and would be a good jumping off point for exploring the rest of Cape Cod. In Chatham, you can explore the picturesque downtown filled with local craft shops and restaurants. Pay a visit to the Monomoy National Wildlife Refuge where you can see migratory birds at rest along their journey or take in a round of golf at one of the many beautiful courses. The real treat of Chatham is the many relaxing beaches where you can enjoy great views of the gentle waves. See everything this quaint New England town has to offer here.
5. Lindsborg, Kansas
Did you know you can find a true taste of Sweden in Kansas? The small town of Lindsborg is nicknamed Little Sweden and you'll see Scandinavian influences in everything from the architecture to the food. One of the unique things you can explore is the dozens of horse sculptures known as dalas, a national symbol of Sweden. These colorful sculptures can be found outside of many buildings and you can even take home your own hand-painted version. There are also great options for hiking and walking paths with historical markers that help you learn about the town's early days as a Swedish settlement. For everything there is to explore in this little taste of Sweden, see our full list.
6. Luray, Virginia
Luray is a picturesque small town nestled in the Blue Ridge Mountains where you can enjoy great shopping, delicious dining options, and plenty of outdoor activities. Explore Shenandoah National Park and take in views of the lovely mountains and rivers during a hike. You can also venture into Luray Caverns and explore the caverns and nearby museums. Another fun stop is Cooter's, a museum and tourist shop owned by Ben Jones, who played Cooter in the Dukes of Hazard TV series. For even more inspiration for Luray and other small towns in Virginia, check out our full list.
7. Eureka Springs, Arkansas
Eureka Springs' entire downtown area is listed on the National Register of Historic Places, but that's only one of many reasons to visit this small town in the Ozark Mountains. The downtown area is home to so many shops, art galleries, and restaurants that you may want to explore by tram instead of by foot. Enjoy fishing, watersports, hiking, and bird watching in the beautiful mountain surroundings. And of course, you can't miss the natural springs the city is named for, and there are many springs and caverns to explore. With so much to do packed into such a small town, you'll want to be sure to check out all of our recommendations before your trip.
8. Skagway, Alaska
The tiny town of Skagway, Alaska, is packed with opportunities for outdoor adventure and learning about the town's history during the Yukon gold rush. One must-do activity is riding the White Pass and Yukon Route Railroad into the Yukon Territory of Canada. During the steep, climbing ride keep your eyes peeled for canyons, waterfalls, tunnels, and other gorgeous mountain sights. Some more adventurous activities include dog sledding and helicopter tours to view towering glaciers. After taking in the mountain views, stroll through the National Historic District and learn more about the town's gold rush past. With so much to see in Skagway, you'll want to review all of our recommendations here.
9. Deadwood, South Dakota
South Dakota is a great road trip state, and you'll want to make a stop in the historic town of Deadwood. The town is chock full of saloons, shops, restaurants, and more to explore, including a historic hotel known for its paranormal activity. There are museums where you can learn about the town's history during the gold rush and you can visit a cemetery that has the graves of some notable Wild West figures. Deadwood is situated in the Black Hills National Forest, so you can also enjoy outdoor activities from hiking to skiing depending on when you visit. For more about Deadwood and other must-see stops during a South Dakota road trip, see our full list.
10. Lewisburg, West Virginia
Though small, Lewisburg, West Virginia, boasts an arts scene and dining options that make you feel like you're in a much bigger city. There are many venues to take in live music and plenty of performance halls and theaters for catching a play or musical. You can also find outstanding local arts and crafts in the many galleries and boutiques in the town. Go on a scenic drive of the area and take in farmland, rolling hills, covered bridges, and other quaint scenes. End the day with a delicious meal and local brew from one of the fantastic restaurants or breweries. With so much to see, you'll want to review all of our recommendations here.
11. Galena, Illinois
The small town of Galena, Illinois, is a favorite weekend getaway for Chicagoans and is only 10 minutes from both Iowa and Wisconsin. Galena is full of history thanks to its background as a mining boomtown and as a home to Ulysses S. Grant. You can tour Grant's home and many others — more than 85 percent of Galena's homes are on the National Register of Historic Places! In addition to all the historic sites, you can enjoy a delicious meal at one of the many well-known restaurants, stay in a charming bed and breakfast, or explore the great outdoors on the Galena River. For all the reasons to visit this historic small town, see our full article here.
12. Wiscasset, Maine
If you're planning a road trip along scenic coastal Route 1 in Maine, the picture-perfect town of Wiscasset is one place you must stop. There are many historic sites to visit, including the Wiscasset Old Jail which dates to 1811, and Castle Tucker, once owned by a shipping magnate. You can also ride a historic railway through the countryside or stay in a gorgeous mansion built in 1907. During your days, you can shop for antiques and local art and relax in one of the parks along the water with beautiful views of the classic Maine coastline. And of course, you can't miss the lobster roll at Red's Eats — it's more than worth the long line you may wait in! To learn more about all there is to do in Wiscasset, check out our list.
13. McCall, Idaho
In McCall, Idaho, you get the best of being next to the water and in the mountains. You can rent a cabin right on Payette Lake which is surrounded by mountains and is the perfect setting for outdoor activities. During the summer, you can enjoy boating and hiking, and during winter, you can spend your time skiing or riding snowmobiles. No matter in what season you arrive, you can pay a visit to one of the many hot springs in the area for a relaxing soak. After your outdoor adventures, grab a bite at one of the many restaurants or brewpubs in town. If you love the great outdoors, a visit to McCall is a must, and you'll enjoy reviewing all of the best things to do in McCall here.
14. Tucumcari, New Mexico
Once a vibrant stop along historic Route 66, Tucumcari, New Mexico, feels a bit like a ghost town, though many of the historic motels and restaurants have been carefully restored. Several buildings in town display vibrant murals that showcase the town's heritage. You can also get a taste of the town's Route 66 days by visiting the New Mexico Route 66 Museum that houses the world's largest collection of Route 66 photos. If you're looking for even more ancient history, you can view fossils at the Dinosaur Museum. After soaking in the area's history, enjoy authentic New Mexico cuisine and other delicious options at one of the town's many drive-ins or diners. A visit to Tucumcari is a unique experience, and you'll want to review all of our recommendations for the area here.
Ready to book your small town 2022 travel experience? In addition to the above picks, don't miss our list from last year for even more travel inspiration!