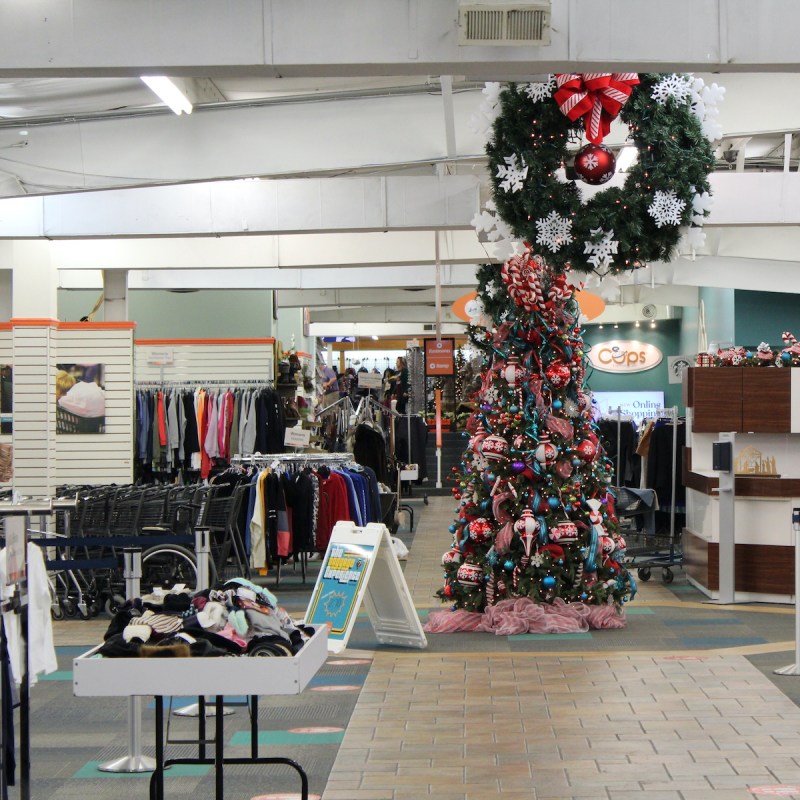 In 1971, Doyle Owens was an insurance salesman from northeast Alabama. Like many of us, Doyle had dreams of starting his own business. One day an idea hit him. Armed with a $300 loan and an old Chevy pickup truck, Doyle made the trip from Alabama to Washington, D.C., and purchased a truckload of baggage that had been unclaimed by its owner from the Trailways bus company. He brought the baggage back home and sold their contents from a card table at his house. 
It was an idea that stuck and the business quickly expanded to purchase baggage from all of the major airlines and transportation companies that had been abandoned by their owners and today, 50 years later, the Unclaimed Baggage Store in Scottsboro, Alabama, is bigger than ever covering an entire city block and stocking hundreds of thousands of items.
The airlines and transportation companies spend up to 3 months trying to locate the owners of the baggage. Turns out that only 0.03 percent of lost luggage and packages go unclaimed. That small percentage ends up here in Scottsboro.
It's truly a fun adventure treasure shopping at Unclaimed Baggage that should be on everyone's list especially during the Christmas holidays when you can snag incredible deals on just about anything imaginable. Every day brings something new to the showroom floor — clothes, electronics, books, exquisite jewelry. You name it and odds are you will find it there. The fun is in searching the aisles and shelves to find that perfect gift for you or someone you know.
It had been a long time since I had paid a visit to Unclaimed Baggage and I had some Christmas shopping to do, so I gassed up the old car and headed to Scottsboro. Here are eight perfect gifts I found for those on my list. There were just too many to mention here, but it gives you an idea of what you can find at Unclaimed Baggage. Pay a visit and let your imagination run wild. 
Before I reveal the list, there is one question you are surely asking yourself.
Reclaiming The Unclaimed
Many items sold at Unclaimed Baggage are second-hand in nature leaving everyone to ask, "how does it make it to the showroom floor, especially the clothing?" Well, the merchandise goes through a three-step process.
The items are first sorted into three categories — resell, repurpose, and recycle. Some items are too damaged or have some defects that make them no longer usable. These items are recycled as much as possible.
Items that can be resold are cleaned thoroughly: clothes are laundered in the largest dry cleaner in the state while electronics are wiped of any personal data and cleaned up. All merchandise is run through rigorous quality assurance procedures so you are sure all items purchased are in good, clean, working condition and labeled if the item is new, like new, gently used, or shows signs of wear. 
For every item sold at the store, one item is donated to charitable organizations to help others.
And even though there are second-hand items for sale, there are many other brand-new, unopened items waiting for you to snatch up as well. 
So, what did I find that would make for the perfect gift for those on my list?
1. Kindle Paperwhite 4
Everyone in my family is a huge reader (hopefully of my books), so a perfect gift for them would be the Kindle Paperwhite 4. With 8 gigabytes of storage and a soft sage color, this little gem will keep them deep in the pages of an Ernest Hemmingway, Nora Roberts, or John Grisham novel for quite a while. 
This Kindle normally sells for $130 but at Unclaimed Baggage, you can pick it up for $49.99.
2. Airpods (2nd Generation)
In this day and age, we all rely on our computers and smartphones for everything — listening to music, audiobooks, joining a conference call. My family is no exception. You'll always see them with bulky headphones or earbuds in their ears with wires dangling down which makes this Airpods 2nd Generation the perfect gift — no wires, simple one-touch settings, and it comes with a wireless charging case.
These gems normally sell for $159.95, but I found them at Unclaimed Baggage for only $69.99 with the wireless charging case.
3. The Place For Ski Fanatics
Alabama isn't known for its ski lodges and resorts, but Unclaimed Baggage is nationally known for its annual Ski Sale. Now celebrating its 40th season, the sale features some of the best snow-skiing gear around at incredible prices making the event a skier's dream. 
The event is so popular that it has become a real celebration featuring DJs, food trucks, outdoor games, and more. People even camp out in the parking lot the night before to make sure they are first to get in on all of the bargains. 
The ski sale is held the first weekend of November, but if you can't make it, the store still has an entire department filled with ski boots, poles, skis, snowboards, helmets, and more. 
4. Shopping For The Kids And Grandkids
Whether you have kids or grandkids, finding them a gift is tough without breaking the bank. Unclaimed Baggage has a good selection of games that kids of all ages will love and all of those that I found were brand new and unopened.
Strolling the aisles of their Holiday Gift Shop, I found the Circuit Explorer Rover, a fascinating, educational toy where the kids learn about electronic circuitry by building electric cars that are powered by solar energy. The price of $10.59 is electrifying. You save over 50 percent off the regular store price.
For younger children, there was the Talking Thomas and Percy Trainset where the characters from the children's television show come to life as they travel the tracks around the town of Sodor through tunnels, up bridges, and more.
And I couldn't resist picking up the classic, Guess Who? game for my daughter. It brings back a touch of nostalgia for us since we used to love to play this game when she was very young. You can buy it in any store for $10, but here in Scottsboro, only $4.29.
5. GPL 5 5-Point Laser Alignment Tool
Know someone who loves to build or is a handyman? They will be the first to tell you that the proper tools are needed to get the job done right. To help keep their projects on the straight and level, there was the GPL 5 5-Point Laser Alignment Tool by Bosch.
This handy little gadget turns a two-man job into a single-person job as it keeps things on the level in any direction. It self-levels itself allowing them to plumb, level, and align whatever they are working on, and the multi-position mount allows the unit to be mounted in virtually any position. 
At Unclaimed Baggage, this $200 unit was a steal at only $129.99.  
6. Pet Multifunctional Water Bottle
We can't forget fido, now, can we? Whether you go on day hikes in the mountains or a simple afternoon walk through the local park, the Pet Multifunctional Water Bottle makes it easy to take along a drink and food for your pet.
The bottle has two sealed sections, one holds water, the other holds dry food. The top is a shallow bowl that you can use to feed or water your pet. It even has a compartment to store waste bags to clean up after them during the walk.
7. Collectibles
I can't tell you the number of collectibles I came across at the Unclaimed Baggage Store. They run the gamut from classic posters and artwork to Disneyana and Elvis. 
For Disney acolytes, there was a new Minnie Mouse and Daisy Duck Lunch Box complete with a puzzle. And for Elvis fans, how about a Merry Kissmas Baby collectible train ornament, or an Elvis bobblehead by Royal Bobble? 
8. Piper And Leaf Tea
After a long day of shopping, there's nothing better than heading home with your treasures and brewing up a cup of tea or mulled spice cider. Before leaving Unclaimed Baggage, pick up your favorite blend of Piper Leaf and Tea mulled spices and tea.
Piper Leaf and Tea comes to us from Lacey's Springs, Alabama. Its artisans blend incredible flavors from around the world and locally to produce fresh and bright seasonal flavors. Its best in the fall is the Pumpkin Moonshine with the warmth of ginger and cinnamon mixing with the flavor of roasted sweet Georgia pumpkin and the subtle hint of anise. It's sure to warm your soul on a cool fall day.
Pro Tips
The store is located on West Willow Street in Scottsboro, Alabama. It's open from 9 a.m. to 5 p.m. (Central Time) Monday through Friday, 8 a.m. to 7 p.m. Saturday, and closed on Sundays. Visit its website for special holiday hours. 
Can't make it to the store? Unclaimed Baggage now offers online shopping as well for a limited number of unique items. And throughout the year, the store has special events with even more bargains and fun activities. 
Alabama offers more than just shopping: