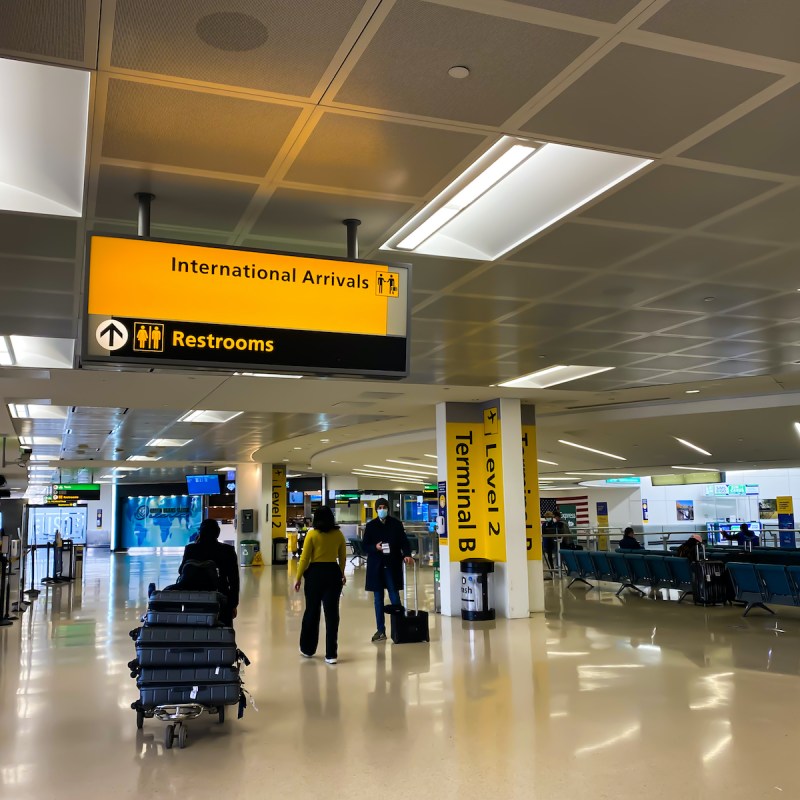 News of the detection, and subsequent spread, of the Omicron COVID-19 variant has countries around the world scrambling to revise their current travel guidelines and restrictions. The United States is no different.
New travel restrictions, which include stricter pre-departure COVID-19 testing requirements for all travelers entering the U.S., go into effect Monday, December 6, at 12:01 a.m. Eastern, the Centers for Disease Control and Prevention (CDC) explains.
Here's a rundown of what has changed and what the new requirements entail.
Traveling To The U.S.
Last month, the U.S. implemented stronger international travel protocols, including that all non-U.S. citizens and non-U.S immigrants traveling to the U.S. be fully vaccinated for COVID-19. Another key requirement was that those travelers test negative for COVID-19 within 3 days of boarding a flight bound for the U.S.
While all foreign travelers entering the U.S. by air must still be fully vaccinated, the testing requirement will change this week.
"All air passengers 2 years or older with a flight departing to the U.S. from a foreign country at or after 12:01 a.m. EST on December 6, 2021, are required to show a negative COVID-19 viral test result taken no more than 1 day before travel," according to the new CDC order. "Alternatively, they can present documentation of full recovery from COVID-19 in the past 90 days before they board their flight."
It's worth repeating that the rule applies to all travelers arriving by air from a foreign country – including U.S. citizens.
You can find the full CDC order here.
Face Mask Requirement Extended
Given the detection of the Omicron variant, as well as the continued spread of the Delta variant in the U.S., the Transportation Security Administration (TSA) has extended its face mask requirement for everyone using transportation networks throughout the U.S. That includes airports, on-board commercial aircraft, on over-the-road buses, and on commuter bus and rail systems.
The face mask order will be in place through March 18, 2022.
Passengers without a mask may be denied entry, boarding, or continued transport.
"Failure to comply with the mask requirement can result in civil penalties," the TSA explains. "Fines will continue to be doubled from their initial levels for noncompliance with the masking requirements – with a minimum fine of $500 and fines of up to $3,000 for repeat offenders."
After Arriving In The U.S.
Currently, there is not a requirement to quarantine or complete post-arrival COVID-19 testing after traveling to the U.S.
"We're not announcing any steps on post-arrival testing and quarantine," a senior administration official said in an audio press briefing. "I will say, if additional measures are recommended or if additional measures can be implemented well and be effective, we won't hesitate to take them — but we're not taking them today."
However, as the CDC explains, it is possible to be exposed to COVID-19 while traveling. Indeed, "you might feel well and not have any symptoms, but you can still be infected and spread the virus to others," the CDC cautions.
With that possibility in mind, the CDC recommends everyone who has traveled to the U.S. should be tested for COVID-19 3 to 5 days after arrival. Those travelers should also self-monitor for COVID-19 symptoms. If they develop symptoms, they should isolate and get tested, the CDC recommends.
Travel restrictions and guidelines are rapidly changing around the world as the COVID-19 pandemic continues. To stay up to date on current travel restrictions, be sure to read all of our Travel News and COVID-19 coverage.