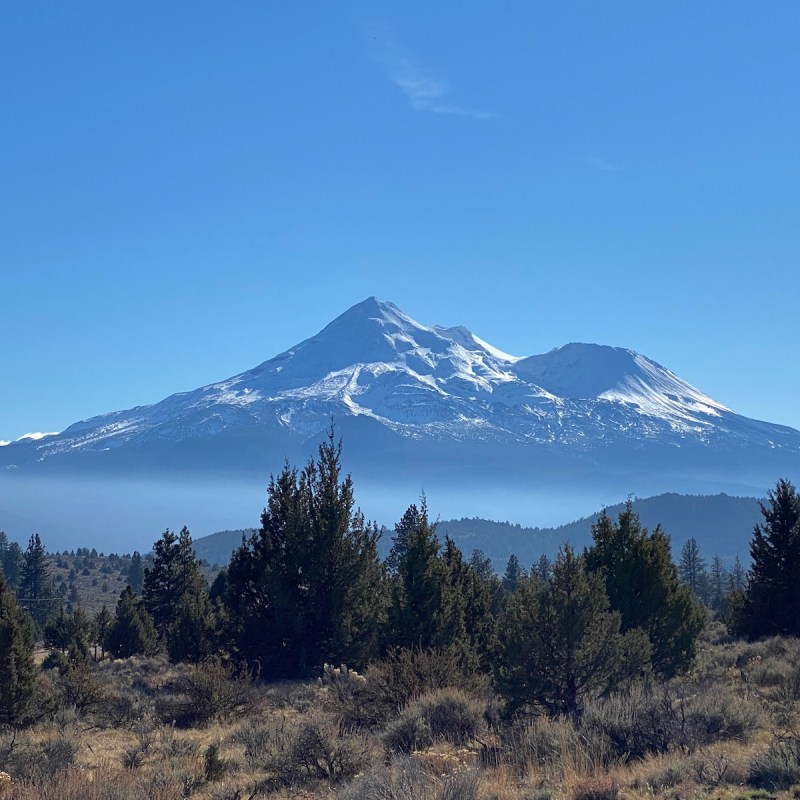 The Pacific Northwest has some of the most epic and unique skiing you will find anywhere. The Cascade Volcanoes extend from southwestern British Columbia, Canada, through Washington, Oregon, and into Northern California. The climate in this area results in some of the biggest snowfalls in the world. Both Mount Baker and Mount Rainier have held world records where the total amount of snow is measured in feet not inches. During the 1998–99 ski season, 95 feet of snow was recorded at Mt. Baker.
Today there is plenty of advance warning before a volcano erupts but there is still that feeling of danger that just adds a little excitement to your day of skiing. These aren't your luxury resorts with spas and high-end restaurants. This is wilderness skiing at its finest, rough, wild, and challenging. A few have lodging nearby while some are located on national forest land well away from any towns and perfect for a day trip. Each of the following volcanoes has skiing available either on or within view of the mountain.
1. Mount Baker
The Mount Baker Ski Area is the most remote on this list. Located in Whatcom County, Washington, it is a 90-minute drive for 37 miles along State Road 542 from Bellingham, the nearest big city. The ski area is in the Mt. Baker-Snoqualmie National Forest through a permit granted by the United States Forest Service. The ski runs are in sight of Mt. Baker. The ski area unofficially receives an average of 641 inches or 53.4 feet of snow, the highest average snowfall for any resort in the world. It is known for backcountry access and challenging routes. The ski area has eight quad chairlifts and two handle-tow surface lifts for beginners. There are two separate day lodges to access the terrain as well as a mid-mountain lodge.
Although snowboarding was not invented at Mt. Baker, it has always been welcomed at the ski area. Snowboarders from all over the world flock to this remote area due to the epic conditions. Today the Legendary Banked Slalom race honors this legacy. The first year in 1985 was in the early days of snowboarding. The area was selected for the event because it was one of the few resorts in the United States that welcomed snowboarders and had a natural halfpipe.
Pro Tip: The Baker Bus runs on the weekends and is an easy way to reach the Mt. Baker Ski Area without driving. It offers a pickup at the Four Points by Sheraton Bellingham Hotel and Conference Center which also offers winter packages in season.
2. Mount Rainier
Crystal Mountain Resort is the largest ski resort in Washington and is easily accessible from both Tacoma and Seattle via Highway 410. In addition to nine chairlifts, it has the high-speed Mt. Rainier Gondola which whisks you to the summit in no time — climbing over 2,400 vertical feet in 9 minutes and 30 seconds to absolutely stunning views of Mt. Rainier. The resort offers 2,600 acres of groomed runs and expansive backcountry for skiers and snowboarders of all abilities. With an average of over 367 inches of snow each year, chances are you will have fresh powder during your visit.
There are three hotels, condominiums, and RV campsites within walking distance to Mt. Rainier Gondola. Just a short drive away are additional cabins and a hotel. These are all older places, but you can't beat the location.
Pro Tip: The Snorting Elk Cellar regularly makes lists of best après ski bars in the Pacific Northwest. With a Bavarian-style look to it, the cellar oozes old-world charm. Enjoy a Snorting Elk Frost, a beer created by Elysian Brewing Company just for the cellar. There are 18 taps serving up local, crafted beer and an extensive menu of hot toddy-style drinks and cocktails. Well worth a stop.
3. Mount Hood
Mount Hood is the highest mountain in Oregon and home to five ski areas. You can actually ski on the upper slopes of this volcano with average annual snowfall around 500 inches. Located 90 minutes from Portland, it is an easy day trip or you can stay at a variety of lodging in the quaint village of Government Camp.
Mt. Hood Meadows is located in the Mt. Hood National Forest on the sunny side of Mt. Hood. Runs are available for all levels, but the ski area is known for having the best cruising intermediate terrain in the state. The highest lift goes to 7,300 feet for panoramic views. Enjoy 11 lifts with six high-speed quads. This is a large, big mountain experience. Experts only can access gates into the Private Reserve and S&R Cliffs for challenging, gladed trails, and cliff outcroppings. Epic!
Timberline Lodge and Ski Area is known for having the longest ski season in the United States, stretching from early November to Labor Day in September. It also has high mountain slopes just below the summit. The resort's unique offerings include night skiing, well-spaced tree skiing, and in the spring, high-alpine glacier skiing. It is a smaller resort with 41 trails and multiple terrain parks. Access the 1,415 acres of skiable terrain via seven chairlifts, a surface chair, and a passenger snowcat. The Timberline Lodge is historic and was featured in the movie, The Shining. It offers the most luxurious experience of all the areas in this article.
Mt. Hood Skibowl is known for the largest night skiing in the United States with 34 fully lit runs including black diamond runs and two fully lit terrain parks. During daylight hours, try 65 runs which range from beginner to steep black diamond runs in the popular upper bowl. For a family-friendly activity, check out the Cosmic Snow Tube Park with LED lights, black lights, music, and a laser light show.
Pro Tip: Take a guided full moon snowshoe tour. Magical!
4. Mount Bachelor
The Mount Bachelor Ski Resort is the sixth largest ski resort in the United States and is located 22 miles outside of Bend, Oregon. Mount Bachelor also has a long ski season usually from mid-November through May. People come here for the famous dry snow, a rarity in the Pacific Northwest. The mid-winter base averages 150 inches and the average yearly snowfall is 462 inches. With 15 lifts, there are plenty of opportunities to explore the terrain of this stratovolcano. Unique is a lift that takes you to 9,000 feet in elevation where you can hike an additional 65 feet to the summit. Another popular feature is the long runs with one over 1.5-miles-long. Be aware that Mount Bachelor often experiences high winds which can put chairlifts on hold.
This is a day trip from Sunriver, a popular resort, or from Bend. There are lots of lodging options available from budget hotels to luxury resorts and condos. Bend is known for its craft beer scene which is perfect for après ski.
5. Mount Shasta
Located in Northern California, Mt Shasta Ski Park is one of those old school, local, family-friendly ski parks. The reason to visit is the dramatic terrain of Mount Shasta, which at an elevation of 14,179 feet, is the second-highest volcano in the Cascades after Mount Rainier. The setting is spectacular and is one of California's most unique resorts. Skiing is very affordable here. This is a small resort with just three lifts and 425 skiable acres. It gives you access to 32 conventional ski trails and 360 acres of backcountry. The longest run is 1.25 miles. Although small, its location away from larger cities means you will have fewer crowds. It is known for its powder, but when nature doesn't cooperate, snowmaking equipment can blanket 65 percent of the resort with snow.
Each of these ski areas is worth a visit and makes a good weekend trip, or you can take an epic winter road trip, start at Mount Baker in Washington, and work your way south, ending up at Mount Shasta. Most years, ski season begins Thanksgiving weekend, unless there is early season snow — except for Mount Shasta whose ski season begins in December. A trip to explore the Cascade Volcanoes provides breathtaking views. From Interstate 5, there is one point as you near Oregon from Washington where you can view Mount Hood, Mount Adams, Mount St. Helens, and Mount Rainier in the distance.
Make sure your car is ready for winter driving with an emergency kit. It is a law in many places to carry tire chains in your car during winter months when crossing mountain passes. Also, be aware that a few of these ski areas are on national forest lands in isolated areas where cell phone service is limited. Pay attention to weather reports so you don't get stuck in a snowmageddon-type situation. Mountain storms in the Pacific Northwest can dump not just inches but feet of snowfall, so be prepared.