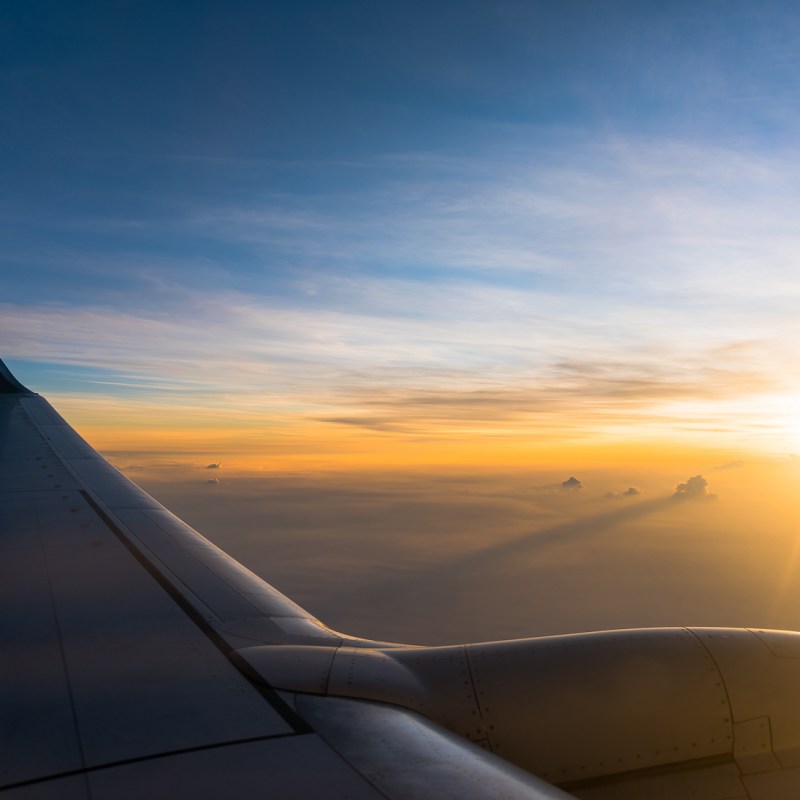 Going on vacation, taking a business trip, or visiting friends and family? As a long-time flight attendant, I picked up a few tips that will help make your in-flight travel a little more comfortable and enjoyable. Most importantly, remember to just relax and enjoy the experience. Here are some handy travel tips for your short or long-haul trip. This list can be adjusted to fit your flying times.
1. Limit Alcohol Intake
From screaming children to long delays on the tarmac, flying can bring on tense moments, so I'd recommend NO alcohol. Plus, it can dehydrate you. If you find that you need to have a drink, then limit yourself to only one (with food, preferably).
2. Set Your Watch To The Local Time Of Your Destination
Go ahead and change the time on your watch while you're in the air. Smartphones and watches usually keep up with changing time zones automatically. However, there is an easy way to see what time it is in your destination before you land. Just open your phone's Clock app and select World Clock. From there, you can add locations to see the time in different parts of the world. Here are more instructions for Apple and Android users.
3. Download Several Podcasts
It seems like there is a podcast for just about everything under the sun. If you need help finding a good one, you can browse categories or search by a particular interest on Spotify, Google Podcasts, Apple Podcasts, or wherever you listen. You can even search people's names to see if they host a podcast or are a guest on one. Traveling internationally? Try searching "learn [language]." Here are some great podcasts for travel lovers. Just don't forget to pack your headphones!
4. Journal
Journal about your trip from start to finish. In the moment, you think you'll remember the events of your trip forever, but memories have a tendency to fade quickly. While photographs are great reminders, writing can capture feelings that an image cannot. I use mine for educational purposes.
New places open the doorways for discovery and can make for the best journal writing. Use your journal to take notes about what you learn on your journey. Travel is, after all, a learning experience, and going somewhere new causes you to venture out and do things you might not normally do. For example, when I went to Alaska, I went salmon fishing and to my surprise, I really enjoyed it.
Writing in a travel journal can also help you de-stress. Need help getting started? Check out these tips for keeping a memorable travel journal.
5. Keep Records
Many people take a screenshot of purchased tickets, but I go a bit further and document everything I buy for a trip. For instance, when I went to India, I recorded everything I packed. That way, if I know someone who is planning a trip to India, I can send them some suggestions of what to bring.
6. Moisturize, Moisturize, Moisturize
Your skin is very important and needs attention. My favorite moisturizer is Clinique's Refresh in 5 set because it de-puffs and moisturizes. Plus, each bottle is under an ounce, falling far below TSA's 3-1-1 rule for liquids, which does include lotion. Just make sure to store your moisturizer in a quart-sized clear plastic zip-top bag with any other liquids (toothpaste, shampoo, conditioner, mouthwash) that are under 3.4 ounces.
7. Hydrate
Make sure you drink plenty of water. Bring a water bottle to fill up at a drinking fountain after you go through security. As I mentioned in my article about what to pack in your carry-on bag, I like S'well water bottles because the insulation keeps drinks colder, longer. I try for about a glass every hour of flight.
8. Finish Up Any Planning
Look at a map of your destination to come up with the best route for doing everything on your agenda. Hopefully, this will help you see the most and enjoy your experience.
Pro Tip: Make sure you book any tours, excursions, museums, transport, et cetera in advance if necessary. Also, check for days that museums may be free to the public.
9. Stretch
Seat yoga, stretches, and exercises help keep that blood flowing when you're sitting for long periods of time. You don't have to go all Jane Fonda, but please try to do things that help to keep you limber. Stretching your muscles not only improves your circulation but also releases tension and anxiety, helping you arrive at your destination feeling refreshed and energized.
10. Feel Free To Move About The Cabin
Bathroom breaks are common and that's okay. Make sure to use the restroom in your assigned cabin when needed. This is also a good time to do some full-body stretches. If you need to stand for a moment, please do, but limit your out-of-seat time to under 10 minutes.
11. Download A Movie Or Two
We are never sure if entertainment will be provided on the plane or not, so be proactive and download a movie or two to your laptop, tablet, or smartphone just in case. Familiarize yourself with a new destination by watching a film or documentary that takes place there.
12. Meditate
Traveling can be fun and yet stressful, so take time to meditate during your trip. Play some soft music, close your eyes, lay your head back, and allow yourself to drift away. Focus on your breathing while becoming free.
Related Reading: