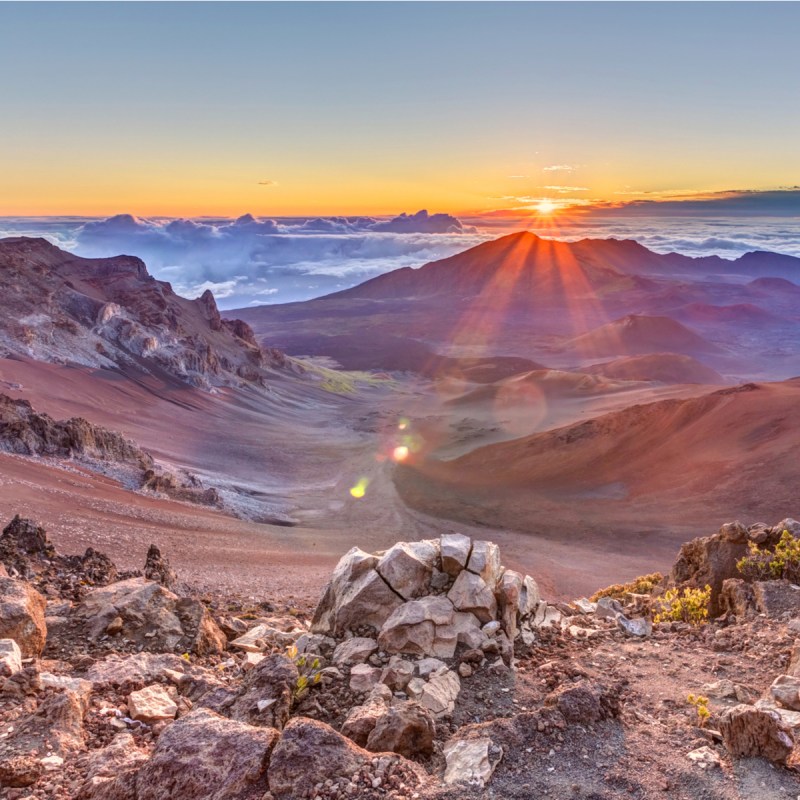 The traditional winter national park vacation involves parks in the desert southwest or the Everglades. Those are great choices, but if you're willing to go a bit farther, you can have a terrific island adventure exploring national parks that most people will never see, and that many have never even heard of.
I'm a retired park ranger. I've had the good fortune to work in parks across the country, and I'm extremely fortunate to have longtime friends and co-workers who have lived and worked at these island parks I could call on to help me in my selection.
I've picked a list of national park sites on tropical islands in warmer winter climates. I started with a park in the Caribbean that's fairly easy to access and is most known for its natural beauty. I then shifted to the Pacific for two choices — one gives a sense of mission to a traditional island vacation, the other goes way, way out into the far Pacific for an odyssey of a lifetime.
Let's go.
1. Virgin Islands National Park
Winter's a perfect time to visit Virgin Islands National Park. Not only do summer and fall bring the potential for tropical storms, they also bring dust from the Sahara. That dust diminishes visibility many days of the season. Not so in winter.
No matter when you visit, the park offers beaches, hiking, camping, and amazing wildlife viewing — that is, if you're willing to do a bit of work and know where to look.
Great beaches include Hawksnest Bay, Trunk Bay, Cinnamon Bay, and Francis Bay.
Hawksnest Bay is easiest to access. Trunk Bay has showers and restrooms (visit early morning or late afternoon to avoid fees at the booth). Cinnamon Bay has restrooms and a campground that's scheduled to open in December. Francis Bay on the north shore is the best place for seeing sea turtles. It also has a new restroom and parking.
Consider visiting the beaches early in the morning when the waters are calm and there are few people.
For hiking, get the trail map at the visitor center. Check out the Reef Bay trail. There are colonial ruins and petroglyphs to explore on the way to a small but remote sandy beach.
For a longer hike, take the scenic trail from the end of the Leinster beach. It goes uphill to a colonial guardhouse overlooking the water and some plantation house ruins. The trail continues on to Brown Bay and ends up in Coral Bay. Hiking and exploring this area is an all-day endeavor, so pack food and water.
A great place to combine hiking and snorkeling is Leinster Bay. Park at the Annaberg Sugar Mill parking lot and hike along the shoreline of the bay all the way to Waterlemon Cay. The best snorkeling is to enter the water closest to the cay and swim across the channel. The area is lined with buoys so there is no boating, making for safer snorkeling.
Speaking of snorkeling, to really appreciate this park's wildlife, you need to see it by snorkeling. It's not hard, not expensive, and you're missing out on much of the park by not doing it.
A great way to investigate snorkeling trips, especially for beginners, is through dive shops in Cruz Bay and Coral Bay. Boat access, including guide service, gives you the absolute best opportunity to get the most out of your park visit.
A hidden snorkeling gem is Hurricane Hole. It has spectacular marine life, but because there's no sandy beach, it's often overlooked.
For a truly once-in-a-lifetime adventure, snorkel the reef at night. You can rent underwater lights at the dive shops. Trunk Bay and Cinnamon Bay are good for night snorkeling.
Pro Tip: In winter, swells may limit underwater visibility on the north shore. If that's the case, head to the south shore, which is somewhat sheltered, for better visibility.
The Seven Hawaiian National Parks
Make a Hawaiian trip with a mission — plan a trip that's centered on visiting all of the national park sites on the islands. By doing so, not only will you experience the natural beauty of the islands, you'll have a deeper understanding of their rich history.
Let's go over them, one by one.
2. USS Arizona Memorial, Oahu
The monument tells the story of the Pacific War, from the attack on Pearl Harbor to the battles in the Aleutians to the homefront and the internment of Japanese Americans. In addition to the memorial above the sunken USS Arizona and the final resting place of 900 of her crew, there is a visitor center with exhibits and galleries. Not part of the park, but nearby, are the Battleship Missouri Memorial, Pacific Fleet Submarine Museum, and Pearl Harbor Aviation Museum.
One can easily spend an entire day immersed in history at the very place where history was made.
3. Kalaupapa National Historical Park, Molokai
When Hansen's disease (also known as leprosy) came to the islands, King Kamehameha V banished all afflicted to the north shore of Molokai. There, since 1866, more than 8,000 people died, mostly Hawaiians, after experiencing life as outcasts from society
Kalaupapa is now a refuge for the few remaining residents, now cured, but who were forced to live their lives in isolation in this former prison.
Visitation is strictly limited to a maximum of 100 people per day, with a minimum age of 16. Only visitors who are part of a guided tour are allowed. And in a twist of fate, due to the pandemic, tours are not being offered at present.
4. Haleakala National Park, Maui
The park starts on the shoreline and rises to its volcanic summit, giving you an incredible variety of microclimates, ecosystems, and things to see and do. The most popular activity is watching the sunrise from the summit, a sacred Hawaiian experience. You'll need a reservation and a warm jacket. You can also take a commercial tour, with an option to bicycle 23 miles downhill from the summit.
The park has camping, backcountry cabins, and hiking. The shoreline isn't swimmer-friendly.
5. Pu'ukohola Heiau National Historic Park, Big Island
The stone temple Pu'ukohola Heiau is an icon of Hawaiian culture. Built under the command of King Kamehameha, the king stood on its walls and fulfilled the vision of unifying the islands under his kingdom in 1810.
The structure itself speaks of the strength and determination of the island people. Its walls were built by 10,000 people over a year, passing stones from one to another in a chain that linked for miles.
6. Kaloko-Honokohau National Historic Site, Big Island
The site of an ancient Hawaiian settlement, the park was created to preserve Hawaiian culture, traditional skills, and knowledge. The park preserves ancient fishponds, and systems for the collection and management of freshwater, which flows into the many pools throughout the park. The area is revered and respected in Hawaiian culture.
7. Pu'uhonua O Honaunau National Historical Park, Big Island
The park preserves a walled sanctuary and refuge for those who have broken the sacred law of the islands, the royal grounds, a mausoleum that housed the bones of 23 chiefs, and so much more. The park is one of the most sacred places on the islands.
8. Hawaii Volcanoes National Park, Big Island
Aptly named, the park lets you experience two of the world's most active volcanoes, Kilauea and Mauna Loa. It is an International Biosphere Reserve and UNESCO World Heritage Site and offers 130,000 acres of wilderness.
You can hike on a variety of trails from short to long, easy to difficult. You can explore from your vehicle by taking the crater rim drive and Chain of Craters road. You can even go underground to explore an ancient lava tube.
Volcanic activity can result in restrictions and closures, so check the park website for updates when planning your trip and before you depart.
9. War In the Pacific National Historical Park, Guam
Although World War II is a major event in American history, visiting a WWII battlefield in the Pacific on American territory, other than Pearl Harbor, takes a bit of work.
And while appreciating history may be your primary purpose in visiting, you'll be equally impressed by the natural beauty and biological diversity of the islands, and the sharing culture of the people.
War in the Pacific National Historical Park on Guam is composed of seven individual sites related to WWII.
If you were to visit Gettysburg, you'd see a mostly sanitized battlefield. Not so at War in the Pacific. The battlefield is still very close to its original state. You can see small caves with shell casings, sake bottles, and a canteen. Sometimes, even bones.
Signs warn of what to do should you encounter unexploded ordnance. The battlefield is that real.
There are memorials, and exhibits, and an extensive visitor center that displays a Japanese midget submarine, but the battlefield itself is what sets the experience apart.
It's a long way to Guam, part of the Marianas Islands, so the park is best appreciated as part of a more comprehensive tour of other islands involved in the Pacific Theater.
In shallow water just off American Memorial Park on Saipan, you can find submerged planes and tanks — some by snorkeling.
Tinian still has the four airstrips where the B-29s took off to bomb Japan, including the atomic bomb raids. Historian Don Farrell is a longtime Tinian resident and takes visitors on a day tour to the airstrips and other historical sites on the island.
Rota has been proposed to be a national park. It has latte villages (latte are ancient stone pillars with capstones found throughout the Marianas, a latte stone quarry, a bird sanctuary with rare and endangered species, and Japanese fortifications dug into hillsides.
To do it right, you're going to want to contact a commercial tour outfit like Military Historic Tours that will arrange your visit. The island battlefields tell a million stories from generations past but are preserved in a state that makes them quite real. As real as the contrast of the horrors of battle, and the natural beauty and serenity of these tropical islands.
Read more insider information about national parks: