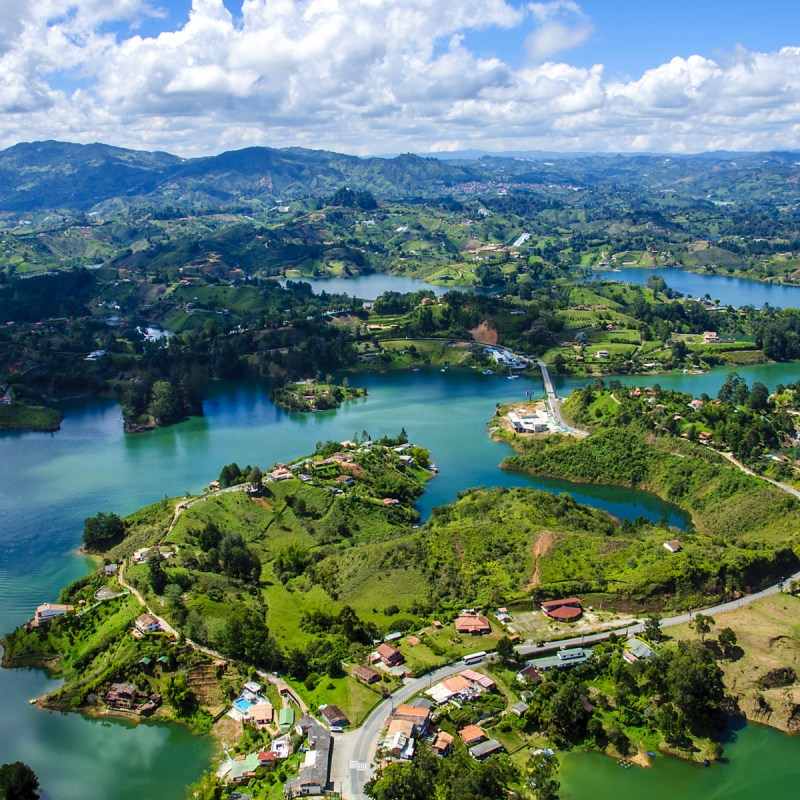 Colombia is quickly becoming one of the most popular spots in the world for expats. Once considered a destination for only the most adventurous backpackers, Colombia has changed significantly in the past 30 years. Now, everyone from retirees to digital nomads to international consultants is flocking to Colombia. Crime has sharply decreased and healthcare standards have vastly improved. If you decide to relocate, here's what you should know about the country's evolving healthcare system.
1. Colombia Has A Strong Healthcare System
Colombia enjoys one of the best public healthcare systems in the world. The World Health Organization ranks it as the 22nd most efficient in the world.
2. It's A System That's Continuing To Improve 
Colombia's healthcare system hasn't always been so strong. Over the past 40 years, health standards have grown significantly. One of the most important changes was the 1993 reform to transform how public healthcare was funded. These reforms stemmed in part from changes to the national constitution earlier in 1991. During that time, a piece of legislation known as Law 100 was implemented. An article of Law 100 mandated that health insurance be compulsory, that providers must have administrative autonomy, and that patients must have free choice among providers. As such, it's widely credited with spearheading the important changes that have made Colombia's healthcare system what it is today. 
Since then, employees and employers alike have been obligated to pay into health plans. Today, approximately 97 percent of Colombians have healthcare coverage as a result.
3. Colombia Has Been Serving Expats For A Long Time
Colombian doctors are long familiar with treating expats and retirees. Physicians receive an excellent education and many complete a part of their training abroad. It's common for physicians to be bilingual in Spanish and English. Additionally, the country is well regarded as a destination for cosmetic surgery. As such, it's common for health clinics to specialize in serving the foreign market. 
4. The Healthcare System Operates A Public Health Insurance Plan
Colombia's healthcare system operates a public health insurance plan called EPS (Entidades Promotoras de Salud). All employees contribute a percentage of their wages to the Sistema General de Seguridad Social en Salud (SGSSS, the social security program). They then select the public (or more pricey private) insurance provider of their choice that's registered with the system. 
Overall, the system offers widespread coverage that's affordable and easy to use. However, it's worth noting that complaints about corruption are commonplace. 
5. Costs Are Kept Low For Patients
In general, healthcare in Colombia is very affordable. About 20 percent of government spending is directed towards healthcare. As well, approximately 5 percent of Colombia's GDP is related to healthcare. This level of investment has everyday costs for patients affordable. 
The EPS is available to all residents at a low cost. For instance, the premium for retirees is 12 percent of declared pension income. As well, there is no maximum age limit to apply for EPS coverage.
Under the EPS public health insurance system, there is a three-tiered payment system for co-payments based on income. These payments cover part of the costs of lab tests, diagnostic imaging, specialist visits, and medications. The rates are approximately $1, $5, and $12. The applicable rate is dependent on income and most retirees fall into the middle tier. 
For those without any health insurance at all, out-of-pocket costs start at about $50 for a consultation with a physician. 
6. Expats Are Eligible For Coverage
All legal residents in Colombia are required to sign on with EPS. Expats can opt out but they must show proof of coverage through another healthcare plan. Those who must opt-in are required to pay 12.5 percent of their gross monthly income to the EPS. For those employed with a Colombia company, that amount goes down to about 4 percent as the employer pays the rest. 
7. Signing Up Takes Some Organization
If there's one thing that all healthcare systems have in common, it's paperwork! In order to apply for EPS public health coverage, new residents must first obtain a visa. EPS coverage is only available to legal residents and citizens. Therefore, you must enter the country with an appropriate visa to your situation which allows you to work or live as a retiree. Count on a minimum of two weeks — and sometimes more — for your visa to be processed.
The next step is to get your cédula. Once you have your visa in your passport and enter the country, you must go to a Migración (immigration) office to register your visa. Here, you will apply for your cédula or identification card. You will need to complete a form, pay a fee, have digital fingerprints taken, and a photo. All forms are in Spanish and it's a good idea to bring a local friend or hire a translator to accompany you if you aren't fluent.
Next, it's time to wait. The process usually takes 2 to 4 weeks for your application to be processed. You pick up your card at the same immigration office where you applied.
With your cédula in hand, you may sign up with EPS. First, you must choose an insurance administrator and make an application with them. Once you are approved, your coverage starts immediately. You won't be issued a health insurance card. Your cédula identification is all you need to make an appointment.
In addition to the EPS basic health insurance system, there are many add-on plans which expats can buy. These act like supplemental private insurance. With these plans, you are entitled to faster service at more upscale facilities. 
8. Doctors Can Be Bureaucratic As Well
Expats are sure to notice some key differences between what it's like to visit a doctor in Colombia versus doing so in their home country. In Colombia, most of the time it's up to you to maintain your own medical file. Your primary physician will keep his or her own notes but when it comes to copies of tests and diagnostic imaging, you're in charge of your records. Results are rarely shared electronically between testing centers and physician offices and, as such people often walk their results from the laboratory to the doctor themselves. (If the idea of trying to organize all of this long-term sounds stressful, there are a lot of apps designed to help you keep track of everything!)
However, doctors in Colombia go the distance in their own way. For instance, many still make house calls. For many insurance providers under EPS, this is an option for patients. And in nearly all cases, there is no special surcharge. House calls are done for the same co-pay fee as a regular physician's visit!
9. Understanding What To Expect In Facilities
There are vast differences in the standard of care between rural and urban areas. In Bogota, Medellin, and Cali, healthcare facilities are superb. But in rural areas, avenues for care are very limited and clinics may be basic. 
For those who can afford it, being treated in a private facility means a more comfortable experience in a more modern setting with private rooms. While many Colombian doctors do speak English, at private facilities you're all but guaranteed to have multilingual staff. As well, wait times are considerably shorter.
10. Public Health Challenges Are Serious
Despite the many success stories in Colombia's healthcare system, several public health challenges remain as serious ― and dangerous ― problems. At the top of that list is malaria. Nearly 85 percent of Colombia is vulnerable to the disease. There are an estimated 250,000 cases a year in Colombia.
Malaria isn't the only serious disease challenging public health officials. Both yellow fever and dengue fever remain hugely problematic, giving malaria a run for its money. The government regularly has yellow fever vaccination campaigns but much work remains to be done to lower infection rates.
Read all of TravelAwaits retirement tips here.