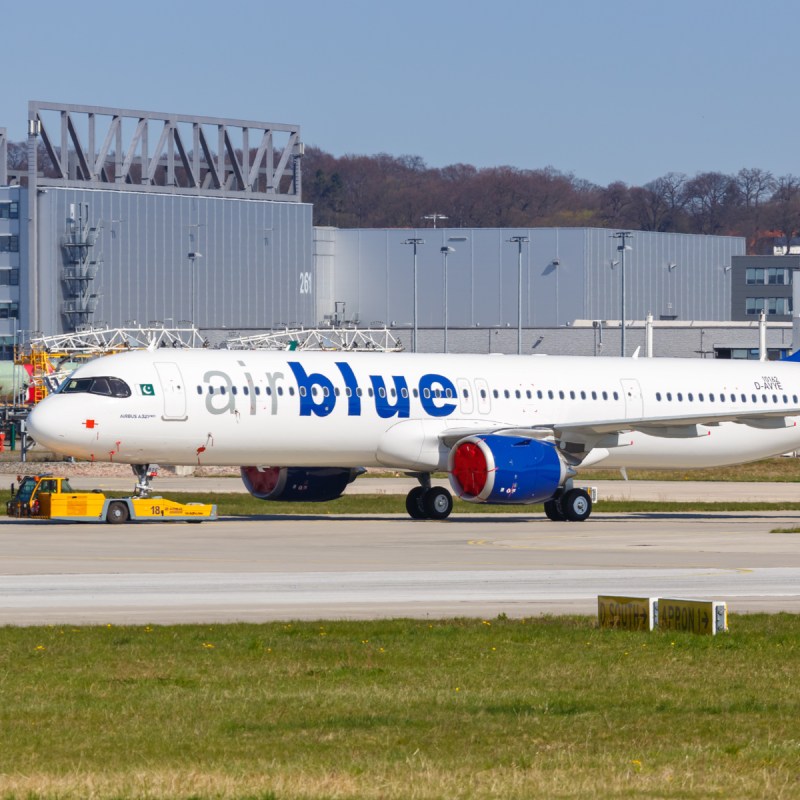 Nearly 4 years after being formed, a new start-up airline appears ready to begin flying in the not-so-distant future.
Airbahn took delivery of its first plane last week and is hiring for a variety of positions. Exactly when Airbahn might start carrying passengers remains one of the mysteries of this new airline, which will fly primarily in California, Nevada, and western Canada.
Airbahn was founded in February 2018 by Tariq M. Chaudhary, who is also the CEO of Airblue, the second-largest airline in Pakistan. The Aribus A320 aircraft that arrived in California last week was a former Airblue plane now painted in Airbahn's navy blue and white colors and can hold up to 174 passengers.
The airline's website features only one thing on it: a call for employees. Under the heading "Join the Dream Team," Airbahn is accepting applications online for a variety of positions.
With a few exceptions, all of the jobs are based in Irvine, California, where the company appears to be locating its headquarters. Available jobs include openings for:
Seven captains
Nine first officers
Three cabin crew
Manager of maintenance control
Manager of maintenance training
Safety programs specialist
Inflight training instructor
Human resources assistant
In addition, the airline is hiring station supervisors to be located at airports in Oakland, San Jose, and Sacramento, in addition to Irvine. This is a good hint that early flights will be between these California locations.
According to Business Insider, the airline filed an application to operate with the Department of Transportation in 2018. According to the filing, the airline will serve mid-tier markets and wants to operate a schedule where the crew is at the home base every night, which appears to be Irvine.
As a start-up, it is hoping to capture the low-cost market.
"This is a very price-sensitive market," executive vice president Scott Hale told Simply Flying in May. "It's also value-orientated, and we want to make sure that when you buy a ticket, you know what you're getting."
Hale said the airline has no target customer in mind.
"We view ourselves as a value carrier, and we want to make sure we're providing you a great service," Hale said. "If that happens to be a small business traveler, that's great. If you're going to college, that's great. If you're going to see family, that's great."
If Airbahn does get off the ground in the near future, it will be the fourth start-up to launch in recent months. Avelo Airlines, Breeze Airways, and Aha! have all begun flying U.S. routes in 2021.
Be sure to read up on all of our travel news coverage.