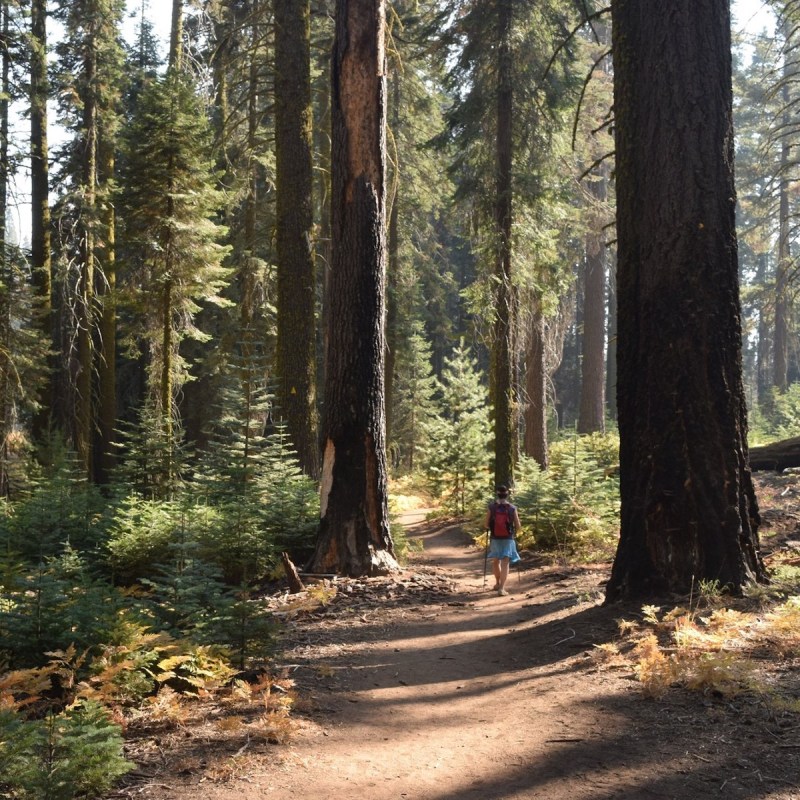 On September 9, a lightning storm ripped through the southern Sierra Nevadas in California, triggering two wildfires. Very quickly the fires merged and spread through Kings Canyon and Sequoia National Parks, resulting in their closures. Surrounding national forest lands were also closed. What became known as the KNP Complex fire burned almost 90,000 acres. 
Housed within these two national parks are thousands of Sequoia trees, among the largest and oldest trees in the world. People from around the world watched and waited to see if some of the park's most beloved trees would survive. Firefighters valiantly protected the most famous trees, including General Sherman, by wrapping them in aluminum blankets.
As the fire approached containment, and after a thorough damage assessment, the parks have partially reopened. The situation continues to evolve, so visitors are strongly encouraged to visit the park's website prior to any visit.
What To Expect In Kings Canyon National Park
Kings Canyon was the first of the two parks to reopen, and fortunately, one of its most popular destinations, General Grant's Grove, is currently open to visitors. This 154-acre portion of the park is home to the third-largest tree in the world, the General Grant tree, along with hundreds of other giant sequoias. The .7 mile accessible loop trail is fully paved. Along the route are interpretive signs providing information about the trees, the ecosystem, and conservation. Be sure to look out for the fallen trees and hollowed out tree that visitors can walk through.
Other nearby sites that are open include Panorama Point and Big Stump. At Panorama Point, look outward across hundreds of miles of Kings Canyon National Park and neighboring national forest lands. Below lies Hume Lake, a small historic lake in Sequoia National Forest that was created in 1908 using a rare multiple-arch dam. Big Stump, once known as the Mark Twain tree, is all that remains of a giant sequoia cut down in 1891 that reached 16 feet in diameter.
Many of the park's hiking trails are open as well. Check with the rangers at the visitors center for trail recommendations.
Campers will be happy to know that Azalea Campground is currently offering 20 sites on a first come first served basis.
Services in the park were already limited due to COVID and are even more so at this time. However, in Grant's Grove, you'll find an open market, gift shop, and a visitor information desk staffed by rangers. Visitor center exhibits and the theater are closed. Lodges are also closed at this time.
What To Expect in Sequoia National Park
Sequoia National Park reopened a few weeks after Kings Canyon, but at this time, its most popular sites, including the General Sherman Tree and the Congress Trail, remain closed. Only the foothills portion of the park is open from Three Rivers Ash Mountain Entrance Station to the Hospital Rock Picnic Area, approximately 6 miles up the General's Highway.
Currently available to the public are the Foothills Visitor Center and picnic area, Tunnel Rock, Hospital Rock and picnic area, and the Potwisha Day Use Area. Hikers will be happy to know that the popular Middle Fork Trail is open for day hikes and overnight backpacking. This 27.8- mile trek offers views of the Kaweah River, Partner Creek Falls, and wildflowers in the spring. Permits are required for backpacking and can be obtained at the visitors center.
There are no markets, restaurants, or lodges open at this time in Sequoia.
Preparing For Your Visit To Kings Canyon And Sequoia National Parks
Sintia C. Kawasaki-Yee, Public Affairs Officer for Sequoia and Kings Canyon national parks has this advice for visitors, "More than ever we recommend visitors visit our website in advance of their visit to get an idea of what is open and closed. The National Park Service App is also a great tool to have when in the parks, as content can be downloaded and used even in areas that don't have cell service. Although some areas have now reopened in Sequoia and Kings Canyon national parks, many trails and sites in these areas remain closed due to fire hazards. Be mindful of trail signs, and avoid closed areas, as these are closed for good reason, and we want visitors to return home safe."
With limited services, it's imperative that visitors bring everything they need for the duration of their stay including water, food, and appropriate clothing. Due to the elevations of both parks, winter weather gets very cold and snow is common. Be sure your gas tank is full at the start of the day. There are no gas stations in either park.
How You Can Help
The Sequoia Parks Conservancy is the official nonprofit partner to both Kings Canyon and Sequoia national parks, offering educational programs in the parks and raising funds to protect and preserve them. It is currently accepting donations for its KNP Complex Fire Recovery Fund which will help rebuild trails, protect sequoia groves and meadows, and restore wildlife habitat.