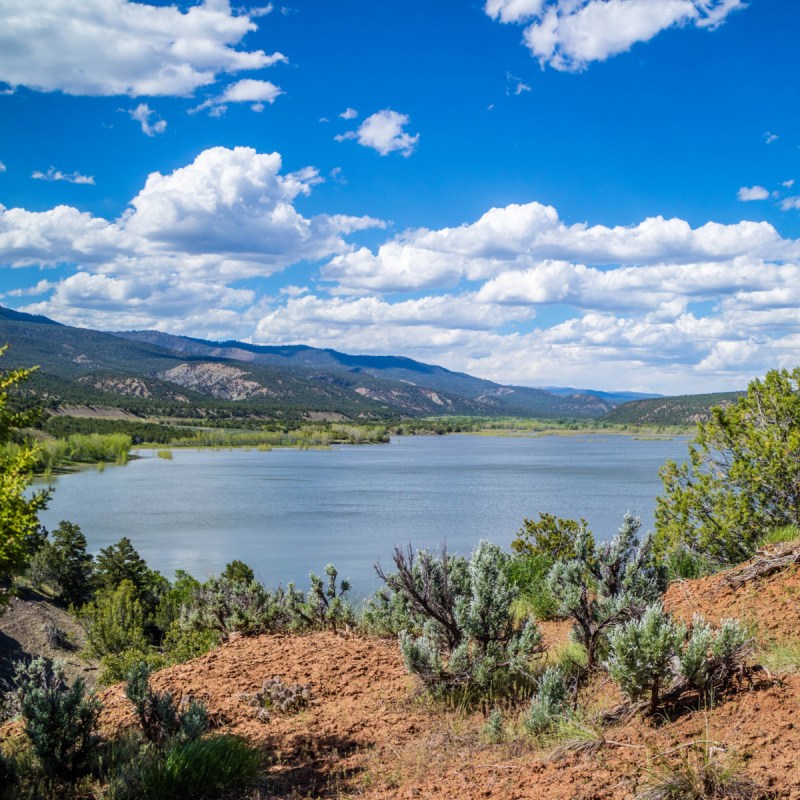 When people think of Colorado, they think skiing. Towns bordering national parks have a different flavor; one worth sampling. One of America's oldest mysteries surrounds the Ancestral Publeons, ancestors of the present-day Pueblo tribes, and why they built elaborate cliff dwellings and then abandoned them. On a hosted press trip, our anthropologist/guide, Jim Colleran, told us that in Montezuma County, Colorado, there are over 20,000 sites.
1. Cortez
We began at Cortez Cultural Center, housed in a 1909 building. It's filled with art and artifacts about Native American history. The exterior walls are painted like a cliff dwelling. Samuel Kills-In-Sight, a Lakota dancer and storyteller, told us his tribal history and performed a native dance.
Mesa Verde is a UNESCO World Heritage Site. Best place to start is at the park's Chapin Mesa Archaeological Museum. (Note: The museum is temporarily closed because of COVID.)
We took the "700 Years Tour." It gets its name because it begins with the earliest pit houses dated about A.D. 600 and ends with Cliff Palace, one of the latest sites. We covered 700 years in four hours.
At the pit house ruins, there are remnants of walls. Pit houses were round holes dug in the earth and surrounded with stone a few feet high. Inside were two rooms, one for everyday living with a firepit in the kitchen area and a smaller room for storage and private times. People climbed down a ladder from the roof.
Kivas, used for ceremonial purposes, developed after pit houses. Kivas had small holes in the floor called "sipapus" which supposedly allowed tribal ancestors to emerge from Middle Earth.
The Far View complex was built around A.D. 900. Far View House, Far View Tower Pipe Shrine House, Coyote Village, Far View Reservoir, and Megalithic House are all accessible from a short trail off the main park road.
The dwellers believed Sun Temple was an astrological observatory. Our guide, Paul, showed us where the sun lined up at a specific place on the Winter Solstice.
Cliff Palace is one of the most interesting park sites. You climb steps cut into the cliff and several ladders to the top of a 100-foot cliff. Cliff Palace, constructed between A.D. 1190 and A.D. 1260, has 23 kivas and 150 rooms.
Balcony House is another must-see if you are physically able. You have to descend steps about 100 feet into the canyon, then climb an almost-vertical 32-foot entrance ladder on the cliff wall. Next, you navigate a narrow tunnel and passageway. It's worth the struggle. You reach a 40-room, two-story masonry dwelling place. The second floor has a balcony, so residents could have a view looking down 600 feet into Soda Canyon. Dual kivas here tell how important religion was to these people. In cliff dwellings, the doors are small and keyhole shaped. By A.D. 1300, both Cliff Palace and Balcony House were abandoned.
Rangers told us why. A drought that lasted about 20 years and increased population that had cut most of the trees needed for firewood and hunted out the nearby area. The residents took only what they could carry since they had no horses, pack animals, or wheels.
Pro Tip: Park is open year round, but many of the sites open from April to October due to weather conditions.
2. Dolores
The next stop was Canyon of the Ancients Visitor's Center and Museum, near Dolores. It's got over 3,000,000 artifacts, a library, and theater.
The timeline along the wall puts the Canyon of the Ancients into perspective. Another exhibit showed how weapons advanced from the old atlatl, which threw a spear, to the bow and arrow. Dolores Archaeological Program found most of the artifacts in the Center between 1978 and 1986.
When the government decided to build the McPhee Dam Reservoir. Scientists undertook the largest archaeology project in the U.S. They discovered 1600 prehistoric households and villages. One exhibit tells about the project.
McPhee Dam Reservoir is a 10-minute drive from the center. It's great for kayaking, boating, waterskiing, fishing, hiking and has a campground.
It's about 25 miles in a straight line from the Visitor's Center to Canyon of the Ancients sites. Since we were in the mountains, nothing was straight, especially roads. Lowry Pueblo, with its Great House and Great Kiva, is the most famous site in Canyon of the Ancients. The pueblo is unique in that it is built atop an earlier pit house settlement. The Great House is multi-leveled and has about 40 rooms and several kivas. There are picnic tables and restrooms.
Hovenweep Visitor Center is just across the Utah border. It has exhibits and an interpretive film. Square Tower Group, the largest collection of Ancestral Puebloan structures at Hovenweep, is a short hike from the center. You'll see Stronghold House, named for its fortresslike appearance. Twin Towers, considered one of the best-constructed ruins in the Southwest, is a unique pair of structures almost touching one another, with one tower oval and the other horseshoe shaped. Eroded Boulder House has a boulder for the roof and part of its walls.
Slightly farther is Cajon Ruins. One pueblo sits on a cliff edge with several oddly placed small holes that let in shafts of sunlight, marking a spot on the wall at summer solstice.
Pro Tip: Some places may be difficult to access for persons with physical handicaps.
Lodging: Retro Inn takes you back to the 1950s. Elvis is sitting on a bench outside the office. A vintage RV parked in front is surrounded by pink flamingos.
Dining: The Farm Bistro, in Cortez, and Absolute Bakery for breakfast or lunch in Mancos just a little east of Cortez.
3. Grand Lake
I visited Grand Lake, the western entrance to Rocky Mountain National Park, on a recent press trip.
Kauffman House Museum tells Grand Lake's history. The log building, dating to 1892, is one of the oldest in Grand Lake.
The Kauffman House was a home and a hotel. It's furnished as it was at the turn of the century. The dining room table is set with dishes authentic to the family. The kitchen has a wood stove and lots of cast-iron pots and pans. Guests paid $12 for a room, meals, and laundry.
East Troublesome Fire Tribute is a tiny museum that tells a sad story about the second-largest fire in Colorado. It started on October 20, 2020 and favorable conditions caused it to spread. Within 3 days, it covered over 10,000 acres, forcing evacuation of most of Grand County. Susan Lawson, a museum guide, says "We had 15 minutes to get out."
One good way to get a different perspective is a Trail Ridge Marina pontoon boat tour of glacier-formed Grand Lake, the largest natural lake in Colorado. It's framed on three sides by Rocky Mountain National Park. James, our boat captain, took us from Grand Lake into Shadow Lake.
Rocky Mountain Repertory Theater brings Broadway musicals to the mountains.
Kawuneeche Visitor Center, the west entrance to Rocky Mountain National Park, abuts Grand Lake. From the center, drive Trail Ridge Road, called "highway to the sky," into the park. The road runs 48-miles from Grand Lake to Estes, the east entrance.
There're lots of interesting stops along the road. Holzwarth Historic Site, one of the nation's first dude ranches, was the home of German immigrants, John and Sophia Holzwarth, who took advantage of the Homestead Act. They settled 160-acres in Kawuneeche Valley on the banks of the Colorado River in 1917. They built cabins and guests came for the fly-fishing. We saw many of the original cabins but could only view most of them from outside. One is open and has exhibits of how early 20th century people worked in the Rockies.
Continental Divide is the next stop and the high point of the country. All the waters that form our rivers and streams begin here. Waters on the east flow into the Gulf of Mexico or Atlantic. Those on the west flow into the Pacific. The National Continental Divide Trail runs 3,100 miles across the United States.
We continued to the Alpine Visitor Center, which sits at 11,796 feet, the highest elevation visitor center in the national park system.
The museum explains how plants and wildlife survive at this altitude. There's a restaurant.
4. Granby
River Run Resort in Granby, 20 minutes southwest of Grand Lake, offers not only RV sites, but cabins, glamping within an Airstream park and Conestoga wagons, lodge, fitness center with yoga, massage, and spa, and everything for a perfect vacation. The swimming pool has three hot tubs and The Tiny Tap serves poolside cocktails. There's a large dog park for your furry friends. Summit Bar and Grill and Headwaters Tavern feed you well. They provide entertainment on Saturday with Campground Concerts on the Summit's patio. There's an arcade, bowling alley, lake dock with paddle boarding, and kayaks. If you get bored, you can explore nearby Arapaho National Forest.
Fraser River runs through Granby and Colorado's third-largest lake, Lake Granby, makes water sports popular. In the winter, skiing or snowboarding is available at Granby Ranch ski resort.
Dining and shopping: Downtown Grand Lake has unique shops, art galleries, lodging, and restaurants. Blue Water Bakery, Rockies, Sagebrush BBQ & Grill, are good choices. Grand Lake Lodge Restaurant is perfect for upscale dining and unique lodging. Almost every restaurant in Grand County is dog friendly.
Coopers Creek Square, about 15-17 miles south of Granby offers unique wine choices, dining, and shopping. Visit Adventure Decanted there.
There are other interesting sites to explore in Colorado: