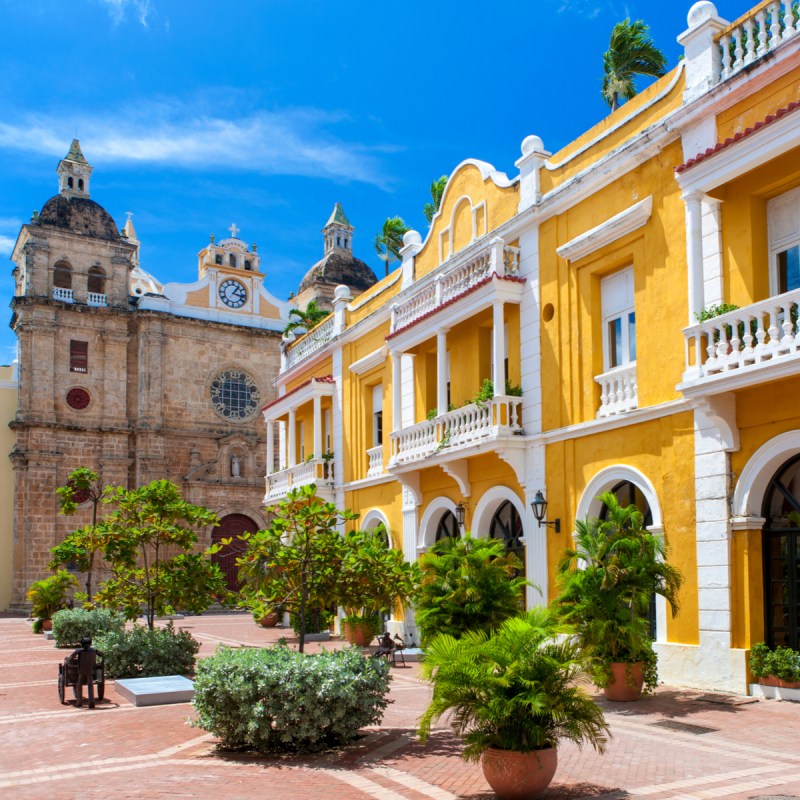 There are a lot of differences between Colombia and the United States, but one of the most shocking for those considering retiring in Colombia is the country's transportation. With a culture that relies almost exclusively on public buses and taxis rather than personal cars, everyday travel looks a lot different in Colombia than it does in the United States. Here are six things to know about transportation in Colombia before retiring there.
1. Buses Are The Primary Mode Of Transportation
Ask just about any Colombian resident what their main mode of transportation is, and it's rare to find an answer other than the bus. Buses are the primary mode of transportation in the country, with routes connecting just about every city.
Some buses travel standard commuter routes through cities, while others drive long-distance, cross-country. Residents can board a bus from any of the bus terminals, which are present in just about every town in the country. Sometimes, folks can also jump on mid-route when the bus passes by. When this is the case, the driver will stop, and passengers pay the fare when they board.
While ticket prices are set online, in-person purchases at a terminal can occasionally feature some back-and-forth to bring down the price. While this is a handy trick, the prices are already so inexpensive that most expat retirees find the advertised fares to be perfectly reasonable.
Bus quality varies depending on the company, but most buses are clean, spacious, and air-conditioned. Some smaller buses, known as colectivos, are crowded van-like minibusses that usually hold just a few passengers. However, passengers are always aware of what type of bus the tickets are for and can avoid the smaller ones if they choose.
2. Taxis Are Great For Inner-City Travel
If a resident is simply traveling from one part of a city to the other, sometimes taxis are the easiest mode of transportation. Taxis are common within both big cities and small towns and are a great resource when there are no direct bus routes to a desired destination.
Just like in the United States, most Colombian taxis have meters that charge per kilometer. The rate depends on where in the country a resident is, with fares in bigger cities like Bogotá being much more expensive than they are in smaller towns. On the rare instance a resident finds themselves in an unmetered taxi, the driver and passenger should mutually agree to an amount prior to departure.
3. Air Travel Is Ideal For Cross-Country Trips
While long-distance buses are always an option, often the best choice for cross-country travel is a domestic flight. A quick plane ride will take a fraction of the time of a bus journey, and the ticket prices are often inexpensive.
In addition to a few international airports, Colombia has more than 150 domestic airports scattered throughout the country, residents can easily reach just about any corner of the country via air travel.
4. Personal Vehicles Are An Option, But Not Common
Unlike in the United States, personal vehicles are not the primary mode of transportation in Colombia. Instead, most residents rely on public transportation for everyday travel.
However, traveling behind the wheel of your own car is always an option, as the country has an expansive highway system, and most roads are paved and have frequent signage. Driving may be difficult in big cities, where traffic is congested and parking is scarce. As in any other country, driving habits differ from the United States, and it may take some practice to learn the quirks and customs of Colombian drivers.
5. Some Areas Of Colombia Rely On Boats For Transportation
While the bustling cities get by with their buses and taxis, some parts of the country use ferries and riverboats. Areas such as Nuqui and Providencia are beautiful corners of the country, but are only accessible via plane or boat. Conocemos Navegando offers a convenient, direct route from San Andrés to Providencia.
If retirees find themselves visiting one of these popular coastal destinations, they may have to rely on boating services for transportation. It is recommended that travelers to these areas book ahead with a trusted boating company rather than trying to find a ride upon arrival.
6. The Country's Lone Passenger Train Offers A Fun Ride Into The City
The Tren Turistico de la Sabana — also known as the Turistren — is the only regularly active train in Colombia. The train runs from Bogotá to Zipaquirá, and only on weekends and holidays. Although it doesn't function as a commuter train, it is a popular attraction that can add an extra level of fun to visiting the city for both tourists and residents. With inexpensive fares and gorgeous views of the country, it's hard to turn down the opportunity.
For more inspiration, consider: