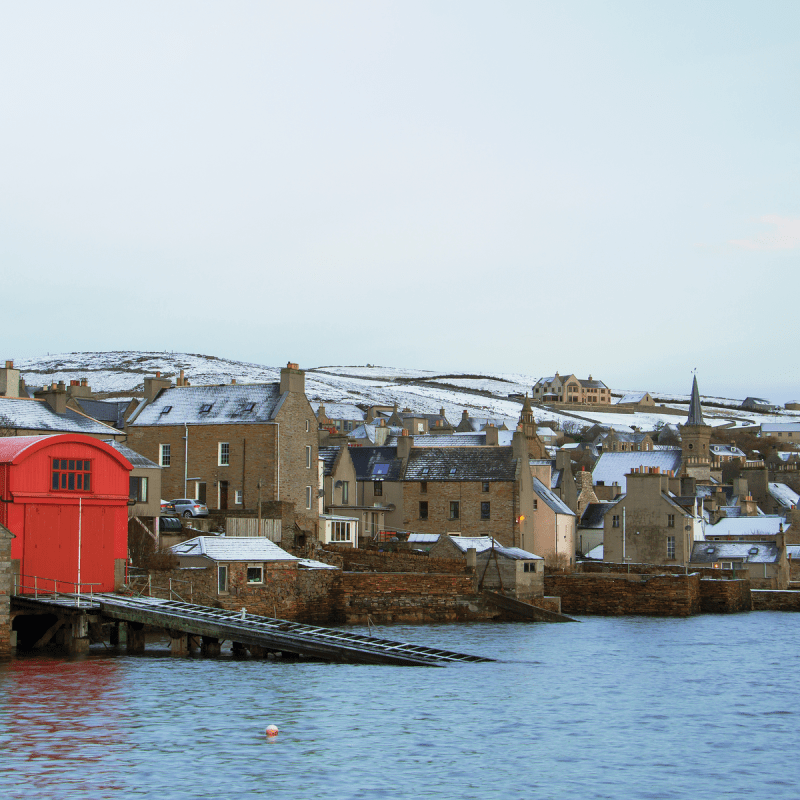 Scotland is a snowy, cold country during the winter months, which means at Christmas time it's one of the most atmospheric places to be. While the big cities go all out with ice rinks and elaborate light displays, the smaller towns have a Christmas charm that's intimate and community based. This makes them unique places to be in the festive season. From parades and pantomimes to real reindeer and a visit from Santa, towns in Scotland love giving visitors and locals a very special Christmas. Here are eight towns in Scotland with genuine Christmas charm.
1. Milngavie
Milngavie, pronounced "mill guy," is a town in Scotland most famous for being the starting point of the West Highland Way. But come the festive season, and this modest Scottish town takes on a whole new persona. Milngavie becomes a Christmas town and they call this festive period Merry Milngavie. You can visit Santa in his grotto and the Cairngorm Reindeer Team are there to greet you with real reindeer. The town also buys over 100 mini Christmas trees for each local business, for the town's tree decoration competition. There are various micro-events going on all around the town too, like festival face painting and Christmas crafts. This sprinkling of small celebrations and fun turns Merry Milngavie into a Christmassy town trail.
Pro Tip
To experience the best of Milngavie in the easiest and most convenient way, pick up a Milngavie gift card. This handy prepaid card is accepted in businesses across the town so you can shop, eat, and drink with ease. Buy it as a gift for someone going to Milngavie and they'll have a true Christmas experience in the town while supporting local businesses.
2. Aviemore
There's nothing more Christmassy than being surrounded by snow while you're all cozy in the warmth and comfort of a Christmas hotel. Aviemore is a town located within the Cairngorms National Park and it's so snowy in winter, with such a dramatic landscape of peaks and slopes, it's the UK's best area for snow sports. But you don't have to enjoy skiing to appreciate this winter wonderland. The hotels and restaurants here put on an impressive menu of festive food, and there are some lovely gentle winter walks in the area so you can still enjoy the snowy scenery. The town also has a Christmas parade, complete with Santa and his elves. If you want to get out on the snow in a less energetic way, take a huskie pulled sleigh ride. It's a unique way to explore the winter landscape.
3. Callander
Each year, the town of Callander holds a Christmas festival called Winterfest. It's completely community focused and organized, but visitors are very welcome to join in. Everything centers around the town's stunning old church. Beneath the spire, there are festive stalls at the Christmas market, a traditional brass band playing old Christmas hymns, a tall and beautifully decorated Christmas tree, and plenty of mulled wine and hot chocolate. The high street is strewn with fairy lights and the town has a warm Christmassy feel to it. It's a quiet and modest festival, but one which everyone in the town loves to attend. This also makes it a great way to mingle with the locals and feel part of the community.
Pro Tip
Get a good viewing spot for the Christmas float, complete with Santa, that laps the town square around the church. Most people take their children down to the festival for this, so it does get busy. Locals will line the road as the float approaches, so find a good place to watch and get your camera ready.
4. Forres
Situated by the Moray coast, Forres is a picturesque old town with a close-knit community. A group of volunteers go out every year and trim up the town center with decorations and lights, gearing up towards the main spectacle, the Christmas lights switch on. To say this is organized by the town's volunteers, it's an impressive light display, and the town center Christmas tree is especially professionally decorated. The decorations across town are stylish and sophisticated, rivaling the best of any big city. The town has a genuine holiday feel to it, without a hint of kitsch or consumerism about it. It has a real authentic atmosphere, that's warm and heartfelt in its message.
Pro Tip
Head to nearby Brodie Castle, a restored 16th-century castle, where a Christmas market is held each year. This is a stunning setting for a Christmas market and the stalls are crammed with Christmas crafts and festive food and drink. It does get busy, and the car park gets full, but it's worth a visit.
5. Stromness, Orkney
Perhaps because much is said of how dark and windy, and generally dismal, the conditions are on Orkney in the winter, the lights and cheer of Christmas seem all the brighter. In the town of Stromness, Christmas is a big deal. As the wind whips in from the sea, Stromness faces it with a barrage of fairy lights and Christmas displays. Every store, every house, every public building, is trimmed with Christmas cheer. Yards and gardens feature Christmas trees and trailing lights, and everyone really gets into the spirit of the season. It's a traditional festival of light in this island town, the brightness shining through in the dark months. In some ways, this is as close to a traditional Christmas light festival as you can get in Scotland, where in the past it was very much about finding light in the darkness. It's the perfect place to cozy up inside with a hot chocolate while the lights twinkle outside.
Pro Tip
In the nearby town of Kirkwall, on New Year's Day, they play the game of ba. This is basically a mass street game in which everyone joins in and consists of carrying, above the heads of everyone, a leather ball, which must be deposited in the opposite goal. It's a traditional streetball game that everyone who lives here takes part in, and it makes an interesting spectator sport!
6. Montrose
Following some fundraising by the local Santa Claus charity in the town of Montrose, there was an injection of money for the town's lights last year. This has led to an impressive display of Christmas sparkle, part of which is laid like chainmail against the Ballhouse. It looks so beautiful in fact, following last Christmas, these lights were still sparkling away in February! The lights switch-on event, usually held mid-November, also features a mini-fairground with rides for the children, and a Santa's grotto. The lights switch-on is like a mini-festival that wouldn't be out of place by the beach in a coastal town in summer. It feels like a small carnival, but Christmassy, making it an unusual and delightful little event.
7. Newburgh
If you're looking for raw and simple Christmas charm, Newburgh has it. While most towns and cities strive to make their Christmas lights the best, the most professional looking, the most awe inspiring, Newburgh aims for something more homely. Every year, the town takes the design from one school child and turns it into a Christmas light. The result is so unique, you won't see anything like it anywhere. These light displays might be a bit rough around the edges, they might be wonky and imperfect, but they are the most charming Christmas lights you'll ever see. The winning design is made into a light decoration that always hangs from the same lamp post in the town center, and every year the whole community rushes out to view this totally unique Christmas decoration. This unusual tradition has been going strong for 20 years now, though no one can remember how and why it started.
Pro Tip
If you want to get a good view of this one-of-a-kind Christmas light, position yourself near lamppost number 15 for the official lights switch-on. The winning child's design is hung from this lamp post every year and everyone wants to see it turned on for the first time, so get a good spot.
8. Oban
Oban, the unofficial capital of the West Highlands, is a town where Christmas means a lot. The winter festival is held each year and features a reindeer parade, a Victorian market, an ice rink, live music, comedy evenings, and workshops. It's the kind of festival you'd expect to find in one of the cities in Scotland, and might perhaps be a reflection of Oban's status as unofficial capital, but Oban is very much a town and everything is within easy walking distance. Whether you're staying in Oban, or just visiting for the day, you can get from event to event without any trouble. The winter festival here is so good, the organizers recently won the Queen's Award for Voluntary Service.