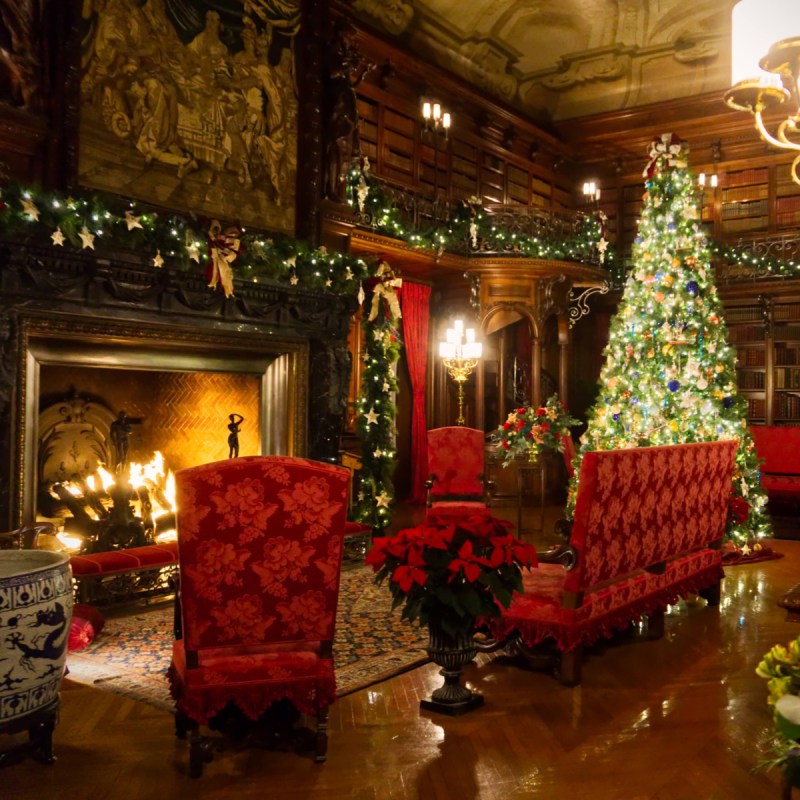 Christmas has arrived at the Biltmore Estate, the Asheville, North Carolina, location billed as America's largest home.
The historic museum features the main residence, a 178,000 square-foot mansion built on 8,000 acres in the late 1800s for George Washington Vanderbilt II. Still owned by the Vanderbilt family, it has become a major tourist attraction — particularly during the holidays.
Operators kicked off the Christmas season earlier this month with the annual tree raising ceremony. A 35-foot Fraser fir was hoisted in the banquet hall in a ceremony held virtually for the second consecutive year. The experience remains available for viewing on Biltmore's YouTube channel. We've embedded it below:
Because of the pandemic, visitors weren't able to witness the event in person, which includes the arrival of the tree by horse-drawn carriage to the front lawn, and then the transport into and lifting of the tree in the banquet hall.
That moment officially kicks off the holiday season at the Biltmore, which includes two experiences: Christmas at Biltmore daytime celebrations, and Candlelight Christmas Evenings. Both events run through early January.
The giant tree in the banquet hall is only the beginning of the decorations and holiday experience.
"Biltmore's design team has created this year's yuletide decor throughout Biltmore House based on traditional Christmas carols," officials said in a release.
That includes 62 hand-decorated Christmas trees in Biltmore House alone, including more than 14,000 ornaments, 45,000 holiday lights, 250 candles, 1,000 feet of garland, and 175 poinsettias.
"Decorations are scaled to the maximum to transform an estate like Biltmore to the grand experience it is year after year," officials said.
The entire estate is open to visitors who purchase tickets to either of the Christmas experiences.
The daytime celebration includes a daytime tour of Biltmore House while the estate is described as a feast for the senses.
The evening celebration brings a different feel to the tour, with the house lit up with thousands of candles and firelight. Musicians are scattered throughout the grounds, and the centerpiece is a 55-foot spruce tree lit up on the front lawn.
The evening event "allows guests to step back in time with an experience reminiscent of the Vanderbilt's first Christmas spent in Biltmore House in 1895."
As part of the holiday experience, the Biltmore has also opened the Van Gogh Alive digital art exhibition, a multi-sensory experience.
Tickets for the daytime experience range from $106 to $359, depending on what you want to include. Tickets for the candlelight evening experience run from $119 to $369.
More Biltmore and Asheville-related articles: