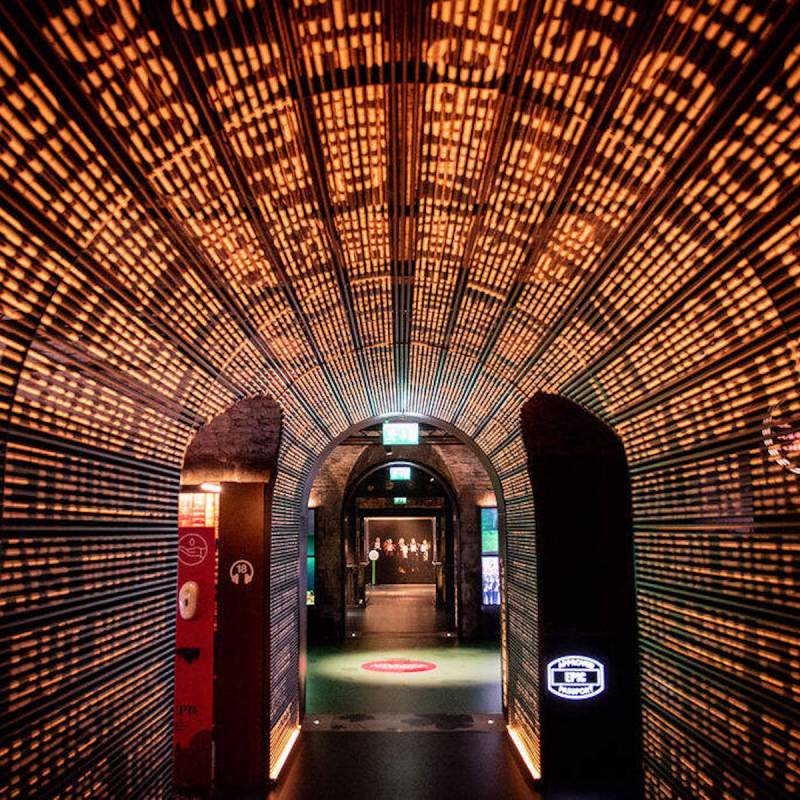 Are you among the over 70 million people with Irish ancestry living outside Ireland? That includes about 31.5 million Americans, even presidents Biden and Obama, and 21 more.
If your Irish roots draw you to Dublin, be sure to visit EPIC The Irish Emigration Museum.
I thank Fáilte Ireland, the National Tourism Development Authority for the Republic of Ireland, for hosting me. The official tourist website is Ireland.com.
A Winning Attraction
In 2019, 2020, and 2021, EPIC has won the World Travel Award for Europe's Leading Tourist Attraction.

EPIC is part of the Dublin Docklands regeneration project on both sides of the River Liffey and is easily reached by public transit, car, or on foot.
Irish History Through Emigrant Eyes
This museum is devoted to telling stories of people who have left Ireland. Who are they? Where did they go? What did they do?
The biggest question is, "Why did they leave?" EPIC answers this, often with restraint. If you look here for Ireland's darker history of religious persecution and political oppression, you will find it, but it's not front and center.
A Museum With No Artifacts? Yes!
The act of leaving a place might create a few artifacts, like letters, tickets, and suitcases. EPIC doesn't collect those. The letters you'll see here are digitized, selected for their telling of the journey to a new life.
Many museums add digital media to augment their collections. EPIC is completely digital. There is no collection of objects.
Sounds, Pictures, Videos, And More
Visiting EPIC takes about 90 minutes on average, but some visitors spend much longer. Inside each of the 20 galleries, there's something to see, do, listen to, watch, or try — often all of these.
Because this is a museum about people, you see their pictures everywhere. Projections on the walls show individuals from hundreds of years ago up to today. Some of them talk. They explain who they are, and tell you what took them away from Ireland. Was it sad? Or optimistic — a quest for better jobs, the chance to own land, or to perform on a bigger stage?
How did it work out? Much of EPIC is about the achievements of Irish people worldwide.
Step Inside The Brain
The most compelling piece of art here is a glowing sculpture of the inside of the brain, where you can stand under some tree-like structures made of entwined blue fibers. Watch for the synapses to fire as ideas are born. This is Gallery 11, Discovery, Inventing, featuring Ireland's scientific achievements and discoveries.
I was happy to see the story of Irish-born Sir Ernest Shackleton, the legendary Antarctic explorer, and Tom Crean, a lesser-known hero in his crew. 
Notorious Irish
Whether sinner or saint, you'll find many of the big names from the Irish diaspora here if you look hard enough.
On the dark side, Room 13, Achieving Infamy, has a quiz about a few famously bad Irish expats. You answer by moving to one side of the room for Answer A and the other side for Answer B. With characters like the legendary Australian bushranger and fugitive Ned Kelly, and Anne Bonny, Pirate Queen of the Caribbean, who can resist playing?
Join The Dance
It's fun watching other people try Irish dancing in Gallery 14. On the wall, a full-size video shows how the pros do it. Then we visitors can attempt a little Riverdance by simply moving our feet to the music, following the numbered footprints along the floor. If only it was so easy.
The dancing footprints conveniently lead to a cozy Irish pub. The food and drink aren't real in this exhibition but don't worry. There are imitation Irish pubs worldwide. In Dublin, you'll find lots of the real thing.
Music And Literature
I was surprised to see just how much North American music has Irish roots. The Music and Dance Gallery (14) demonstrates the progression from Ireland to Appalachia and beyond. Irish tunes evolved to create or influence folk ballads, bluegrass, even Bob Dylan.
EPIC features the Chicago Chief of Police from the early 1900s, Francis O'Neill, not as a copper, but as a leading collector and preserver of Irish music.
Ireland's writers are legendary. This country is full of natural-born storytellers, after all.
The Whispering Library (Gallery 18) places you in a book-lined reading room. Flipping through the electronic volumes of Irish literature lets you hear selected readings from some of the many great writers Ireland has sent out into the world. Dracula, anyone?
A Museum That Children Really Like
Museums are wonderful places but when I was a child, it was radical for a museum to be interactive. That's all changed. Parents know that hands-on exhibits, which don't have to be digital, are a big magnet for kids.
EPIC is easy for children to engage with. They can stamp their passport (each visitor gets one) at each gallery, to help remember their visit. EPIC's website has child-friendly downloads, videos, and a virtual tour.
Visitors can see some Irish sports that they may not have heard of yet, like hurling.
The CHQ Building Has History, Food, Shopping
EPIC is in the underground part of the CHQ (Custom House Quay) Building, in a series of connected barrel vaults. Imagine standing in a brick tunnel where the walls and ceiling are one smooth curve. I love the idea that the bricks were placed by hand 200 years ago. If EPIC reminds you of a wine cellar, you're not far off.
Above ground, the CHQ is a big unbroken space with a cast-iron frame. It was designed and used from 1820 as a storehouse for tobacco and tea above ground and wine and spirits below. On October 22, 1856, some 3,000 soldiers and 1,000 other guests enjoyed the Crimean War Banquet here. The menu included a ton and a half of plum pudding.
Today, you can find food and shopping here.
Stroll Along The Liffey
EPIC is on the north side of the River Liffey, about a 10-minute walk from O'Connell Street. En route, you pass the landmark Custom House.
If you have time, go the other direction first, just 5 minutes upstream from the O'Connell Street Bridge to the Ha'Penny Bridge. From this iron pedestrian bridge, which opened in 1816, you can see the O'Connell Bridge and beyond it, the green dome of the white Customs House.
Famine History Near EPIC
Walking along the Liffey, near EPIC, the gaunt figures of the Famine Memorial are a shocking reminder of how brutal the Great Famine (also called the Great Hunger) was. Although EPIC makes it clear that emigration is motivated by many reasons — opportunities to own land, to get a better job, to help others, to play sports, to entertain people, to pursue love, and more — the biggest single cause was the famine.
In 1821, the population of Ireland was about 6.8 million. In 1841, it was 8.2 million. This is for the whole island, which is now divided into the Republic and Northern Ireland. From 1845 to 1852, a low estimate is that the famine killed over 1 million people, and another million emigrated. In 2021, the population of the Republic of Ireland finally returned to its 1851 level.
Just past EPIC is another piece of the famine story that you can tour separately from EPIC, the Jeanie Johnston replica ship. The original Jeanie made 16 voyages, carrying about 2,500 people to Canada and the U.S., without anyone dying.
Find Out More About Your Own Irish Roots
After learning about Irish emigration at EPIC, visit the onsite Irish Family History Centre to explore your own Irish genealogy.
Start with its online tips and arrive prepared. You can pre-book a consultation with a genealogist for help breaking through those brick walls when you visit.
Accessibility
EPIC is fully accessible to people using wheelchairs.