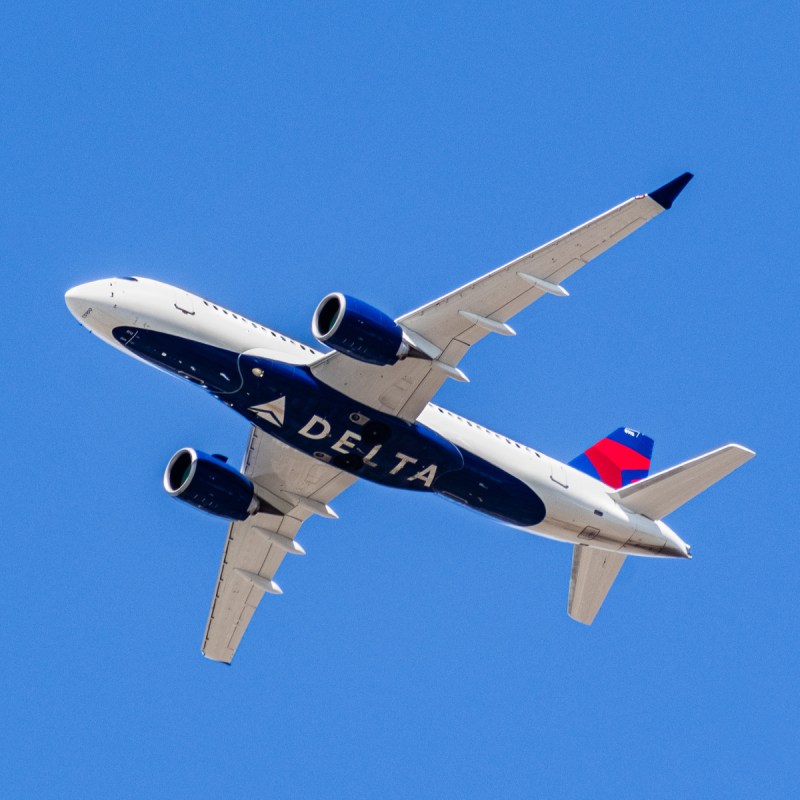 In an effort to help keep travelers relaxed, limber, and healthy, Delta Air Lines has partnered with fitness company Peloton to provide free well-being and fitness classes on all of its flights with seatback entertainment systems.
It is the first time the content has been made available on a non-Peloton platform to non-members, according to the company.
While passengers won't be able to hop on one of Peloton's proprietary stationary bicycles 25,000 feet in the air, you can buckle into your seat to participate in guided meditation and stretch classes. 
Meditation can help calm nervous fliers, and gentle seat exercises can help keep blood circulating to prevent deep vein thrombosis (DVT), especially on long-haul flights.
Peloton members will likely recognize the names of the popular instructors teaching the classes: Anna Greenberg, Chelsea Jackson Roberts, Ross Rayburn, Matty Maggiacomo, and Adrian Williams. Classes range from 5 to 20 minutes to help you "relax, recharge, fall asleep, or stretch mid-flight."
Other Delta In-Flight Amenities
Delta is rolling out enhanced in-flight entertainment in November and December, streaming 56 new movie releases, including selections from HBO Max.
More than 200 aircraft are now equipped with Wi-Fi provided by fast-streaming service Viasat. Wi-Fi on these planes is available for a flat rate of $5 per device, no matter how long the flight. Delta plans to equip all of its domestic fleet with this service by the end of 2022.
Earlier this year, Delta introduced first- and business-class fresh meal service from San Francisco, New York, and Los Angeles restaurants. Greek food from Souvla, and American classics from Union Square Events, and Jon + Vinny's grace the menus in premium cabins.
Also available exclusively on Delta flights is SweetWater Brewing Company's Elevated H.A.Z.Y IPA. The beer was brewed specifically to "account for tastebud sensitivity at higher altitudes," says Delta. "At 35,000 feet, this added punch of citrus helps to balance the bitter and sweet combination of the beer and overcomes the ways smell and taste are otherwise subdued by altitude and humidity levels," added Brian Miesieski, Chief Marketing Officer at SweetWater.
Peloton Fitness Classes Easy To Take On The Road
Peloton is making it more convenient than ever to stay fit while traveling. While members can't necessarily cart their Peloton Bike or Peloton Tread (treadmill) on the road, they can tap into hundreds of classes that are ideal for working out in a hotel room or vacation rental.
Different disciplines are available on the members-only app or website: Yoga, Strength, Stretch, Cardio, Meditation. Many of these classes taught by enthusiastic and professional instructors require only a fitness mat and your own body weight. You can also pop in earbuds to listen to guided outdoors, running, or walking classes. Peloton has curated travel-friendly classes in a Made for Travel collection.
Further, Peloton maintains a list of hotels with Peloton Bikes in their fitness centers. Members can log into the app on the stationary bicycles to keep up with their fitness program in locations throughout the United States, Canada, England, and Germany.
Keep up with all the latest travel news at TravelAwaits: