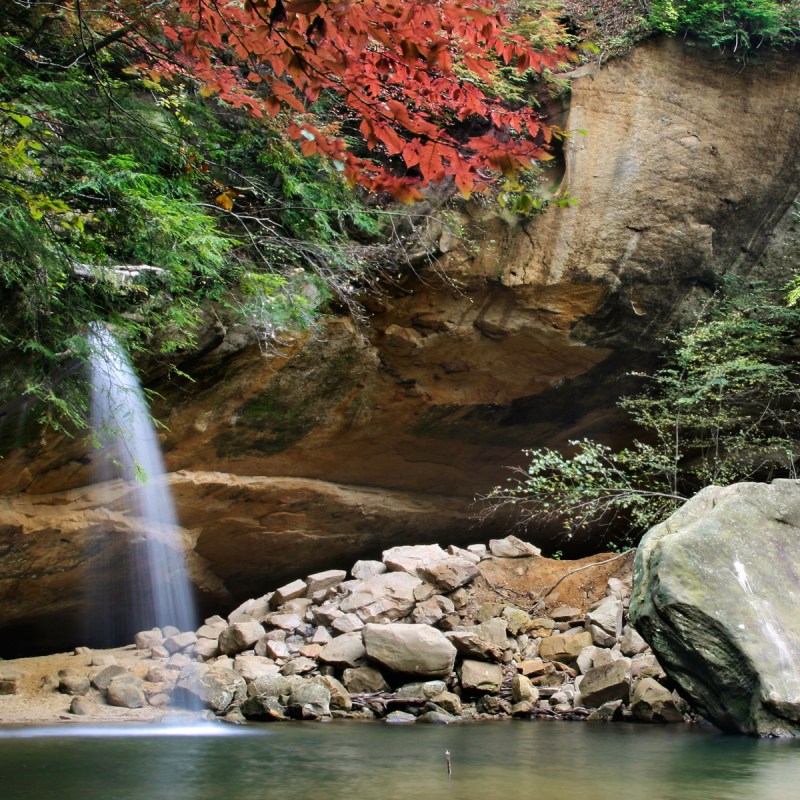 Hocking Hills State Park lies just an hour south of Columbus, but it can feel like a world away. While the park and its surrounding area are popular in summer when activities range from hiking to zip-lining to rock climbing and rappelling, it may actually be the most fun when it snows.
So, ditch the summer crowds and visit Hocking Hills in the winter when the air is crisp and cold yet cozy fireplaces abound.
I was invited there during the spring months, but this December I am heading back with my extended family for a pre-Christmas getaway.
Things To Do In Hocking Hills State Park
There is a range of accommodations from yurts to winter tents to motels to outright luxurious resorts. Dining, shopping, culture, and arts and crafts are all part of Hocking Hills' winter activities as well as a tiny museum you won't want to miss.
But, really maybe the best thing to do is just bring a book you want to finish. Take a brisk, bright hike then settle in next to the fireplace in the hotel room, cabin, yurt or lobby wherever you may stay; a world away from your typical day.
1. The Hocking Hills Annual Hike Happens Just Once A Year
Hocking Hills becomes a parade of hikers on January 15, 2022, when from 9–11 a.m., hikers take off from the Hocking Hills State Park Campground and head out on a 6-mile trek from Old Man's Cave to Ash Cave. A guide leads the way to the halfway point where bean soup is served from an old cauldron over a fire with cornbread on the side when the group reaches Cedar Falls and before hikers finish the journey at their own pace.
When the Hocking Hills Annual Hike participants reach Cedar Falls, they catch a glimpse of a dramatic 50-foot waterfall into a crystal pool below. Here hikers can descend a staircase and view the tallest tree in Ohio, a towering hemlock that extends upward 149 feet from the valley below.
Last year, 5,600 hikers experienced spectacular scenery with newly fallen snow, sunshine and glistening frozen waterfalls, and sparkling sandstone rock formations. Learn from an experienced leader about the origins of the caves and native Americans who inhabited the region for thousands of years.
2. Hiking Is Not Limited To Just One Winter Day
The most visited state park in Ohio has over 25 miles of hiking trails and, while hiking is a natural summer activity, winter may be the best time to really soak in nature, explore caves, and wonder at the magnitude of this part of the Allegheny Plateau.
Don't start your winter hike unprepared; it can be very cold although temperatures don't usually drop as much as other areas because gorges and hills tend to protect hikers from the bitter cold. But prepare and bundle up with a couple of pairs of socks and waterproof boots, layers of clothing, and a warm jacket. Make sure you have gloves and snacks and water in your pockets or a backpack. Be careful of slippery spots and pay attention to time since winter hours of daylight are much shorter.
Popular hiking trails in Hocking Hills are Ash Cave, Old Man's Cave, Cedar Falls, and Rock House Trail, all of which lead to our next favorite thing to do in this state park; exploring caves.
3. Exploring Caves With Histories Of Being Homes
Ash Cave is a massive cave named for the massive piles of ashes found under the shelter, possibly from Indian campfires or smelting lead or silver from the rocks.
Horseshoe shaped and 700 feet long with a 100-foot depth, a small stream cascades over the rim and into a small plunge pool.
Old Man's Cave is named after one of its first inhabitants, a hermit named "Old Man" Richard Rowe. He is buried here along with a set of brothers who camped here while they built a cabin nearby. Start at the Upper Falls and take Grandma Gatewood Trail which connects Old Man's Cave to Cedar Falls to Ash Cave, a trail that is part of Ohio's Buckeye Trail and is nationally recognized.
The Old Man's Cave area can be divided into five principal sections found along the valley of Old Man's Creek. In order, they are Upper Falls, Upper Gorge, Middle Falls, Lower Falls, and Lower Gorge.
4. Ice Skating, Ice Fishing, And Ice Sports
Lake Logan is the largest lake in Hocking Hills and will freeze over in the winter but take extra precautions that it is solidly frozen and never attempt to go out on the lake without certainty the ice will hold. Sledding at Lake Hope State Park is another throw-back family fun sport. Who doesn't love a fast freezing tumble down the hill no matter what age you are!
5. Star Gaze At The John Glenn Astronomy Park
Wide-open spaces and long winter night skies make for perfect stargazing in the darkest night sky in Ohio. See the stars from wherever you'd like with a blanket, hot toddies, and maybe a s'more or two from anywhere in the park.
For a more intimate, close-up view of the stars, see it through the telescope at the John Glenn Astronomy Park, named for the astronaut and former Governor of Ohio.
6. Craft Your Way Through A Winter Day
Two of the best ways to pass the winter days indoors next to a roaring fire is either playing board games or practicing a craft. Knit, play Scrabble or Rummy, paint the scenes you see outside or practice a new recipe in your free hours at your rental cabin.
Or, take this downtime and learn something new, like pottery making at Homegrown on Main or glassblowing at Jack Pine Studios. Both creative studios feature work from local artists so it's a perfect way to take home a souvenir from your winter escape. Hocking Hills Candleworks is a place where you can mix scents to create your own fragrance turned into a pure long-burning soy candle.
7. Recover With A Spa Treatment After A Brisk Hike
The Spa at The Inn at Cedar Falls is the largest all-around full-service spa with an extensive menu of facials and massages. Housed in a small cabin on the property, both guests of the resort and visitors take advantage of the Inn's innovative spa treatments. Salt caves and unique sauna pods with floor-to-ceiling windows bring nature right into the hot pod.
8. Take In A Museum Dedicated To Washboards Or Pencils
The quirky Columbus Washboard Company has been in business since 1895 and resides in a centuries-old brick factory in Logan. As the only washboard manufacturer still in operation in the United States, the company is proud of its heritage with the continual production of hand-crafted washboards. A museum dedicated to decades of washboards is the factory highlight.
A quick Hocking Hills winter activity is visiting the Pencil Sharpener Museum located at the Hocking Hills Regional Welcome Center. This tiny museum houses a collection of more than 3,400 pencil sharpeners and is claimed to be the largest collection in the United States, but will only take about 10 minutes to take in all four walls.
Eat Your Way Around Hocking Hills
This area of Ohio is close to Amish country and is known for comfort foods; it even has a Comfort Food Trail. But, chefs have made their way to Hocking Hills for a more relaxed pace of life, meaning the caliber of cuisine has escalated along with the popularity of the park.
Breakfast means biscuits and gravy at Pearl's Diner and lunch is a buffet at The Old Dutch restaurant that even includes an array of pies. Other popular spots include The Ridge Inn, Rhapsody for traditional Appalachian food from local ingredients, Millstone BBQ, Pizza Crossing, and Maya Burrito.
A fantastic dinner choice is Kindred Spirits at the Inn at Cedar Falls where fine cuisine is served in cozy surroundings. Six to seven-course dinners are a specialty at Glenlaurel Scottish Inn where each evening brings a different main course from duck breast to rack of lamb.
The Lake Hope Lodge has a great selection of American fare and is known for its Sunday brunch and great views.
Camping In Hocking Hills State Park
Hocking Hills State Park Campground bills itself as a year-round camping resort but, beware, it gets pretty darn cold in Ohio in the winter. A cabin or lodge with a warm fireplace and maybe outdoor fire pits may be as rugged as you want to get.
But, if a diehard tent camper, be prepared. Dress in layers all the time and have safety measures in place in the event of water, flooding, or intense snowfall. Keep your sleeping bag and mat off the floor of the tent and keep a fire going to the extent possible. And, most of all, don't be afraid to hang up the camping adventure and head indoors if the weather proves truly uncomfortable or dangerous.
Check out these Ohio parks whenever you visit the state: