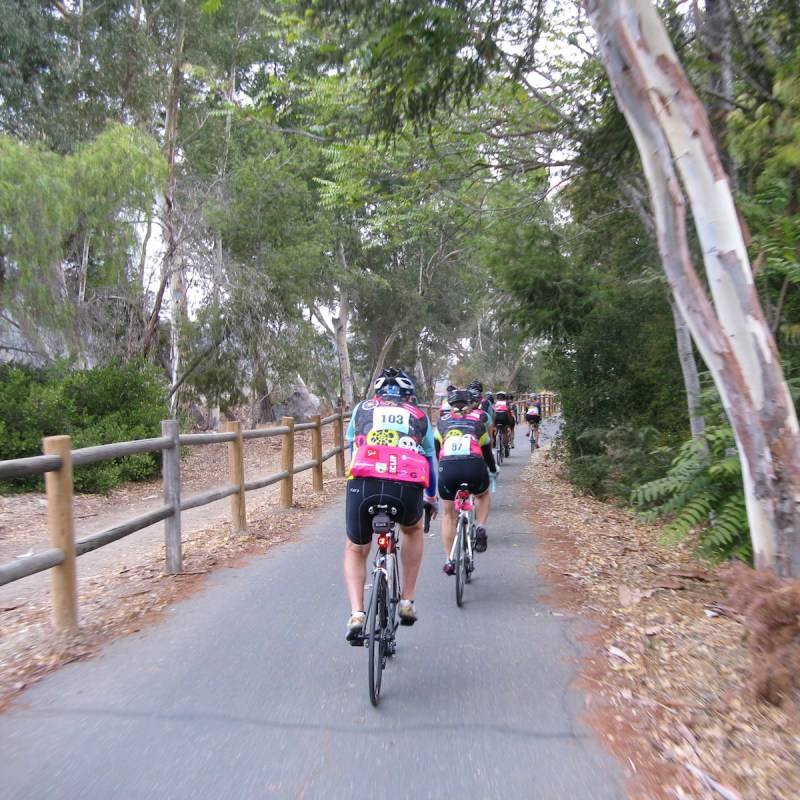 As a person who enjoys cycling, I am always on the lookout for cycling events, especially ones that take me to new places. In 2016, I found a ride called Tour de Pink. That ride supports women with breast cancer — which was a bonus, so I signed up for the 3-day event. 
This ride would take us from Ventura, California, down along the coast, to arrive at Ponto State Beach near San Diego. My initial goal was to see if I could ride the entire three days. What I was not prepared for was what I would learn during those 3 days.
(Pre-COVID, Tour de Pink was a 3-day ride that covered distances up to 200 miles. It is now is a single-day event.) 
Tour de Pink is an event organized by the Young Survival Coalition (YSC). YSC was founded in 1998 in New York by a group of young women, all diagnosed with breast cancer, and all under the age of 40. The coalition realized that young women with breast cancer have different needs and experiences that were not being addressed. 
The Tour de Pink motto is "Where will 200 miles take you?"
Day 1: Ventura To Culver City
The morning started off with a safety briefing during breakfast, telling us what to expect on the day's ride. Outside, the fog added a bit of a chill as a couple hundred of us began the ride. The 100-mile option, which I chose to ride, would head north up to Ojai, then back to Ventura. We'd cycle on several bike paths, move inland as the fog dissipated to pass by Oxnard, then ride back to the coastline to journey through Point Mugu and Malibu. The final two legs would take us to Santa Monica and under the iconic Santa Monica Pier, along the famous boardwalk at Venice Beach, and up along Ballona Creek to Culver City.
As we rode out from Ventura in the fog, I met Dorothy, one of the ride marshals. We introduced ourselves and fell into an easy conversation. When Dorothy stopped to help other riders, I continued on and didn't see her again until the next day. I continued to look for her each of the remaining days. There were big smiles each time we did see each other. She was one of the first people I looked for on the 2017 ride. When I found her at a rest stop, big smiles once again, and a big hug.
Today's distance: 100.91 miles.
Day 2: Culver City To Newport Beach
We were cautioned during this morning's safety briefing about the tricky turns we'd have to navigate as we rode along city streets. 
Our route today would take us back along Ballona Creek to Marina Del Rey. Turning south, we would follow the bike path through El Segundo and Manhattan Beach. At Redondo Beach, we would make our way inland along those city streets we were advised about during the briefing until we reached the Los Angeles River Bike Path. We would ride along the path until it ended in Long Beach. Joining the coastline again, we'd travel through Seal Beach and Huntington Beach, to our destination at Newport Beach.
Riders are allowed (and encouraged) to write the names of those whom they are supporting and/or riding in memory of on a placard attached to their jersey. As we rode out, these tributes sparked many conversations. I met several other riders this way, starting as soon as we departed the hotel in Culver City.
Placards displayed on the back of my own jersey announced that I ride in loving memory of Minnie Riperton, Georgia Lamons, Myra Bauman, Donna Frolich, Hattie Anderson, and Rholanda Crittle. Three of these women never saw their 35th birthday. A number of riders had more than six names on their placards.
Several riders told me that dinner on day 2 was not to be missed. Since I was a solo rider, I was expecting to keep to myself, have a nice meal, and return to my room. That all changed when I walked into the room where dinner was served. 
As the program got underway, awards were given for the top fundraiser, top team, most Tour de Pink events attended, etc. There were acknowledgments, speeches, and introductions of those working behind the scenes.
One of the speakers told us the story of Lisa Frank, one of the co-founders of YSC. Lisa was initially diagnosed with breast cancer at age 36. In 2004, Lisa's love of cycling led her to co-found Tour de Pink. Tour de Pink would become one of the largest fundraisers for YSC. 
Following the event, I understood why dinner on this evening was so important. I felt that sense of community you find on the YSC site. I began to see why these riders participate in the Tour de Pink year after year.
Today's distance: 59.28 miles.
Day 3: Newport Beach To San Diego
This morning opened with breakfast as usual. Prior to the safety briefing, a young woman approached the podium and shared her story. 
She told us she was diagnosed at a young age. As a mother with small children, she tried to find help on how to deal with being diagnosed with breast cancer so early in her life. When she asked around for advice and guidance on what to do while she underwent treatment, she'd get responses like, "Get a babysitter." She quickly found out that most breast cancer programs cater to women over 40. The programs she found didn't address any other daily issues young women face such as getting the kids to and from school, how the family's meals would get prepared, etc. She researched further. What if a young woman with breast cancer wants to have children? Not many answers. She admitted she was becoming very depressed. That is when she ran across YSC. 
She credits YSC with turning her life around through the programs and sisterhood it offers. This young woman is now able to share her story and help mentor other young women in the same position. 
The day's safety briefing contained some advice: take some time to sit up in the saddle (bike seat) and enjoy the surroundings. Our route today was arguably the most beautiful of the three days and included some of my favorite cycling miles in the state.
Today, we traveled through Laguna Beach, Dana Point, Camp Pendleton, Oceanside, and Carlsbad, before ending at Ponto State Beach. 
Today's distance: 55.74 miles
The Finish Line
Banners and bunting adorned the finish line. As riders came down the chute, they were greeted by people cheering, waving signs, and clanging cowbells. Every time a rider came in, everyone would cheer from wherever they were. The enthusiasm never waned. I sat down to enjoy the post-ride meal and relax, but continued to root for each rider as they arrived. 
Around mid-afternoon, a ride marshal came in with the final rider beside her. As they crossed the finish line, loud cheers erupted. The rider was visibly overcome with emotion over what she had just accomplished.
Where Did 200 Miles Take Me?
For some riders who participated in Tour de Pink, just getting on a bicycle was quite an accomplishment, let alone completing 200 miles on one. Tour de Pink showed me a spirit of camaraderie, sisterhood, determination, and sharing; the good that came out of a horrible disease.
The 200 miles did more than just take me from Ventura to San Diego. I came into Tour de Pink thinking of it as just a bike ride that happened to support women with breast cancer. Along the way, I was privileged to meet some of the strongest women I've ever met — one just a few days out from her most recent chemotherapy session. I took joy in bonding with other riders, if only just for the weekend. Learning about the number of women under 40 that have been diagnosed with breast cancer was eye opening. The number of women of color that have been diagnosed and how breast cancer affects them more adversely was something I had not heard about before. Learning about how YSC has helped young women — from the mouths of those whose lives have been changed by YSC — reinforced the decision I made to support YSC and its mission. 
Though I don't know the story of the last woman to cross the finish line, I now have a higher level of empathy for those tears she shed.
A few statistics about young women and breast cancer:
There is currently no effective breast cancer screening tool for women under 40 years of age
Each year, approximately 70,000 men and women between the ages of 15 and 39 are diagnosed with cancer in the United States. For women in this age group, breast cancer is the most common form of cancer
There are an estimated 12,000 cases of breast cancer in the U.S. among women under the age of 40. Each year more than 1,000 of them die from the disease
Young women face more aggressive cancer and lower survival rates than their older counterparts
Young women diagnosed with breast cancer face unique challenges compared to older persons. Among them are fertility; intimacy; body image before, during, and after treatment; lack of research targeted to their age group; psychosocial issues
African-American women under the age of 35 have rates of breast cancer twice as high as Caucasian women under 35. They die from the disease three times as often 
Note: After fighting the disease for 22 years, Lisa Frank passed away in December 2020 of metastatic breast cancer. The ride has been renamed the Tour de Pink Lisa J. Frank Memorial Ride in her honor. She is memorialized as "Rider #1."