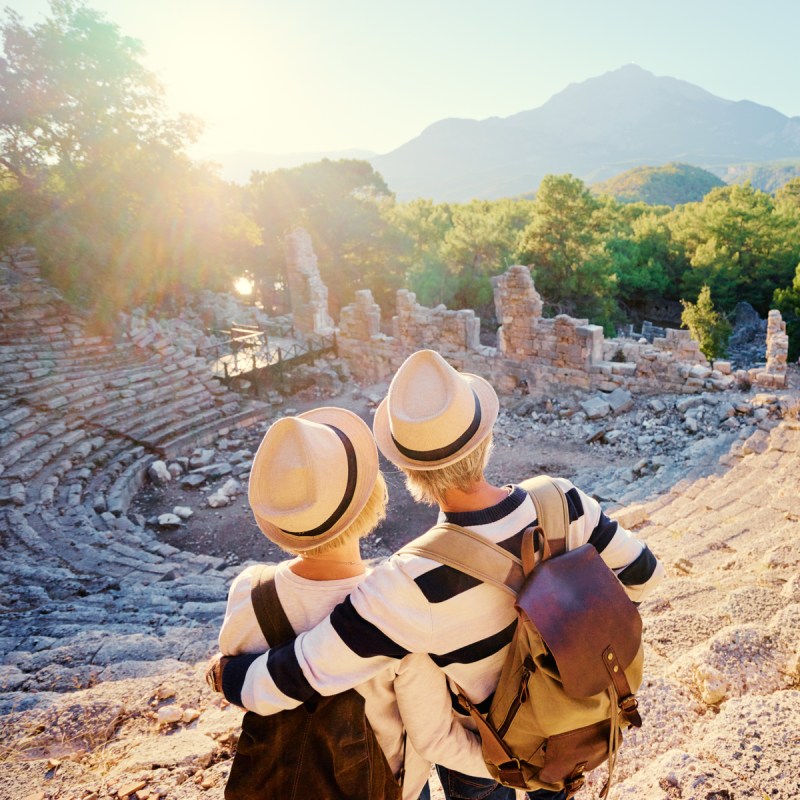 "I have found out that there ain't no surer way to find out whether you like people or hate them than to travel with them."

Mark Twain
The first question: Why travel with a partner?
For those of us concerned with the cost of travel (i.e., all of us), it simply is cheaper to split the cost of a room or a cabin than it is to pay a single supplement.
Also, being in a couple or a group may make a traveler feel safer (and mostly likely is safer). If you have a travel partner and take a tumble on the slippery slopes of the Acropolis, a buddy will hopefully call for help and make sure that you're unharmed.
And, if you're fortunate, you may get a friend for life — or at least until the end of the trip.
The Good Old Days Versus The Good New Days
In the good old days, one way to find a travel partner was to ask friends or family. I found someone to travel with that way in Tibet 35 years ago.
Another way was to meet them along the way while traveling solo, and I did that, too. A woman I met on a ferry in Hong Kong was going to Thailand, and we ended up taking buses through the country together. I am in touch with both these women, many years later. Of course, these are still ways to find a mate, but the internet and social media have provided the 50+ cohort with a much wider palette of potential roommates and some ways to be more selective about who will be a good travel buddy.
Online Sites For Finding An Almost-Perfect Partner
1. Over 60 Women Travel And Meetup Group
Meetups in this group have skyrocketed, and solo travelers wanting partners have met like-minded people online or have posted asking for a partner. Silvia Volio, from Burke, Virginia, is a member of the Over 60 Women Travel and Meetup Group. She virtually met travel buddy Karen Blackburn of Wilmington, Delaware, on this site.
"What a great day! Today we are traveling together for the first time. We just met in the airport, thanks to Over 60 Women Travel and Meetup Group." Karen was similarly enthusiastic, and the two posted wonderful photos and descriptions online throughout their Alaskan journey. They are planning several more trips and finding other members on the Facebook site to join them. "We have all the tools to find travelers," writes Silvia. They both agree that the key is to "take a chance" on finding a buddy and then take off because "life is short."
2. Meetup
Meetup allows members to search for people, groups, or to even start groups for walking, traveling, dining, or a list of other activities. Members can start their own groups based on age, gender, location, or special interests, from a hike in a local park to a road trip to Bhutan. Some of the folks on the site seem to be drumming up business rather than looking for travel buddies. The challenge for many online sites is to keep sales pitches to a minimum.
3. Senior Travel Buddies
Senior Travel Buddies is dedicated to those senior travelers who love to travel and want a local travel buddy. "Why," members have asked, "travel with a stranger when you can go with a local whom you can meet in person and then discover your travel likes and dislikes?" Their website is SeniorTravelBuddies.com.
4. 5W: Women Welcome Women Worldwide
Since 1984, Women Welcoming Women (based in England) has been an online presence in international women's travel.
Membership is based on a contribution, and the membership list contains information on every current member of 5W and includes contact details and interests. Gatherings have taken place from Iceland to Australia, and from India and Ghana and Hungary to Italy and the Czech Republic, among many other countries.
Finding Companions After You Arrive
It might be easier for some folks to travel solo if they can meet up with friendly faces in cities abroad. Here are some sites where you can set up meetings.
5. Strollbuddy
Strollbuddy's slogan is "Discover a new world through the eyes of a local!" Stroll Buddy participants show visitors around their cities and towns for free. Buddies will have a drink with you, accompany you to places you'd like to see, or take you to cool places you have never heard of. Buddies are available in far-flung places from Almaty in Kazakhstan to Cholula in Mexico to Perth in Australia — and several hundred other sites.
6. International Greeter Organization
Another possibility for solo travelers who want to feel part of a new place is to contact an international greeter for a walk for 2 to 3 hours. Part of a nonprofit organization, International Greeters offers a companionable walk free of charge, with no tipping accepted.
Travel Companies Can Match You With A Roommate
It was noted in an article in the New York Times on October 14, 2021, that some travel companies are reporting single bookings up 300 percent over those from couples, families, or clusters of friends. The pandemic has contributed to the number of women who are ready to hit the road, but not entirely on their own.
Two companies, among others, will match you with a roommate so that you don't have to pay a single supplement. You'll read many stories online about solo travelers hitting it off with their roommates and traveling together on other programs.
7. Overseas Adventure Travel
Overseas Adventure Travel, which offers small group tours for travelers aged 50 and above, has seen an uptick of 7 percent in the percentage of solo bookings since the beginning of the pandemic, and if there are no supplement-free rooms available, OAS will set travelers up with a roommate.
8. Road Scholar
While Road Scholar offers more than 20 trips in 2022 in which solo travelers pay no extra cost for a single room, they will pair travelers to save money on other trips. Road Scholar also encourages solo travelers to connect with each other on its discussion boards or in its Women of Road Scholar Facebook group in order to get roommates with whom they are acquainted and like.
What Makes A Good Travel Partner
Finding the right person with whom to travel is serendipitous. I've heard horror stories involving snoring, nightmares, blabbing, and overzealous scheduling. It's important to honestly talk to the person with whom you plan to travel so that you can foresee possible pitfalls that might ruin a trip. Communication is vital before taking off for domestic or foreign travel.
Find a companion who can soldier through travel challenges.
Find someone with abilities that you don't have (like speaking the languages of the countries visited).
Find someone different from you, or, if you're a (nearly) perfect person, the same.
Travel with someone who is independent.
Make sure that you both have the same schedule — early morning folks don't usually do well with late night people.
Find someone who can laugh at adversity because you will undoubtedly have some.
Find someone with whom you can truthfully discuss problems.
Find someone with whom you can amicably split instead of suffering through a trip.
Silvia also added: be openminded and "talk a lot."
Traveling With A Stranger: What Could Possibly Go Wrong?
Obviously, a lot of things can go wrong, and the missteps can involve everything from pace of scheduling to money issues. But one story sent to me when I posted questions about finding a travel partner online was my favorite:
"She didn't tell me until day 3 that she'd brought her dad with her. She had carried some of his ashes, and she wanted to spread them around Egypt… she left him in a pharaoh's empty tomb and the Red Sea… and she spilled some of him inside her purse."
The good news is that you will most likely find a travel mate who won't carry ashes in her purse.