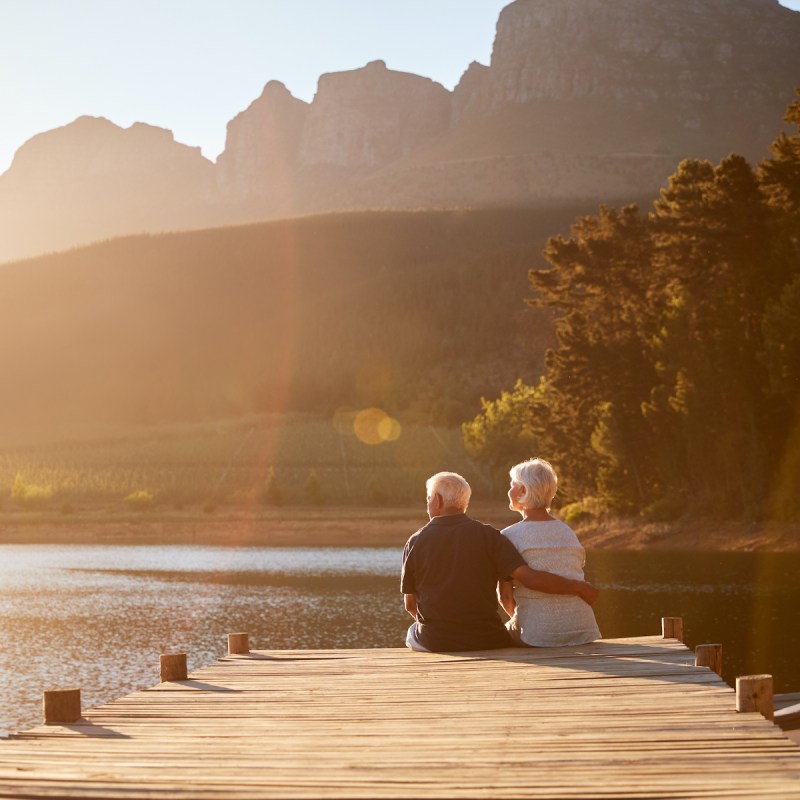 You work hard all your life and the day you say goodbye to the 9-5 finally arrives. Exhale. Let the next chapter begin. One thing that surely should top your agenda is keeping your mind and body in tip-top shape.
My resident health guru, also known as my retired husband, has a philosophy he lives by, "KEEP," — Keep it moving, exercise your brain, eat little and healthy, and pray often. After talking to experts, he's on point. In our house, he is the maker of green juice and Bush Tea (a combination of cerasee, lemongrass, vervine, and other plants, Jamaican in origin, but now in health food stores everywhere). I'm not retired, far from it, but I'm learning a lot watching him rise early, walk 5 miles three times a week, tend to the yard, fix this and that, cook meals that are heavy on fish, light on meat, include heaps of veggies or fruits and find fun daily, be it a chat with a neighbor, or a dip in the ocean.
But, while he's a guru to me, I consulted those with credentials for their thoughts on what you should do to stay healthy in retirement.
1. Stimulate Your Brain
When you have a skill, like playing the piano, you can do it from muscle memory. You don't have to think about it much, if at all. However, if you teach someone, then you have to be able to explain the concept and each step in the process in order for your student to be successful. "Teaching someone a new skill is one of the best ways to expand your cognitive abilities and keep your mind sharp," says Peter Ross, CEO of Senior Helpers, an in-home senior care provider.
He's also big on word games. They improve mental capacity. Word searches can easily be found in newspapers and online. They activate multiple parts of the brain as a word's length and position in the puzzle has to be considered. Jigsaw puzzles improve memory and concentration, help hand-eye coordination and critical thinking skills, and then there's the satisfaction of completing it.
2. Eat Well
At any age, eating a diet rich in fruits, vegetables, lean protein, healthy fats, and whole grains is good for you, but especially as you age, maintaining a balanced diet is critical. "Eat foods like fish, eggs, salmon, nuts, green tea, and red wine to stimulate your brain, says Victoria Glass, a doctor with the Farr Institute, a provider of medical research and information.
Furthermore, Liana Casusi, MD, recommends eating smaller, more frequent meals, to improve digestion and prevent stomach problems. "A balanced meal rich in fiber with enough protein, carbohydrates, and fat provides the body and mind with a high-quality energy source to function properly. Equally important is drinking at least eight glasses of water a day unless your doctor advises otherwise," she says.
3. Stay Centered
"Engaging in meditation at least once a day is well-known for benefits such as relieving anxiety and stress. Allowing your body and brain to rest will also help improve your overall memory and increase the ability of your brain to process information," says Ross.
Regularly practicing yoga is not only great for balance and mobility but can reduce stress. "Stress has been shown to be very damaging to the brain, shrinking the areas responsible for memory and emotional control," says Brett Larkin, founder and CEO of Uplifted Yoga, an online yoga school.
In fact, Jeanine Duval, a certified Kaivalya yoga teacher says you might find yoga improves your sleeping too.
4. Volunteer
You have a lifetime of experience, share it. "Volunteering is one of the best things you can do in retirement because it not only gives you the opportunity to continue to interact with others, but it also gives you a sense of purpose which is another thing we tend to lose once we stop working," says psychotherapist Christina Steinorth-Powell.
Studies show that volunteering, especially after retirement, improves memory and combats cognitive decline, she says.
5. Maintain Connections
"It's not easy staying connected with others as we get older, family members are busy with their own lives, and we lose contact with long-time friends, but maintaining a healthy social life is essential for your mental and physical wellbeing," says Zachary Okhah, founder and chief surgeon at PH-1 Miami. He says studies show that loneliness has been linked to depression, cognitive decline, blood pressure, and heart disease.
Research indicates that regular social activities can benefit our wellbeing by strengthening immunity, lowering blood pressure, and improving memory recall, he says.
Look for ways to meet people. Join a fitness class, go to the library, or attend events at your place of worship.
6. Exercise
You don't have to make like you're training for the marathon. Walking, biking, and swimming are activities that can get your heart rate up, causing more oxygen to be pumped into your brain. Those endorphins released during exercise do wonders for your mood, memory, and thought process. Exercise can also help ward off diseases like diabetes, tamp down stress and anxiety, points out John Gardner, the CEO and co-founder of Kickoff, which offers personal training and nutrition coaching services.
To up your success factor, add variety to your routine. If you get bored, you might be tempted to not exercise. "Variety becomes more effortful as we get older and can be harder to accomplish both in movement and other activities," says Alyssa Kuhn, a doctor of physical therapy and founder of Keep the Adventure Alive.
The payoff, staying psyched to keep moving, is worth it.
7. Embrace The Unknown
In the past, the clock may have been an enemy of sorts. You never had enough time. Now, you set the pace. Explore new things, whether it's traveling or getting involved with a non-profit. "Ticking off the things on your bucket list or learning something can be a great way to find a new purpose," says Brian Wind, Ph.D., a clinical psychologist and adjunct professor at Vanderbilt University.
What activities fell by the wayside when you were worried about establishing and sustaining your career and raising a family? "Bring those things back into your life. Resurrect that happy feeling and make that mind work," says life coach Leah Veazey.
8. Get Enough Rest And Sleep
Just because you have the luxury of sleeping in, doesn't mean you'll sleep as much as you like. "Surprisingly, many retired patients find difficulty in getting adequate rest and sleep. A lot of them complain of restlessness and insomnia," says Casusi.
It is not too late to establish a healthy sleep-wake cycle. "Studies have demonstrated that the natural body clock involves waking up early in the morning at sunrise, and likewise, sleeping early. Adapting a predictable sleep-wake routine helps you feel well-rested," she says.
Capitalize on sleep's benefits such as regulating body functions like digestion and immune response. Make getting a good night's sleep, 8 hours or your magic number, a priority. Treat yourself to comfy, quality bedding products. You deserve it.
9. Avoid Mistakes
Maybe when you were younger you could get away with eating anything. Now, discipline matters. Diet is essential to physical and mental health. "If you eat unhealthy there can be consequences like weight gain, which can raise cholesterol levels and create health problems," says Iris Waichler, MSW, LCSW, who specializes in aging and caregiving for seniors.
Be vigilant about drowning out negativity. "Focus on what you can do, not what you can't do," says James Owens, author of Just Move! A New Approach to Fitness After 50. Don't internalize the cultural narrative that paints older adults as being weak, slow, and vulnerable once they reach a certain age.
"When it gets harder to climb those stairs than it used to be, it's easy to fixate on what you've lost. But don't let yourself get stuck in the past. Maybe your joints are telling you you can't run anymore, but that doesn't mean you can't hike or walk. Staying positive and thinking about all the activities still open to you, will help fuel your mental and physical energy," says Owens.
Another huge mistake is not reaching out to others. Social isolation poses serious physical and mental health risks for older adults. Says Owens, "Researchers have found that loneliness can be more damaging than smoking. So don't wait passively for your family or friends to call. You can be the one to suggest an activity, invite someone to lunch or have a long-distance chat with an old friend. I promise the energy you put out will come back to you many times over."
For more ideas and information about retirement, check out our retirement hub.