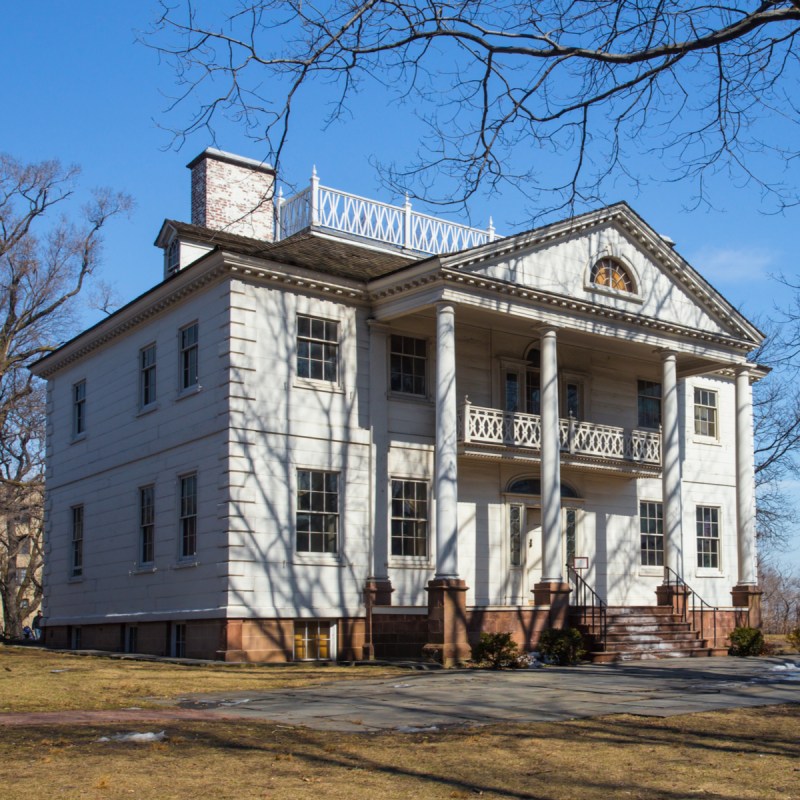 There are so many reasons we love New York City — the cultural treasures, the shopping, the fabulous food, and of course, the general hustle and bustle of iconic spots like Times Square, Central Park, and the Empire State Building.
But tucked away into Manhattan's far northeast corner — in the Washington Heights neighborhood, not too far from the border with Harlem — is a spot that will make you feel like you're stepping back in time, and far removed from the busyness just a couple of blocks away. It's called the Morris-Jumel Mansion, and this former estate house turned museum is a true treat.
Here are a few reasons why you should consider a visit to Manhattan's oldest — and some say most haunted — home during your next NYC break.
The Long, Storied History
The Morris-Jumel Mansion was first constructed near the banks of the Harlem River in 1765, making it Manhattan's oldest surviving home. Known then as Mount Morris, the imposing columned manse served as a summer refuge for British Colonel Roger Morris and his family. It was a working farm and offered superior views of the surrounding countryside stretching into both New Jersey and Connecticut. When the Revolutionary War broke out some 11 years later, Morris and his family moved out, and General George Washington made the grand home his headquarters for several weeks in 1776, leading up to and during the Battle of Harlem Heights.
When Washington had to head out, the estate briefly became a tavern, then sat abandoned once again. It remained that way until 1810 when Eliza Jumel and her French immigrant husband Stephen purchased Mount Morris and began an extensive renovation and redecoration to make the home their own.
While Stephen's luxury goods import business was tanking shortly after their arrival, Eliza was the one with the fortune, fame, and funds. She was truly ahead of her time, a New York real estate mogul who made large profits buying, selling, and renting land and homes. When Stephen died in 1832, Eliza was considered one of the wealthiest women in New York.
After Eliza passed away in 1865, the city bought the home after a lengthy court battle. Since then, it has housed a local chapter for Daughters of the American Revolution, and eventually became the museum it is today. When you stop to consider the vast amount of history that took place in the home — and on its grounds — you realize just how special and significant this home truly is.
The Artifacts Are Fascinating
Stepping into the mansion, you'll experience it much as guests back in the 18th and 19th centuries did. The rooms — drawing, study, formal dining, and imposing octagon room — are all decorated in period style (including paint color and wallpaper!), and outfitted with furniture, rugs, and objects of the time. Some pieces of the Jumel's personal furnishings remain onsite, including the dining table, a Duncan Phyfe sofa, and personal art, including a striking portrait of Madame Jumel and her grandchildren during a grand tour to Europe.
Upstairs, you'll see where the family slept, with many original furnishings, and also where George Washington kept a sharp eye on troop movements at the very onset of the Revolutionary War. Downstairs, it's a different story, but still worth exploring: The basement kitchen is where the family's staff made its meals, without the use of any modern conveniences, of course. You'll see the tools they used to prepare food — truly farm to table — including hearth pans, churns, and other devices. All of this gives you a very real sense of what it must have been like to live here.
The Morris-Jumel museum also features special exhibitions. Past installations have included a documented history of the home, and artworks by local and regional artists based in, or focused on, New York City.
You'll Discover A Link To Hamilton
Remember when we mentioned Eliza's husband Stephen died back in 1832? Eliza still had a long life to live, and she certainly made the most of it. She was determined to marry again for a good "society" match, to improve her standing with the area's elite. Eliza's next husband happened to be the third vice-president of the United States… an oft-pilloried individual who had a 21st-century renaissance of sorts. She married none other than Aaron Burr, the man who killed Alexander Hamilton in a duel, and who also became a central character in the blockbuster musical Hamilton, which first captivated the country in 2015.
Burr certainly brought his share of baggage to the marriage, and after their nuptials in the home's parlor, he hoped he could rely on his new wife's largesse to bail him out of debt. But as he burned through her money, Eliza's patience quickly came to an end — she filed for divorce after just 4 months, and her choice of attorney was… shall we say inspired? None other than Alexander Hamilton, Jr. represented her during the proceedings. The divorce decree was granted on September 14, 1836… the same day Burr passed away. Madame Jumel, who grew increasingly eccentric and isolated, stayed in her home until her death at the age of 90.
Upstairs at the mansion, you'll find Burr's bedroom. Lin-Manuel Miranda visited here to get inspiration and write two songs for his musical masterpiece. Truly, this was a "Room Where it Happened."
It's A Top Spot For Ghost Hunters
As you might imagine, with its storied past, the Morris-Jumel is a favorite stop for ghost hunts. Many people claim they've experienced paranormal activity in the home over the years. Much of it is blamed on Eliza, who's been sighted in and around her grand estate from time to time. There have also been reports of strange footsteps, sounds, and other odd happenings. Are they real events, or simply the products of overactive imaginations? If you're interested, decide for yourself! There are several guided tours of the home — taking place at night, of course — that you can book to confront the spirits and spooky happenings, head-on! Make a reservation, if you dare!
An Oasis In The City
Although it's located steps away from the vibrant Washington Heights neighborhood, somehow the Morris-Jumel feels light-years from the city. Perhaps it's because of its perch, high above the surrounding neighborhood, or the preservation of its gorgeous grounds and gardens. Let's face it — New York can be overwhelming even for the most seasoned travelers. But a stop here is a great way to carve out just a little bit of peace, quiet, and serenity during any fast-paced New York City vacation. A brief breather here is a nice reset and recharge!
The Surrounding Homes Are Also Historic
As you approach the mansion, you can't help but notice the immaculate period row-homes surrounding it. There's a story behind them as well! Jumel Terrace, just steps from the mansion, is a historic district comprised of 50 rowhouses set on cobblestone streets. The tiny neighborhood was built as Eliza's descendants slowly sold off her home's surrounding land. The homes, both brownstones and wood frame, are simply charming and worth exploring either on your way to the mansion or after your visit. Jumel Terrace was also the center of the Harlem Renaissance — singer/activist Paul Robeson lived here for a time.
Pro Tip: The Morris-Jumel mansion is at the very northern tip of Manhattan. Hands down, the best and most economical way to make the trek up from the lower portion of the borough is the subway. The C train stop at 163rd is just steps away from the museum, it's a 10-minute walk from the 1 train at 157th Street.
Other New York City sights worth seeing: