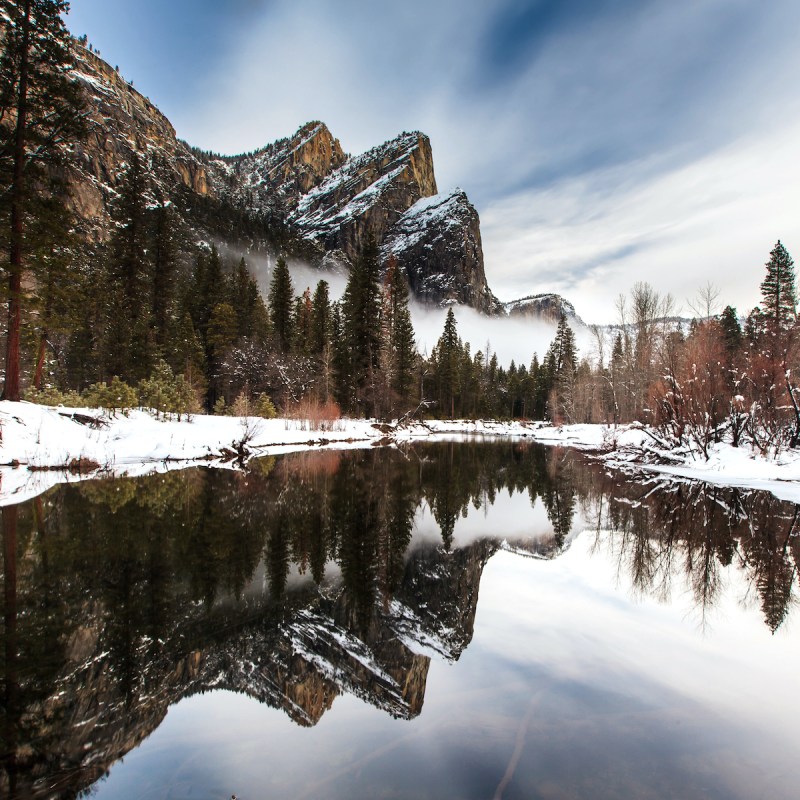 If you're discouraged from a national park vacation because of the thought of dealing with crowds, consider a visit in winter. And I'm not talking about Death Valley or Everglades in winter. I'm talking about visiting parks known for ice, snow, and cold weather. Serious, not-so-nice winters.
Winter weather keeps visitors from many parks. This also means roads and facilities can close. But those who research, plan, and prepare — who know where to go, what to do, and how to get there — can have a fabulous park experience.
I'm a retired National Park Service ranger who has also spent some time as winter resort manager, so I'm no stranger to helping people get accustomed to winter travel. So I've put together a list of national park snow experiences ranging from mild to wild. We'll go from trips that keep you in the hands of professional drivers and guides to driving on ice roads and skiing for miles into the backcountry to spending the night in a ski hut.
I'm not encouraging you to run out this winter and immerse yourself into an environment that you've never experienced before. I suggest that you plan your winter trip for next year, and work to develop any new skills you'll need to enjoy it. As your experience improves, the more you'll be able to manage on your own and have a greater awareness of your capabilities.
Having flexible plans is the key. If weather makes travel conditions risky, change your plans. And as you plan a winter trip, talk to the facilities you're researching to see what flexibility they have in dealing with weather-related itinerary changes.
If you're not used to winter driving, consider going with a tour group, finding a local shuttle, or team up with experienced friends in a vehicle suited to the conditions. Have accurate and up-to-date travel weather information always at hand.
Let's start with some easier trips into national parks in winter, and become more adventurous.
1. Cuyahoga Valley National Park
Winter activities at Cuyahoga Valley National Park are hit-and-miss, depending on the weather. In a good snow year, there's plenty of cross-country skiing.
The park also has two downhill ski areas, Brandywine and Boston Mills, that make snow, and also offer tubing. The areas are available as long as the winter is cold enough to make snow.
While you're in the vicinity, the Cleveland Metroparks also offers a series of trails, along with ski and snowshoe rental.
Cuyahoga Valley, weather permitting, is a good place to tune up your winter skills to prepare for more remote winter destinations and experience some beautiful national park settings without straying too far from the amenities of the big city.
2. Cedar Breaks National Monument
Located in southwest Utah at an elevation of 10,000 feet, Cedar Breaks National Monument is snowbound in winter, its visitor center is closed, and snowdrifts can be 30 feet deep, or much deeper.
So why on earth would I recommend it? Believe it or not, it has fairly easy access for the novice.
You can access Cedar Breaks through a guided snowmobile tour from the towns of Brian Head or Duck Creek Village. Brian Head offers easier access since it's about 13 miles from I-15. If you want to completely avoid winter driving in the mountains, take a shuttle from Cedar City to the town of Brian Head. The free Brian Head town shuttle can take you to the snowmobile tour operator, who'll guide you on to the park..
If you've never snowmobiled before, it's not difficult to learn, or especially physically challenging when you travel on groomed trails with a guide.
Another advantage to southern Utah is the bipolar nature of the weather. When winter storms come, they hit hard. But when the weather clears and there's time to dig out, there are perfect sunny days that reward your patience.
3. Olympic National Park
The mountains of Olympic National Park are wonders to behold in summer, but winters put them off-limits to most, with one exception — the ski area at Hurricane Ridge.
Note to downhill skiers and snowboarders: this isn't a ski area to rival Vail or Mammoth, so don't come for the lifts and the terrain. There are two rope tows, a Poma lift, and a tubing park. You're here for the experience of skiing at 5,000 feet in the Olympics in winter, not skiing in the winter Olympics.
Hurricane Ridge also has cross-country skiing — from fairly easy travel on closed roads to some of the most challenging backcountry skiing in the country. It's a good place for the less experienced.
If you don't want to ski, take a ranger-led snowshoe walk from the Hurricane Ridge visitor center — they'll provide the snowshoes and enough instruction to get you going.
Hurricane Ridge is accessed from Port Angeles. Winters there are wet, but not particularly cold and snowy. Driving up to Hurricane Ridge means driving in the mountains, so you're going to need chains, there's no commercial shuttle to get you there. The road crews are well experienced and the road is well traveled.
4. Yellowstone National Park
Yellowstone has to be the champion of winter national park experiences. The things that make Yellowstone great in summer make it absolutely astonishing in winter. Geysers in summer, wow. Geysers in winter, wow on steroids! And options for over-the-snow travel at the park are many.
Getting to Yellowstone in winter can be tricky. If you're flying in and renting a vehicle, you never know what type you're going to get, and in winter that's an issue. Check into the availability of shuttles from your Yellowstone accommodation to leave all the winter driving to professionals
And, of course, taking your own vehicle is great, so long as it's good for winter travel, you're experienced, and you keep a close watch on road and weather information — and flexible with your plans.
You can travel over snow by snowcoach, snowmobile, cross-country skis, or snowshoes. The park website, and those of gateway communities, will give you plenty of options, as businesses are doing all they can to attract winter visitors. Snowcoach trips are easiest and enclosed if you're looking for the most comfortable experience over snow.
The park has worked hard to improve the environmental impact of winter recreation that was once criticized for diminishing the park experience, including requiring snowmobiles to meet standards for low noise, low emission operations.
You're not going to have the park to yourself in winter, by any means. But you're going to experience the park in a way that most will only dream about.
5. Voyageurs National Park
If you're a fan of the reality series featuring truck drivers who drive the ice roads of Alaska, Voyageurs National Park in northern Minnesota can give you a taste of the ice road experience.
The park has two ice roads that will let you experience, what are in summer, remote areas of the park. The ice roads are regularly plowed and inspected, are wide enough to allow two-way traffic and parking, and give access to other winter activities such as skiing and ice fishing.
Traveling to northern Minnesota in winter means more of planning and preparation I've been emphasizing, but it will be rewarded with the uniqueness of an uncrowded backcountry experience from the comfort of your vehicle.
6. Yosemite National Park
There are a variety of winter activities in Yosemite, from ice skating in Curry Village to downhill skiing at Badger Pass, to the traditional Bracebridge Dinner pageant at the Ahwahnee Hotel.
However, for this list, let's go to the wild side and focus on cross-country skiing — particularly overnight trips to the backcountry ski huts at Glacier Point and Ostrander.
The huts aren't glamorous by any means. You're sharing them with other skiers. They require reservations by lottery, long in advance.
You're going to need good cross-country ski skills, and to be in good aerobic condition. How good? Glacier Point is 10.5 miles in along Glacier Point Road. You can travel with a guide from the concession if you wish and is classified as intermediate skill level. Ostrander is more challenging, for advanced backcountry skiers, it's 10 miles in, and a 2000-foot elevation gain.
The good news is that you've got plenty of time to prepare if that's your goal. If not, the aforementioned list of less-rigorous Yosemite winter activities beckon.
The reward for either is a Yosemite experience of solitude, silence, magnificent winter views, not to mention the accomplishment of an overnight ski experience.
Pro Tip
Sequoia National Park's backcountry ski hut, Pear Lake, is less-renowned but still an amazing experience and a good alternative to Ostrander. It's a 6-mile trip for advanced backcountry skiers and requires reservations long in advance. Covid and fire activity have limited its availability recently, so keep an eye out for future hut availability.
Other expert articles by former ranger Greg Jackson: