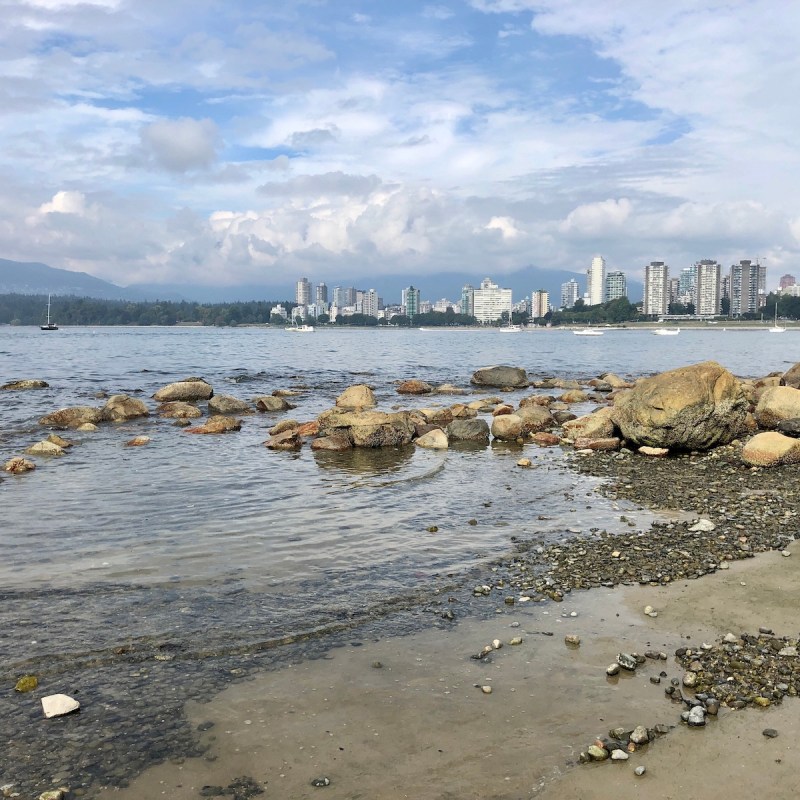 It's imperative to feel comfortable and safe while traveling.
Medjet
provides premier air medical transport, travel security, and crisis response memberships, providing peace of mind for an affordable price.
From breakwaters to bridges and seashores to seafood, the cities of Vancouver and Victoria, British Columbia are all about their gorgeous ocean settings.
When I visited the two Pacific Coast cities in early September 2021, the trip was not just my first time back traveling in Canada since the COVID-19 pandemic began, but also my first chance to enjoy the ocean (from my land-locked home in Arizona) in almost 2 years.
So, when the U.S./Canada border finally reopened for U.S. travelers in August 2021, I was more than ready to get back to British Columbia's premier coastal cities, and I was determined to take in as many ocean views, beach visits, and seafood meals as I could.
Happily, over my 10 days in British Columbia, I was able to indulge all of my pent-up demand for the sea. Along the way, I also smelled the roses (and dahlias and lilies and daisies …) in an iconic garden, took a thrilling walk over a wobbling suspension bridge, and stayed in a spectacular historic hotel. Note that while several of the experiences were hosted, my opinions remain my own.
Here are 9 of the best places I visited on my first visit back to Canada.
1. Vancouver's Kitsilano Beach
A beach day at Kitsilano Beach turned out to be the perfect outing on my first day back in Canada. Along with its sandy shore, Kitsilano (or Kits Beach to the locals) is famous for its stunning skyline views, lively sand volleyball courts, and massive Kitsilano Pool, an outdoor heated saltwater pool with a wraparound view of the city, ocean, and mountains.
An added bonus: Kitsilano's off-leash dog area features a parade of happy pets, all fetching sticks thrown by their owners, scrambling over boulders, and cavorting with new furry friends. With the family pup in tow, my group found the ideal spot for a beach picnic, complete with logs for sitting and a tree stump for an impromptu picnic table. A classic Vancouver Sunday!
Pro Tip: Kitsilano Beach is less than a half-hour walk from Vancouver's Granville Island Public Market, where you'll find a huge selection of treats for a beach picnic.
2. Blooms At The Butchart Gardens
Gazing out at the splendid Sunken Garden at The Butchart Gardens, it can be hard to imagine that this feast for the eyes could ever have evolved from an eyesore. But that transformation is the inspiring story behind the iconic garden that lies not far from Vancouver Island's city of Victoria.
Today the garden is lush with hundreds of varieties of flowers and trees, but just over a century ago, it was the site of a limestone quarry that had been mined for the Butchart family's cement production plant. In 1912, Jennie Butchart looked into the deep chasm and "envisioned a grand garden in its place and began transferring topsoil by horse and cart," says the garden's website.
Even though a steady rain was falling on the day of my visit, the gardens lived up to all of my expectations, and more. On that drizzly/misty day, the roses, dahlias, and marigolds seemed to glow with vibrant color.
Pro Tip: After being largely shut down over the COVID pandemic, Butchart's festive Christmas Season celebration is back on this year, with the traditional Twelve Days of Christmas displays throughout the gardens.
3. Lunch On Vancouver's Waterfront
For a dual treat of seaside views while dining on succulent seafood, I found Vancouver's Waterfront area to be the perfect location.
Cafés and coffee shops dot the length of the waterfront, with Cardero's Restaurant (known for seafood dishes like Thai curry prawns and the linguine vongole) and Lift Bar and Grill (with specialties like red crab cakes and Humboldt squid) being some of the most popular.
I especially loved the patio at the Fairmont Waterfront's ARC Restaurant. With the white-sail roof of the nearby Canada Place as a backdrop and live music wafting through the air, the airy patio was the perfect spot for a lunch of cobb salad with pan-seared steelhead salmon, or a happy hour fueled by a Baja ceviche tostada and a signature ARC sangria.
4. Fisherman's Wharf In Victoria (Fueled By Barb's Fish And Chips)
If quaint shops, a fish-and-chips lunch, and a cute ferry ride sound like a perfect way to while away an afternoon, head to the Fisherman's Wharf, just around the corner of James Bay from Victoria's Inner Harbor.
Aside from being incredibly picturesque, Fisherman's Wharf also offers a nice selection of spots for lunch or an ice cream cone. In fact, for fish and chips known to be the best in Victoria, be sure to check out Barb's Fish and Chips, where the halibut is fresh and nicely crispy, and the seafood chowder is also some of the most flavorful around. The area also has a number of quaint shops, such as the 4 Winds Nest Artisans Boutique.
Pro Tip: Fisherman's Wharf is one of the stops of the distinctive checkered water taxis that offer quick rides from downtown Victoria.
5. The Thrilling Capilano Suspension Bridge
Another quintessential Vancouver tourist experience awaits in North Vancouver at the Capilano Suspension Bridge. Videos of people swaying as they cross the hanging bridge had captivated me for years, and I decided to check it out on this visit.
When I arrived, I was surprised to find a major attraction at the site, complete with totem pole art by Indigenous peoples, excellent interpretive signs, and a series of bridges and walkways in addition to the main suspension bridge.
I found the walk across the 450-foot-long suspension bridge to be exhilarating, in part, because the bridge wobbles precariously as you walk, but also because the views of the Capilano River seem so far below. But there are sturdy handrails all along the way, and the views are stunning. I also loved the Treetops Adventure, which consists of a series of suspended walkways that really do take you nearly to the tops of the area's Douglas firs.
Pro Tip: A complimentary shuttle to the suspension bridge is available in a number of spots in downtown Vancouver, including the Waterfront, and a number of hotels.
6. Ogden Breakwater Lighthouse And James Bay Beaches
With a couple of hours to spare in Victoria before heading back to Vancouver, I wandered from the Fisherman's Wharf area toward southwest Victoria. There, I came upon the cool area that includes the Ogden Point Breakwater and Lighthouse.
My visit turned out to be a wonderful way to get in some final beach time. The breakwater stretches far out into the sea and makes for a brisk, windy walk. It ends at a picturesque little lighthouse. Nearby stretches of beach are dotted with driftwood and. All in all, a lovely detour.
7. Stanley Park Picnic
No visit to Vancouver would be complete without a trek through the magnificent Stanley Park, a sprawling 990-acre urban space that serves as a green retreat in Vancouver's urban landscape.
I had visited the park numerous times in the past, both on foot and on a bike, and this time I decided to walk as far as I could and have a picnic along the way. After passing by famous spots like the Lost Lagoon, the Girl in a Wet Suit sculpture, and the Vancouver Aquarium, I stopped at the grassy area at the Lumberman's Arch for a picnic and watched families having fun in the Fox's Den Splash Pad. Picnic tables are available under the towering trees, and a concession stand is nearby.
Another convenient option for Stanley Park picnic fare is available at the Fairmont Waterfront's ARC in the Park, through the Limitless Picnics, where you can choose your favorite salads, sandwiches, and beverages. I chose the chef-curated Granville Island Public Market Picnic and got a basket filled with delicacies like Benton Brothers Fine Cheese, Kaylin and Hobbs Pickles, and charcuterie from Oyama Sausage Co.
Pro Tip: More information about Vancouver's premier park can be found in The Secrets of Stanley Park: Vancouver's Beloved Urban Retreat.
8. Granville Island Public Market
Superb views, a fun vibe, and delectable food choices all come together at Vancouver's Granville Island Public Market. I like to check out public markets wherever I go, and Vancouver's is one of my favorites. It seems to draw a mix of locals and tourists and offers some of the best salmon, bakery items, and fresh fruit of anywhere I've been.
To me, there are few better ways to spend a sunny afternoon than to put together a picnic of smoked salmon from Longliner Seafoods, focaccia from Terra Breads, and fruit from Sunlight Farms, and find a spot on the market's outdoor patio for a leisurely lunch while taking in some of Vancouver's best seaside views.
Of course, there are options for virtually anyone's tastes – from fish and chips and chowder to pizza and ice cream.
9. The Historic Fairmont Empress
Dating back more than 110 years, the Fairmont Empress in Victoria has a past as grand as its name. Since opening in 1908, the Empress has hosted a real-life prince and king and queen, as well as numerous Hollywood celebrities.
Today, following a series of recent renovations, the Empress offers its signature old-world charm amidst lovely harbor views and contemporary conveniences. Not only is a stay at the Empress a chance to walk where the royals have walked, but it also has a prime location overlooking Victoria's majestic Inner Harbour and close to the bustling downtown, the striking British Columbia Parliament Buildings, and the charming Fisherman's Wharf.
Pro Tip: For a fantastically scenic way to get from the Vancouver waterfront to Vancouver Island, the Helijet is hard to beat. For me, the helicopter option was not only super convenient (about a 30-minute flight vs. 90 minutes on the ferry), but it also offered unparalleled views of Vancouver and Victoria.