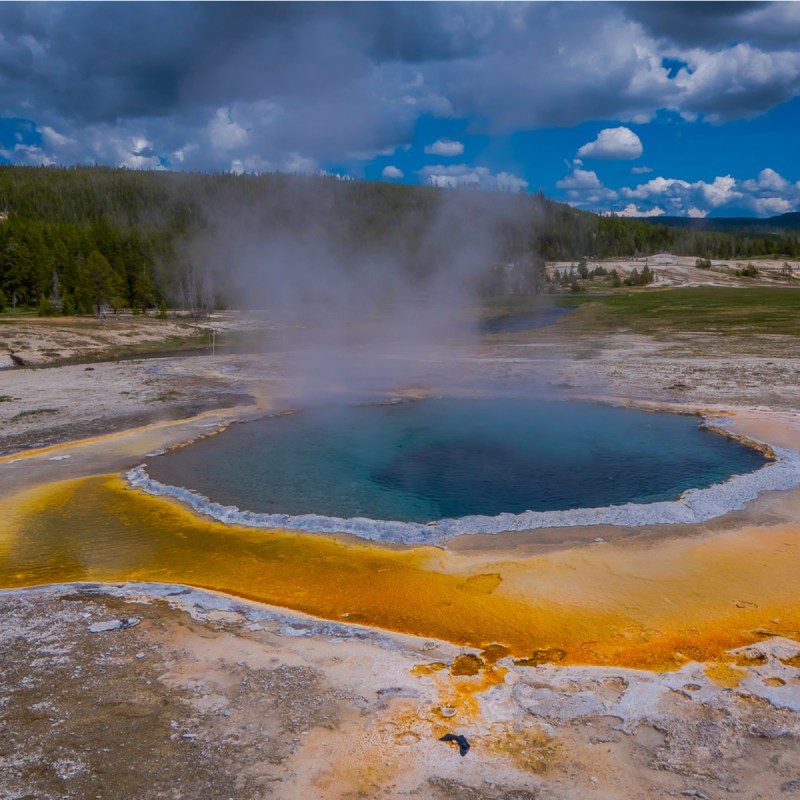 It's imperative to feel comfortable and safe while traveling.
Medjet
provides premier air medical transport, travel security, and crisis response memberships, providing peace of mind for an affordable price.
A 20-year-old woman was seriously burned in a hot spring at Yellowstone National Park earlier this week trying to rescue her dog, which had run into the spring.
The Washington state woman suffered significant thermal burns from her shoulders to her feet when she tried to retrieve her dog, the National Park Service reports. Her father pulled the woman out of the spring while another visitor pulled the seriously burned dog out. The father immediately drove the family to West Yellowstone, Montana, for medical care.
A Harrowing Experience
The incident began when the family arrived at Maiden's Grave Spring near the Firehole River in Yellowstone. When the woman and her father got out of their car, the dog jumped out and ran into the 200-degree hot spring. The woman chased after it into the hot spring.
The woman was initially treated by Yellowstone park rangers and members of the Hebgen Basin Rural Fire District. She was ultimately transported to the Burn Center at Eastern Idaho Regional Medical Center.
Park officials do not have information about the woman's present condition because she was transferred out of the national park. However, the National Park Service has learned that the dog passed away.
This is the second significant injury in a thermal area at Yellowstone this year. The first occurred at Old Faithful on September 16. In that incident, park rangers provided initial medical care to a 19-year-old woman from Rhode Island who had second- and third-degree burns on five percent of her body. The woman was later taken by ambulance to West Yellowstone and then life-flighted to the Burn Center at Eastern Idaho Regional Medical Center.
Last October, a 3-year-old was burned when the child ran off a trail and slipped into a small thermal feature near the Midway Geyser Basin. The toddler suffered second-degree thermal burns to the lower body and back.
Yellowstone's Thermal Features
Yellowstone has more than 10,000 hydrothermal features, including geysers, hot springs, mud pots, fumaroles, and steam vents. Many, like Maiden's Grave Spring, can reach temperatures of 200 degrees Fahrenheit, the U.S. Geological Survey (USGS) explains.
Interestingly, more than half of the world's active geysers are found in Yellowstone, the USGS reports. Between 500 and 700 geysers are active in the park each year. What's more, in 2011, 1,283 geysers erupted in Yellowstone.
Here's why the waters, which can contain high concentrations of chloride, sodium, silica, hydrogen sulfide, sulfate, alkalinity, and arsenic, get so hot. The underground Yellowstone volcano superheats groundwater, which then makes its way to the surface as a hydrothermal feature.
Know Before You Go
The rangers and staff at Yellowstone want visitors to enjoy themselves, but be safe in the process. Here's what they want visitors to remember.
The area around hot springs typically has a thin, breakable crust. The scalding water underneath can cause serious injuries, and even death. When in the area, visitors should always walk on boardwalks and stay on designated trails. Also, don't touch thermal features or runoff.
Secondly, always remember to keep children close to you on the boardwalk, and don't let them run. It must also be pointed out that pets are not allowed in thermal areas.
Finally, swimming or soaking in the hot springs at Yellowstone is not allowed.
You can learn more about how to be safe around thermal areas at Yellowstone here.
If you'd like to learn more about Yellowstone, which, by the way, is my favorite U.S. national park, be sure to read: