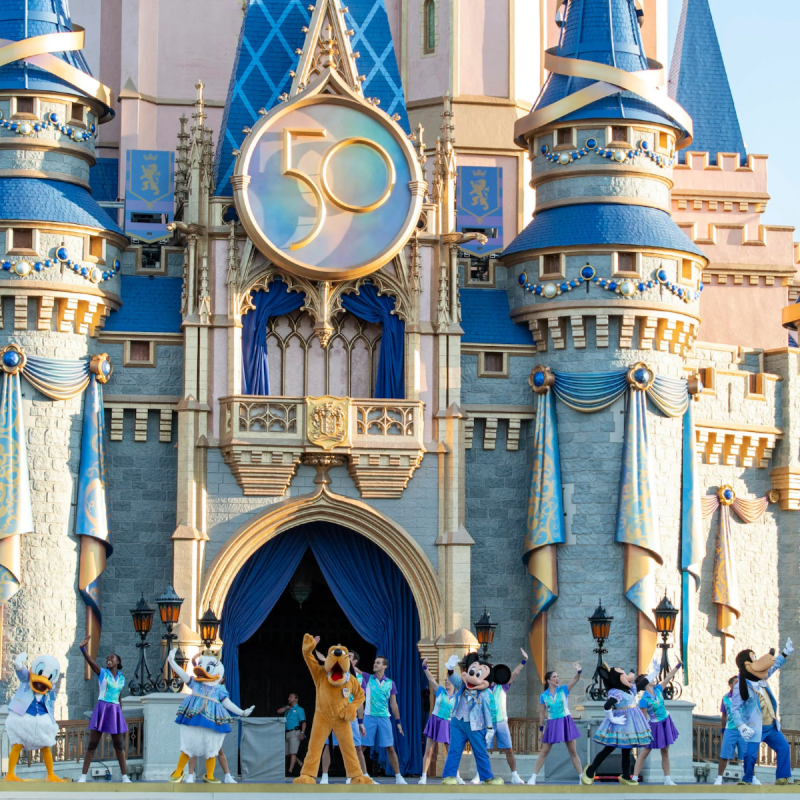 When Walt Disney began talking about what would become the Experimental Prototype Community of Tomorrow (better known as EPCOT), he famously once said it would "always be introducing and testing and demonstrating new materials and new systems." That commitment to innovation at The Walt Disney Company continues today.
As part of Walt Disney World's 50th-anniversary celebration, the company announced it has developed MagicBand+, what it calls "our next-generation wearable technology."
 "After you enter a theme park, MagicBand+ will come alive at various times with color-changing lights, haptic vibrations, and gesture recognition," Jeremy Schoolfield, managing editor at Walt Disney World Resort Public Relations, explained in a blog post. "The wearable will allow you to engage with favorite Disney moments in new ways."
What's A MagicBand?
Introduced in 2013 at Walt Disney World, MagicBands are colorful, waterproof wristbands that resemble watches. MagicBands allow the person wearing them to quickly and easily touch to a sensor called a touch point.
Essentially, wearing a MagicBand makes a vacation simpler. Here's how: they allow authorized users to unlock the door of a Disney Resort hotel room, enter theme and water parks, connect Disney PhotoPass images to an account, and even charge food and merchandise purchases to a Disney Resort hotel room.
Next-Generation Improvements
Here's what's cool. MagicBand+, which will debut next year, keeps all of the old functionality but simultaneously goes further to enhance visitors' experiences.
"MagicBand+ will help immerse you in Disney stories and connect with characters you love like never before," Schoolfield explains.
For example, MagicBand+ will allow visitors to "play like a bounty hunter in a galaxy far, far away and find virtual bounties throughout Black Spire Outpost in Star Wars: Galaxy's Edge at Disney's Hollywood Studios," Schoolfield explains.
MagicBand+ will also enable visitors to interact with the "Disney Fab 50 Character Collection," the golden sculptures of the most beloved Disney characters spread throughout the Walt Disney World theme parks.
Another example is that the bands will enable visitors to "experience nighttime spectaculars in a new way" as they light up during the new "Harmonious" at EPCOT and "Disney Enchantment" at Magic Kingdom Park evening entertainment. 
"MagicBand+ will be available for purchase beginning next year, including a discounted, pre-arrival price for Disney Resort hotel guests as well as new and renewing Walt Disney World Annual Passholders," Schoolfield explains. "Current MagicBands will continue to be available, along with the complimentary Disney MagicMobile service that extends MagicBand features such as park entry to smart devices."
Know Before You Go
If you're planning a trip to Walt Disney World resort, keep in mind that park attendance is managed by the resort using the Disney Park Pass reservation system. To enter a park, all visitors ages 3 and up will need a park reservation and valid admission for the same park on the same date. You can learn more about the reservation system as well as how to check reservation availability here.
Also, it must be pointed out that face coverings are required for all visitors ages 2 and up in all indoor locations — regardless of vaccination status. That includes when entering and moving through all indoor attractions and while in indoor queues. Face coverings are also required while in Disney buses, monorails, and Disney Skyliner. Face coverings are optional while in outdoor areas.
To learn more about Disney's 50th-anniversary celebration, be sure to also read: