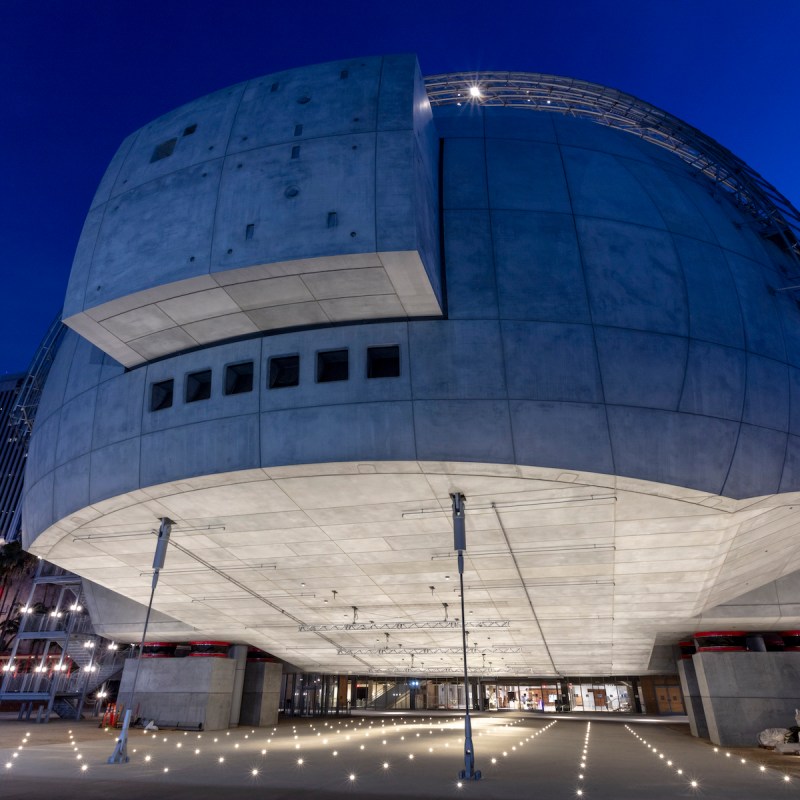 Film buffs have a new place to immerse themselves in their favorite hobby. The Academy of Motion Picture Museum swings open its doors this week, giving fans enough content and memorabilia to overwhelm their movie senses.
The seven-story, 300,000-square-foot facility is ready to welcome visitors who want to tour the displays. But the museum will also be home to screenings and conversations with actors, directors, and other film-industry specialists.
"It matters for Los Angeles to have this museum," two-time Oscar winner Tom Hanks said this week during what else than a red carpet gala to mark the grand opening. "We all know films are made everywhere in the world, and they are wonderful films. But with all due respect, a place like Los Angeles, created by the Motion Picture Academy, this museum has really got to be the Parthenon of such places."
Located in the heart of moviemaking at Wilshire Boulevard and Fairfax Avenue, organizers have spent decades planning the museum, gathering memorabilia, and planning forums for the public.
"We are the only institution that is devoted to talking about exploring the arts and sciences of moviemaking," museum president Bill Kramer told CNN. "We will rotate different stories through our core exhibition stories of cinema."
The core includes items like Dorothy's ruby slippers from The Wizard of Oz, the original E.T. used in the film, and costumes from Black Panther.
Rotating exhibits are housed in areas labeled the Stories of Cinema, starting with the Spielberg Gallery, followed by a collection of works and influences of Spike Lee. Another floor is devoted to The Wizard of Oz.
"We have been hard at work preparing the Academy Museum and are ready to welcome visitors," Jacqueline Stewart, chief artistic and programming officer, said in a press release. "The programs we are rolling out for our opening are dynamic, diverse, and deeply grounded in the history and artistry of filmmaking.
"Whether they are recognizing Hollywood legends, delving into the working process of film professionals, or addressing issues of race, gender, sexuality, and inequity that run through film history, these programs will use the power of movies and stories of filmmakers to open eyes and minds."
Among the special programs to open the museum:
Oscar-winner Laura Dern will be joined October 16 by her parents, actors Bruce Dern and Diane Ladd, to discuss their legacy and impact on her career.
Throughout October, screenings will be held of 13 iconic horror and suspense films that have been nominated for Oscars.
During October and early November, the entire catalog of films by Haile Gerima and Hayao Miyazaki will be explored.
The museum is overwhelming, even to those involved in the business.
"It's shiny and new and enormous, and it's crammed with about 125 years' worth of ideas and dreams and life-changing cinematic experiences," said Oscar-nominee Anna Kendrick upon getting her first look.
Museum officials say that is the goal.
"We want students, film lovers to see themselves reflected back to them in the museum," said Kramer. "And we want people to be inspired about careers in filmmaking."
General admission tickets to the museum run $25 for adults, $19 for seniors, and $15 for students. Tickets must be purchased in advance for specific dates and times.
Related Reading: