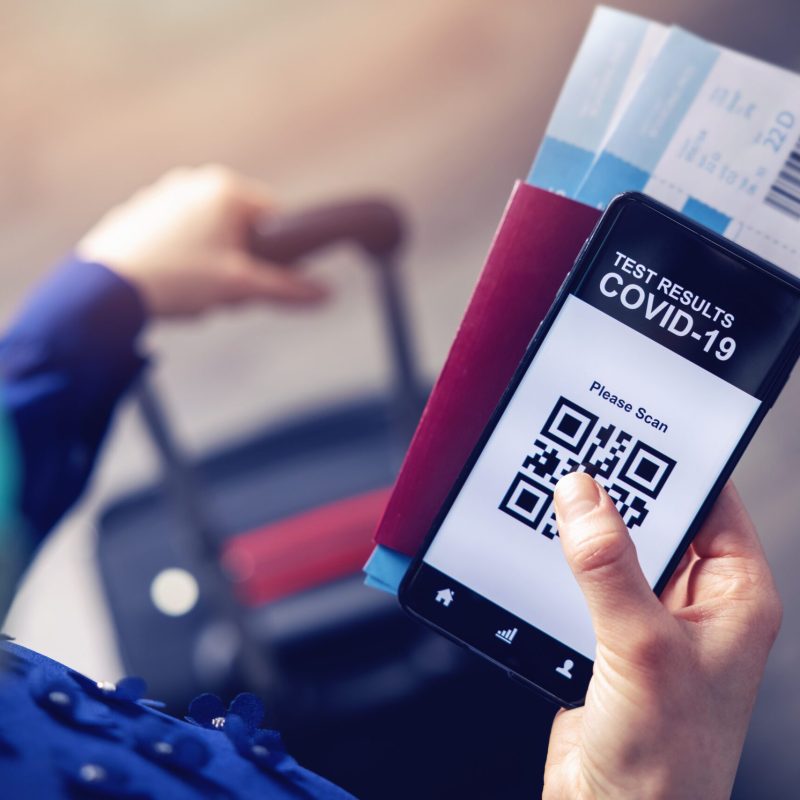 It's imperative to feel comfortable and safe while traveling.
Medjet
provides premier air medical transport, travel security, and crisis response memberships, providing peace of mind for an affordable price.
The travel world has reopened, and we are all more than anxious to get back to traveling. Traveling internationally has always been a tricky path to navigate, even prior to covid concerns. Between passports, visas, long flights followed by customs, booking housing, transportation, and events in a foreign country, planning trips abroad has never been an easy task.
However, international travel now requires a bit more preparation than prior to COVID-19. Entry requirements (visas, testing requirements, vaccination requirements, etc.) vary not just by country, but sometimes by city, and they continue to change almost weekly. It is not only imperative to research your specific destination well before your departure, but you also need to stay abreast of updated regulations just before you set foot on your plane. Many require proof of vaccination and/or a negative COVID test prior to entry. If traveling from the United States, you are also required to take a COVID test for your return, within three days of reentry, and submit the negative COVID results to the airline prior to boarding. Make sure you research testing facilities, or plan ahead and take a home test (or two or three) with you.
Preparing for the worst is one thing. The worst actually happening is another. What happens if that test isn't negative — or if you get sick with the virus while abroad? Here's what you need to know.
What Happens If You Test Positive With COVID While Traveling?
While overseas, if you test positive for COVID-19 during your trip or prior to flying back to the states, you not only cannot get on your flight home, you must also respect that country's current quarantining regulations. Whether you are exhibiting symptoms or not, a positive test is all that matters in their eyes. Most countries will require a period of quarantine and self-isolation, which ranges from 7 to 21 days. Some countries may also require this if someone in your group tests positive, regardless of the outcome of your test. Therefore, you must be mentally and financially prepared to unexpectedly extend your trip for a few weeks. Depending on the country or region, this quarantine may be completed in a hotel room or a designated quarantine hotel or government facility.
Obviously, a last-minute international stay extension can be financially taxing, and most countries will not assist travelers. In addition to the housing cost, one must also consider the minimum extra expenses incurred for food and additional COVID testing prior to being cleared to return to your home country. Additionally, if you become ill enough to require medical attention, you must be prepared for the health care expenses. 
If this is something you wouldn't be equipped to pay for, we recommend delaying international travel for now, or making sure you have travel insurance that specifically covers medical expenses and "trip interruption" costs due to COVID-19. The good news is many do, but with different limits and rules, so be sure you understand everything about a policy before you purchase it. Many countries require proof of these types of coverage as part of their entry requirements, and some may also require proof of medical evacuation coverage so, again, be sure to match your coverage to the exact specifications of the country you intend to visit.
What Happens If You Get Hospitalized With COVID While Traveling?
No one wants to think about the worst-case scenario while preparing for an exciting trip overseas, but if you do make preparations prior to travel, the peace of mind while traveling is well worth it. The medical coverage of your travel insurance (and most health insurance if you are traveling) should cover the basics: emergency transport to the nearest hospital, medical treatment costs to a certain limit, and "trip interruption" to cover some additional hotel nights and rebooking costs. However, the medical evacuation coverage is really only geared toward making sure you get to the closest "adequate facility" that can treat you. Unfortunately, that doesn't necessarily mean home. You are typically required to stay until you are recovered "to the fullest extent possible," then rebooked home on a commercial flight. But being stuck in a foreign country, especially with something as serious as symptomatic COVID-19, and trying to deal with a foreign health care system can be a very frustrating and scary experience. That's where medical transport memberships can come in.
Medjet was the first air-medical transport and travel security membership program to announce they would transport COVID-positive hospitalized patients to their hospital of choice at home. Even before COVID, over 10 million travelers were hospitalized annually while traveling internationally, and Medjet has spent almost 30 years getting members moved home.
Commercial airlines are forbidden to fly infected people back into the country, for obvious reasons, and private planes are under the same CDC restrictions. However, Medjet employs a network of air ambulances with certified medical professionals that are able to transport COVID-positive patients in secure pods from foreign hospitals to their home hospitals. Medjet arranges and pays for all ground transportation, aircraft, flight crew, and visa requirements, facilitates communication with your home hospital, and even keeps in contact with your family along the way. For more information about Medjet's COVID-19 transportation policies, click here.
Medjet Membership Options
For the ultimate peace of mind while traveling internationally, Medjet offers two tiers of membership options: MedjetAssist and MedjetHorizon.
The MedjetAssist membership provides only the air transport benefits, and is available for specific trips, starting as low as $99 for an individual, or $199 for the entire family. Annual memberships start at only $295/year for an individual, or $399/year for the whole family.
The MedjetHorizon membership provides the air medical transport benefits as well as  24/7 travel security response and evacuation services due to a wide list of physical safety threats, including violent crime, political threat, terrorism, natural disaster, disappearance, kidnapping and more. MedjetHorizon starts at only $184 for an individual and $314 for the entire family during a short-term trip. Annual memberships start at $444 for an individual and $535 for the whole family. If you're unsure which tier is the best for you and your family, it has a simple quiz to help decide.
Wherever you end up booking a trip, make sure to do all the appropriate research and preparations before you go. We hope you're all able to explore your next bucket list country soon!
For more information about each country's current travel regulations, check out: