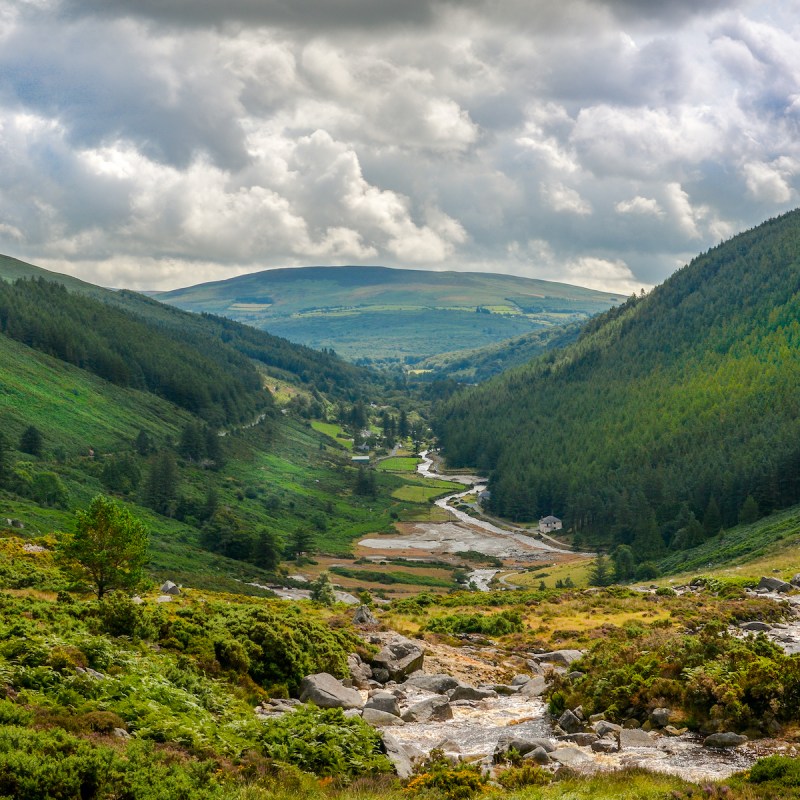 Now that Ireland has begun to drop all COVID-19 restrictions for fully vaccinated people, Tourism Ireland has launched a promotional campaign encouraging travelers to visit the country.
The campaign, called "Press the Green Button," features a host of flight, hotel, and travel package deals. The goal is simple: Prompt Americans as well as travelers from other countries to begin booking travel arrangements. The button, found here, makes planning easy because it breaks travel down by travelers' interests.
"Our 'Green Button' campaign is a multi-media promotional campaign that will be seen by tens of millions of people across the U.S.," Alison Metcalfe, executive vice president, Tourism Ireland, North America & Australia/NZ, explains. "Our key message is that we cannot wait to roll out the green carpet and welcome back visitors from the U.S. in 2022 and beyond."
Green For "Go"
Tourism Ireland's $4.9 million "Green Button" campaign is a multi-channel program that will run on TV, digital media, and social media. It also runs on Tourism Ireland's website, where visitors are invited to press the virtual "Green Button" and begin planning their trip to Ireland.
"This is the right time to explore our amazing coastal cliffs, rugged mountains, and fire-warmed pubs," the website explains. "So what are you waiting for? Go on, press the Green Button and book your trip today!"
To help make planning a trip easier, after visitors press the green button, the site breaks travel options down by interest. For instance, visitors can then press a "See and do" icon to learn about Ireland adventures or a "Stay," icon to learn about staying in castles, hotels, B&Bs, or a lighthouse.
Other selections are: "Walk," to learn about walking adventures; "Cycle," to learn about opportunities to ride bicycles through cities, scenic off-road routes, or rugged mountain trails; "Discover," to learn about Ireland's coasts and cities including Belfast and Dublin; and "Eat," to learn about "enjoying fresh flavors and exciting food choices."
Prepare To Travel
Visiting Ireland has gotten easier since the country reopened and has begun loosening pandemic restrictions. Travelers from the U.S. or Canada who have valid proof of vaccination or have valid proof that they recovered from COVID-19 in the last 180 days will not need to complete travel-related testing or quarantine. 
On the other hand, travelers from the U.S. or Canada who don't have valid proof of vaccination or have valid proof they have recovered from COVID-19 will need to show evidence of a negative RT-PCR test result conducted less than 72 hours before they arrive in Ireland, self-quarantine for 14 days upon arrival in Ireland, and undergo post-arrival testing.
The good news is that Ireland has already begun loosening pandemic-related restrictions so visiting the country keeps getting easier. What's more, beginning October 22, remaining restrictions will be lifted. At that time, there will no longer be requirements for physical distancing or wearing a mask while either indoors or outdoors.
You can learn more about how restrictions in Ireland are being loosened here.
Know Before You Go
More than 88 percent of Ireland's citizens who are over 18 are fully vaccinated against COVID-19, according to the prime minister's office. Almost 92 percent of the country's citizens over the age of 18 have received at least one dose of the vaccine.
However, there were 9,204 reported cases of COVID-19 over the past week, according to data from Johns Hopkins University. And while the number of cases is dropping, there were 40,537 new cases reported last month.
The Centers for Disease Control and Prevention still has Ireland listed as a "Level 4: Very High Level of COVID" country.
If you're planning a trip to Ireland, be sure to read: