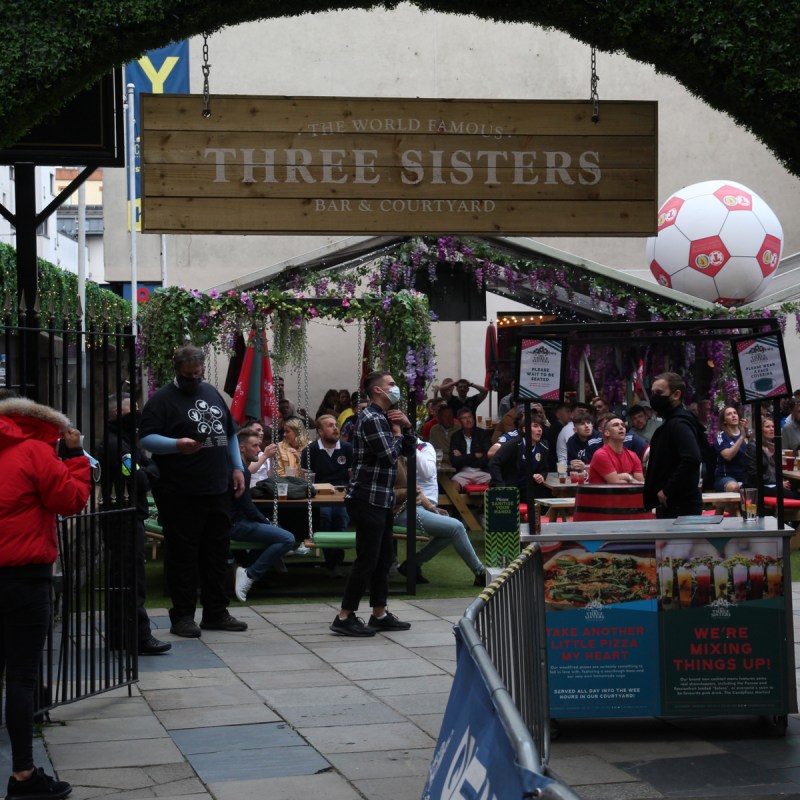 It isn't surprising that Scotland is about to ease its travel requirements for international travelers who are fully vaccinated against COVID-19. England previously announced it is relaxing travel requirements, and now the Scottish government is taking a similar approach.
First, beginning October 4 fully vaccinated international travelers from countries not on Scotland's Red list will no longer be required to take pre-departure COVID-19 tests, the Scottish government announced.
Secondly, in a move that parallels the approach taken by the British government, Scotland will change its "traffic light system" of checks for international travel. While the "Green" and "Amber" classifications will merge, the "Red" list will still be used for countries considered to have high COVID-19 case rates or "variants of concern."
"We have concerns that the UK Government's proposals to remove the requirement for a pre-departure test for some travelers could weaken our ability to protect the public health of Scotland's communities," Cabinet Secretary for Net Zero, Energy and Transport Michael Matheson said. "However, we also recognize that not having UK-wide alignment causes significant practical problems and creates disadvantages for Scottish businesses. Also, if non-alignment led to travelers to Scotland choosing to route through airports elsewhere in the UK, the public health benefits of testing would be undermined in any event."
A "Reluctantly Made" Decision
The decision to change travel requirements was not made rashly, cabinet secretary Matheson said. Instead, it was only made after weighing a number of factors, including possible impact on public health.
"After liaising at length with stakeholders from the aviation sector to understand the impact of adopting a different approach in Scotland, we have reluctantly concluded that, for practical reasons, alignment with the UK is the best option," Matheson said.
Relaxed Requirements
Here's what the change means: Pre-departure COVID-19 tests will no longer be required for fully vaccinated travelers from non-Red list countries. Travelers will need to provide proof of receiving the Moderna, Oxford/AstraZeneca, Pfizer/BioNTech, or Janssen vaccine.
It appears, however, that fully vaccinated travelers will still need to be tested for COVID-19 at some point after arrival in Scotland.
"We also intend to align with the UK post-arrival testing regime," Matheson said. "The details of that are still being developed with lateral flow tests being considered — and we will engage further with the UK Government on those plans. Details will be announced at the same time as the UK."
International travelers who are not fully vaccinated can still travel to Scotland. It should be pointed out, however, that those travelers must comply with several restrictions — including numerous test requirements and the need to quarantine upon arrival in Scotland. You can find all of the details here.
Welcome News
The upcoming change to Scotland's travel restrictions is welcome news to those in the tourism industry.
"Divergence in international travel restrictions and testing regimes would have placed Scotland and its airports at a significant economic disadvantage," Dr. Liz Cameron, chief executive of the Scottish Chambers of Commerce, said in a BBC article. "This sends a clear signal to the world that Scotland is open for business."
Gordon Dewar, chief executive of Edinburgh Airport, went on to add: "We welcome this decision, which will be a huge bonus for Scotland's travel and tourism sector, and will provide some much-needed confidence for people who need and want to travel."
Know Before You Go
The Scottish government reports that 70 percent of the country's population is fully vaccinated.
On September 27, 2,069 new cases of COVID-19 were reported and 1,023 people were in the hospital with COVID-19.
The Centers for Disease Control and Prevention doesn't specifically break Scotland out separately from the UK, and, instead, has simply issued a "Level 4: Very High Level of COVID-19 in the United Kingdom" alert, which simply reads "Avoid travel to the United Kingdom." Based on that guidance, the U.S. State Department issued a "United Kingdom – Level 4: Do Not Travel" alert, stating "Do not travel to the United Kingdom due to COVID-19."
If you're planning to travel to Scotland, be sure to read: