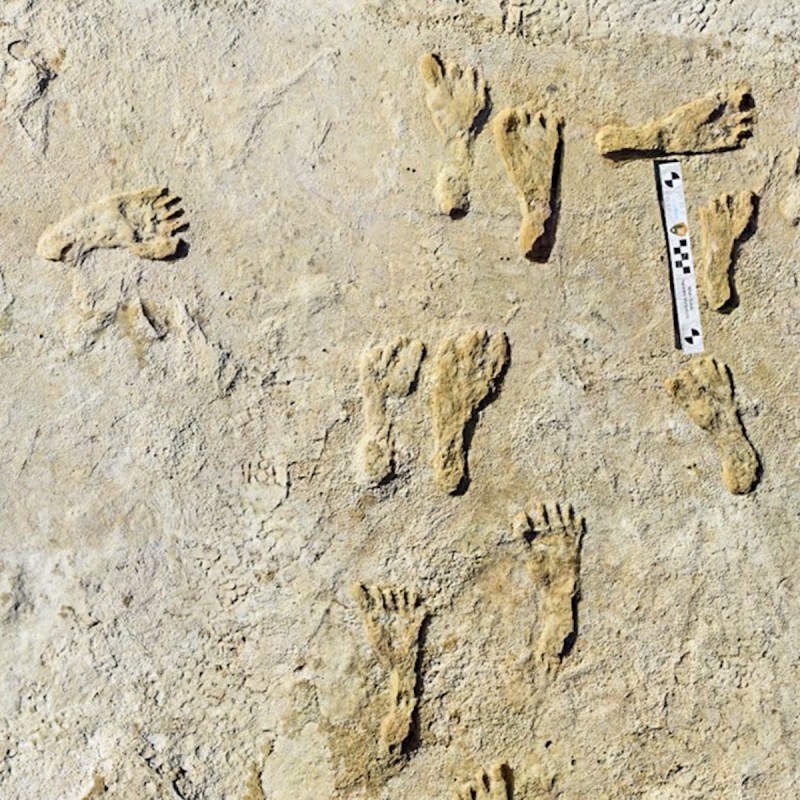 The prevailing theory is that early humans left Asia, crossed a now-submerged land bridge, and reached North America somewhere between 16,000 and 18,000 years ago. It has now been proven that the estimate is off by thousands of years.
Instead, new research in White Sands National Park shows humans reached New Mexico's Tularosa Basin at least 23,000 years ago.
Fossilized footprints were first found in a dry lakebed in white Sands in 2009. The U.S. Geological Survey (USGS) has now radiocarbon dated seeds embedded in the footprints, proving their age. Consequently, scientists now know humans, mastodons, and woolly mammoths were present in North America before the major glacial advances during the last ice age closed migration routes from Asia.
"This study illustrates the process of science: New evidence can shift long held paradigms," said Allison Shipp, USGS acting Rocky Mountain regional director.
White Sands National Park Superintendent Marie Sauter said, "These incredible discoveries illustrate that White Sands National Park is not only a world-class destination for recreation but is also a wonderful scientific laboratory that has yielded groundbreaking, fundamental research."
A Megatrack Site
White Sands National Park, which is completely surrounded by the White Sands Missile Range, is the world's largest gypsum dunefield. In fact, the gypsum sand covers 275 square miles of desert.
That wasn't always the case. Before the Pleistocene epoch ended about 12,000 years ago, the area was covered by giant lakes, streams, and grasslands, National Park Service explains.
The area was also home to one of the largest lakes in the southwest, called Lake Otero. "This lake covered 1,600 square miles — that's larger than the state of Rhode Island!" the National Park Service notes.
As early humans, as well as mammoths, ground sloths, ancient camels, dire wolves, and saber-toothed cats, walked down the lake's muddy shores, they left footprints in the wet clay and gypsum — footprints that are still being discovered in fossilized form today. Scientists have to act quickly, though: After the swirling sands uncover these tracks, the wind can cause them to erode within a year or two.
You can learn more about fossilized footprints at White Sands on the national park's website.
What The Footprints Prove
Scientists from White Sands National Park, the National Park Service, U.S. Geological Survey, Bournemouth University, University of Arizona, and Cornell University, along with White Sands' Native American partners, have collaborated and consulted on the research. Their findings were published in the journal Science.
Evidence of early human habitation in North America has always been disputed because what appears to be stone tools may have formed naturally, and artifacts may have shifted from their original stratigraphic layers. Fossilized footprints, on the other hand, are another matter entirely.
"A footprint is a really good, unequivocal data point," Matthew Bennett, a professor of environmental and geographic sciences at Bournemouth University in the U.K. and the lead author of the study, told NBC News. "That's the importance of this site: It's the earliest unequivocal evidence for humans in the Americas. We now know they were there … during the Last Glacial Maximum [the height of the last ice age, about 20,000 to 26,000 years ago]."
Now that you're thinking of early humans reaching the White Sands area, be sure to also read: