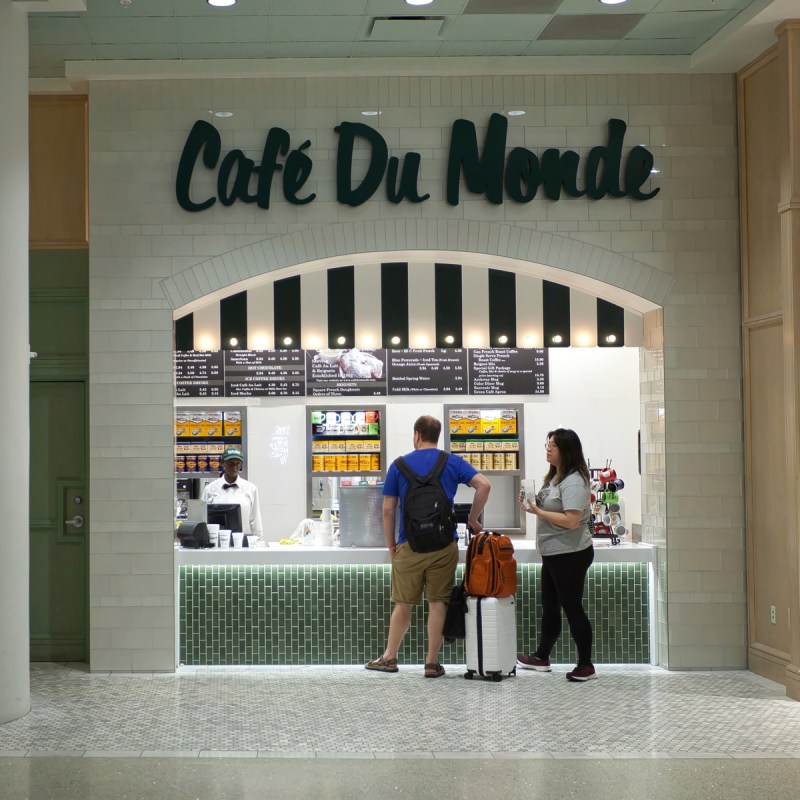 Passenger satisfaction with U.S. airports reached an all-time high earlier this year when fewer people were traveling due to COVID-19 pandemic restrictions and concerns. Now that weekly airline passenger volumes are up — around 75 percent of pre-pandemic levels — passenger satisfaction has fallen, according to a new study.
A large measure of that dissatisfaction stems from temporarily closed or short-staffed food, beverage, and retail stores, the "2021 North America Airport Satisfaction Study" conducted by J.D. Power found.
"Ultimately, the data conveys changing expectations among travelers," Michael Taylor, practice lead for travel at J.D. Power, told TravelAwaits. "Earlier this year, people were just happy to be traveling again, and they were satisfied with any shop or restaurant that was open. Now, however, passengers expect full service at the airport, which is a problem for restaurants and shops that are still struggling to hire staff."
Grading Airports
Now in its 16th year, the 2021 study is based on 13,225 surveys from U.S. or Canadian residents who traveled through at least one U.S. or Canadian airport within the past 30 days. The study was conducted from August 2020 through July 2021.
Passengers graded airports on six key factors. In order of importance, they are terminal facilities; airport arrival/departure; baggage claim; security check; check-in/baggage check; and food, beverage, and retail.
If you're wondering why food, beverage, and retail options are weighted least yet also make a critical difference in passenger satisfaction, the answer is simple, Taylor explains.
"Factors such as satisfaction with the airport terminal — including whether or not bathrooms are perceived to be clean — and how easy it is to actually get to the airport and then get through security carry considerably more weight in the survey. But those operations can be thought of as basic blocking and tackling," Taylor told TravelAwaits. "What turns a good airport experience into a great airport experience is the availability of food, beverage, and retail options. Passenger satisfaction also hinges not just on the number of those options, but on their quality and whether or not they feature local cuisine."
Survey Findings
The J.D. Power survey breaks airports down by size. The first is mega airports, which are airports with 33 million or more passengers each year. The second category is large airports, which serve 10 to 32.9 million passengers each year.
In most years, the survey also includes medium airports, which serve 4.5 to 9.9 million passengers each year. This year, however, medium airports were not graded due to lower passenger volumes stemming from COVID-19 travel restrictions.
This year, the top three mega airports are Miami International Airport, John F. Kennedy International Airport, and Minneapolis-Saint Paul International Airport.
The top large airport is Louis Armstrong New Orleans International Airport, followed by Tampa International Airport, and Raleigh-Durham International Airport.
Key Findings
Interestingly, Miami International Airport installed a new baggage handling system last year. The airport explains that the system "doubles the speed and efficiency of baggage screening and delivery for flights in our Central and South terminals."
The airport's dining options are also noteworthy because they feature local fare. They include Gloria and Emilio Estefan's Estefan Kitchen Express, which serves Cuban sandwiches and pork flatbreads; Shula's Bar & Grill, owned by the family of former Miami Dolphins coach Don Shula; and Corona Beach House, Corona's first flagship restaurant and sports bar in the U.S.
Louis Armstrong New Orleans International Airport opened a new passenger terminal in 2019. The nearly 1-million-square-foot complex, which came with a $1 billion price tag, features centralized security checkpoints as well as more than 40 food and retail concessions — many of which are local brands.
For instance, Emeril's Table, owned by famed chef Emeril Lagasse, showcases "a little bit of everything" from his New Orleans restaurants. Then there's Leah's Kitchen, which pays homage to the late Leah Chase, the New Orleans chef who made Dooky Chase's restaurant famous. Finally, if passengers need one more chance for beignets and café au lait before leaving New Orleans, Cafe du Monde even has a restaurant in the airport.