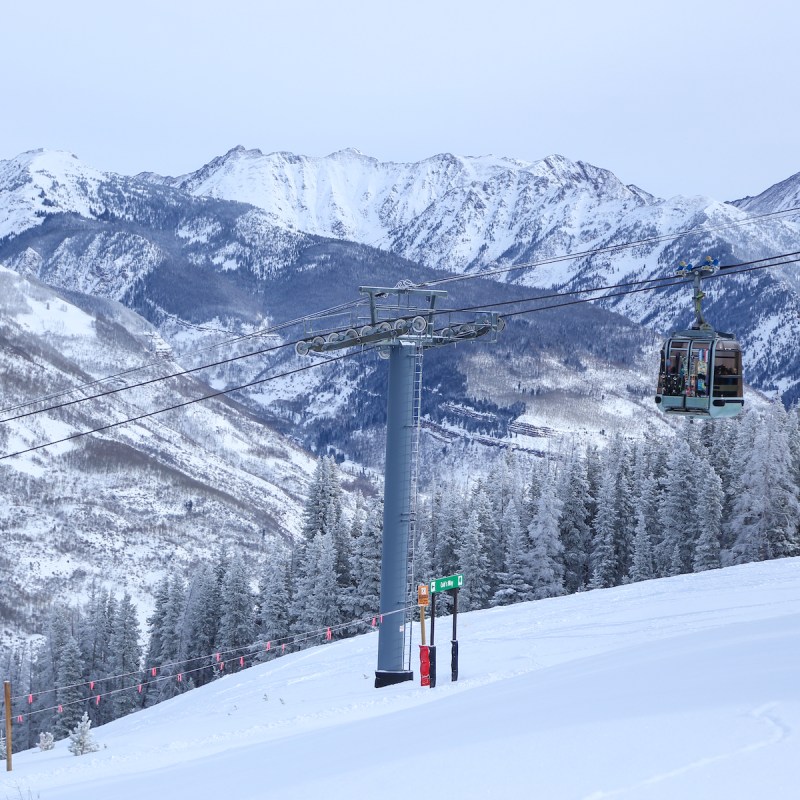 Skiers who want to visit a Vail resort this year but have been anxious about what the 2021/2022 ski season will look like as the COVID-19 pandemic continues finally have some clarity.
In an email sent to season-pass holders earlier this week, Chairman and Chief Executive Officer Rob Katz explained the resort company's winter operating plan for this year's ski season. Significantly, reservations were required last year due to the COVID-19 pandemic. This year, however, reservations will not be required for skiing and snowboarding. Instead, lifts and gondolas will be loaded at normal capacity.
Katz also explained that face masks and proof of vaccination for COVID-19 will not be required on the slopes – including in lift lines or on chairlifts.
"We are fortunate that the core of our experience takes place outdoors in vast mountain settings," Katz said in a statement.
Here's what you need to know about skiing at a Vail resort this year.
Vail Resort Requirements
Vail Resorts operates 37 ski resorts in the U.S., Canada, and Australia — most notably including Vail, Beaver Creek, Breckenridge, Keystone, and Crested Butte ski areas in Colorado. The guidelines below apply to all Vail Resort properties, but if you're planning to visit, be sure to check with the specific resort in advance because there may be changes to follow guidance from local or state health authorities.
Here's what you need to know when planning to visit Vail Resorts.
Vaccination Requirement
Proof of vaccination for COVID-19 will not be required to ski and ride at Vail Resorts this year. It also will not be required in outdoor spaces such as lift lines, chairlifts, gondolas, outdoor restaurants, and restaurant patios. Proof of vaccination also will not be required in indoor spaces such as restrooms, lodging properties, full-service restaurants, and retail and rental locations.
However, proof of COVID-19 vaccination will be required for everyone over the age of 12 to eat at indoor, on-mountain quick-service locations. Anyone who has not been vaccinated or does not have proof of vaccination will not be permitted to enter indoor, on-mountain quick-service restaurants.
On the other hand, all Vail Resorts employees will be required to have COVID-19 vaccinations "for their safety and protection as well as the safety and protection of guests and resort communities, and in compliance with the recent rules announced under the U.S. Department of Labor's Occupational Safety and Health Administration," Vail Resorts explains.
"Consistent with many other large-scale indoor activities and venues, we believe the vaccine requirement is important for the protection of our guests and our employees, given the number of people using these facilities," Katz wrote season-pass holders, the Denver Post reports.
Mask Requirements
Face coverings will not be required to ski and ride at Vail Resorts this season. What's more, a face mask won't be required in outdoor spaces such as in lift lines, or on chairlifts or gondolas either.
Indoors, as you would expect, is a different story. Face masks will be required in indoor settings — including in restaurants, lodging properties, restrooms, retail and rental locations, and on buses — regardless of vaccination status. Masks may only be removed in restaurants while eating and drinking.
Dining Reservations
As was the case last year, reservations will be required to eat at many on-mountain restaurants this year. However, based on current regulations, Vail Resorts does expect significantly more seating and dining capacity than last season. Reservations will begin being booked 1 day in advance.
Know Before You Go
Vail Resorts' ski season is expected to begin at Keystone, Colorado, this October because it is using a new energy-efficient snowmaking system. Breckenridge and Vail will open on November 12, followed by eight more resorts spread from the West Coast to the East Coast on November 19. You can find all of Vail Resorts' COVID-19 safety protocols here, including numerous FAQs.
While you're thinking about skiing, be sure to read: