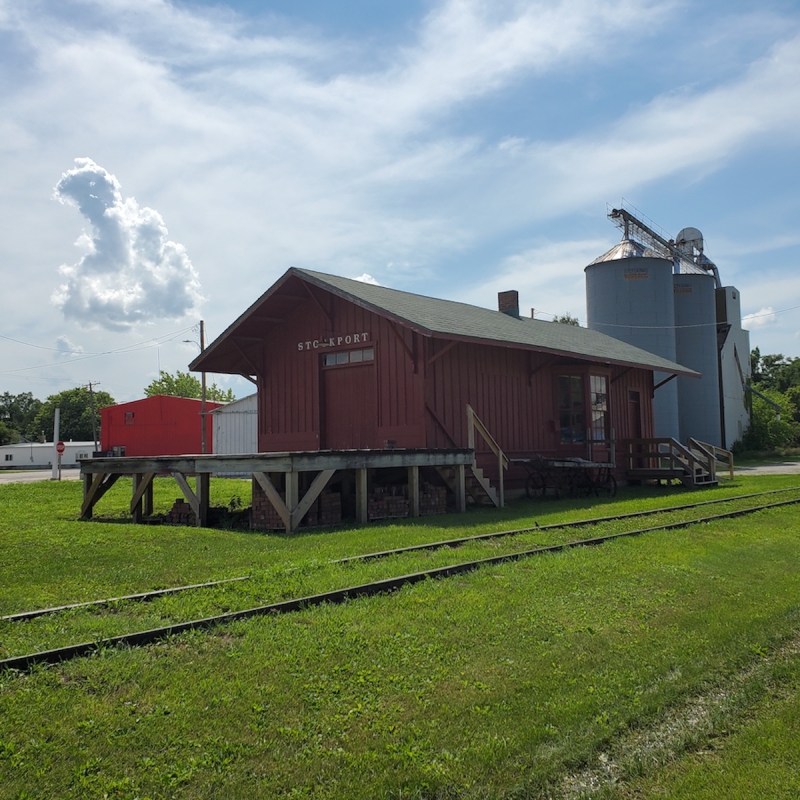 Southeastern Iowa is home to the beautiful Villages of Van Buren County, Iowa. These villages each provide unique opportunities and experiences that you will not find elsewhere in the Midwest. Make your visit to this area a road trip and you will not be disappointed. Plan to come for a day, weekend, or an entire week. You can do as much or as little as you like — relax, eat, stay in historic hotels, take a bicycle ride, or shop until you drop.
The county has several miles to road trip, with few gas stations and chain restaurants. Keep your tank 1/2 full and enjoy a meal in a locally owned restaurant.
1. Keosauqua
Keosauqua, Iowa, is the largest village with a population near 1,000. Keosauqua is a fantastic village to make as your base since it is in the heart of Van Buren County. Lacey-Keosauqua State Park is an excellent place for outdoor enthusiasts. Several campsites and cabins are available in this state park that spans more than 1,600 acres. Birding enthusiasts will appreciate the new bird blind that opened in 2021 for visitors to use for free. If you enjoy staying in historic hotels, book a stay at Hotel Manning. This historic steamboat-style hotel is located along the Des Moines River and offers a charming night of lodging. Grab a malt at the world-famous Misty's Malt Shop, a short walk from Hotel Manning.
History comes to life in Keosauqua in the Villages of Van Buren. The Van Buren County Courthouse is the oldest in continuous use west of the Mississippi River. A visit to Keosauqua would not be complete without a stop at the Pearson House Museum Complex, a confirmed house on the Underground Railroad. One of the unique experiences in all of the Villages of Van Buren is located in Keosauqua. Bloom and Bark Farm, LLC, is a magical place where you can discover glassblowing. You can participate in glassblowing, observe art in progress, or stroll through the prairie and enjoy the farm.
2. Farmington
Farmington has been in existence since 1839 and is the oldest village in Van Buren County. The annual Strawberry Festival is a highlight for all strawberry fans. Indian Lake Park offers hiking, biking, camping, and cabins. Kayaks and canoes are available for rent at this city-owned park. Stay for a day, weekend, or a whole week. Reservations for lodging are accepted and encouraged. You will enjoy the quiet life that Farmington has to offer. With 500 residents, the town is small. There is a Casey's General Store in town, offering gas and food.
3. Bentonsport
Bentonsport, a National Historic District, is now home to 40 residents. This small village includes antique shops, local artisans, and a beautiful footbridge that spans over the Des Moines River. B & B's, and cottages offer lodging with an opportunity to stay overnight in one of Iowa's smallest, charming towns. The rose garden is in bloom during the summer months, offering colorful, blooming roses with a view near the river. Park your car and walk through this National Historic District. You will find yourself in a beautiful, quiet place.
I enjoy visiting Bentonsport, as it offers several incredible photo opportunities. Bring your camera and a pair of binoculars. The birding is fantastic along the river, and you will be sure to take some fantastic photos.
4. Milton
The village of Milton is home to a large Amish population, which provides a cultural mix within the community. In 1974, The Milton Heritage Society was organized. The community museum is in the Presbyterian Church, the Milton Heritage House. Visitors can view this museum by calling (319) 288-1162 for a personal tour. The Milton Depot stands today as a reminder of the bustling days when the C.B.& Q. Railroad steamed through town. The depot is open during special community events and programs throughout the year.
5. Bonaparte
In 1989, the Bonaparte Historic Riverfront District was named to the National Register of Historic Places. This small village of 426 residents has received recognition as one of 12 Distinctive Destinations in the nation for Historic Preservation from the National Trust.
Step back in time, exploring history along the banks of the river in Bonaparte. A highlight of the Riverfront District is garnished with a butterfly garden, historic lock walls, refurbished bandshell, and restored mills. Historic street lights illuminate the downtown with gracious Victorian homes, and charming 1800s cottages dotted throughout the city. Visitors will enjoy the architecture, unique shops, and the down-home-friendly atmosphere.
6. Birmingham
Birmingham's claim to fame is that William Beardsley, Iowa's governor in 1949, grew up and graduated from Birmingham High School. The town was laid out in 1839 and the railroad came through in 1882. The city park, located in the heart of Birmingham, features a new shelter, gazebo, and historic log cabin. You will not find any chain stores or restaurants in this town. Kick back and enjoy the peace of this village.
7. Cantril
The village of Cantril was founded in 1872 and is currently the heart of an Amish and Mennonite community. Waubonsie Park is a 23-acre retreat that sits on the edge of town. Fishermen will want to cast their line, in hopes of catching the big one. Bring your frisbee, as you can also play disc golf, picnic, and camp. Lace up a pair of comfortable walking shoes and walk the one-mile gravel trail that circles the pond. While you are in town, you will want to shop at the Dutchman's Store, a Mennonite owned and operated old-fashioned general store
8. Douds-Leando
Douds–Leando sits in the northwest corner of Van Buren County. These towns are often referred to as the "Twin Cities" of Douds–Leando, sitting on opposite sides of the river that runs through it. History is alive in this village, as you explore older buildings that have been well cared for. One of the largest underground mines in Iowa can be found in Douds, alongside a stone quarry. Field Days is an annual event that Iowans look forward to each year. This community is now referred to as Douds.
Up until 1958, the Mt. Moriah Methodist Church, constructed in 1892, was open to worshippers. In 1997, the church was restored by the Douds Historic Preservation Association. This church is one of the only surviving country churches in the county, near original condition, and located on the original sites of the church and cemetery. You can visit this church when special events are held.
The Douds Depot was built in 1907, replacing an older structure, and remained in operation until 1972, Today you can visit a mining and railroad museum that is open by appointment. You can call (319) 293-3209 or (641) 936-4485, to schedule a time to visit. Valley School No. 3, Oak Grove School, and White House #5 schoolhouses are remaining onsite throughout Van Buren County.
9. Mt. Sterling
Mt. Sterling is the southernmost village in Van Buren County. This area is a hunter's dream come true. With 3,500 acres of private and public lands that are enrolled in a wetlands program, hunters will rejoice. There are more than 7 miles of shallow wetlands. The natural land is composed of hardwood and softwood trees, prairie lands, and more than 100 species of wildlife. Ducks, geese, swans, turkey, deer, pheasants, quail, otters, eagles, and the famous bald eagle, all live here.
10. Iowaville-Selma
Iowaville and Selma are two unincorporated communities in the Villages of Van Buren County. In the northwest corner of the county, these communities are rich in Native American lore and history. History was made when the Sac and Fox war parties attacked peaceful Iowans. Both Blackhawk the warrior and Keokuk spent some time in the area, and Blackhawk was originally buried near Iowaville. Selma Park is home to a restored log cabin that stands today. Pack a picnic lunch and enjoy the quiet of the Iowa prairie lands near this area.
The Villages of Van Buren County in Southeast Iowa offer a magical road trip. Embrace the two-lane highway and enjoy your time away from a busy life. You will quickly notice that there are no stoplights, and only an occasional stop sign as you travel the byways. Fall in love in one of Iowa's most charming counties and experience Iowa in a way that you never thought possible.
11. Stockport
Stockport, Iowa, is the Villages of Van Buren's youngest village, as it turned 100 in 1987. This charming town is home to one of Iowa's 99 Freedom Rocks. What surprised me the most was how patriotic this small village is. "The Avenue of the Flags" can be seen on Memorial Day, Flag Day, Independence Day, and Veterans Day. If you enjoy patriotism and flags, visit these four days for a colorful visit. Longview Lodge is a stunning property that offers a cozy night for lodging. You will have all of the amenities of today in a quiet town that you will appreciate. Pheasant hunting season in the fall is a great time to visit. The fall foliage is brilliant and the weather can be mild in Iowa.
Some other great Iowa destinations to check out: