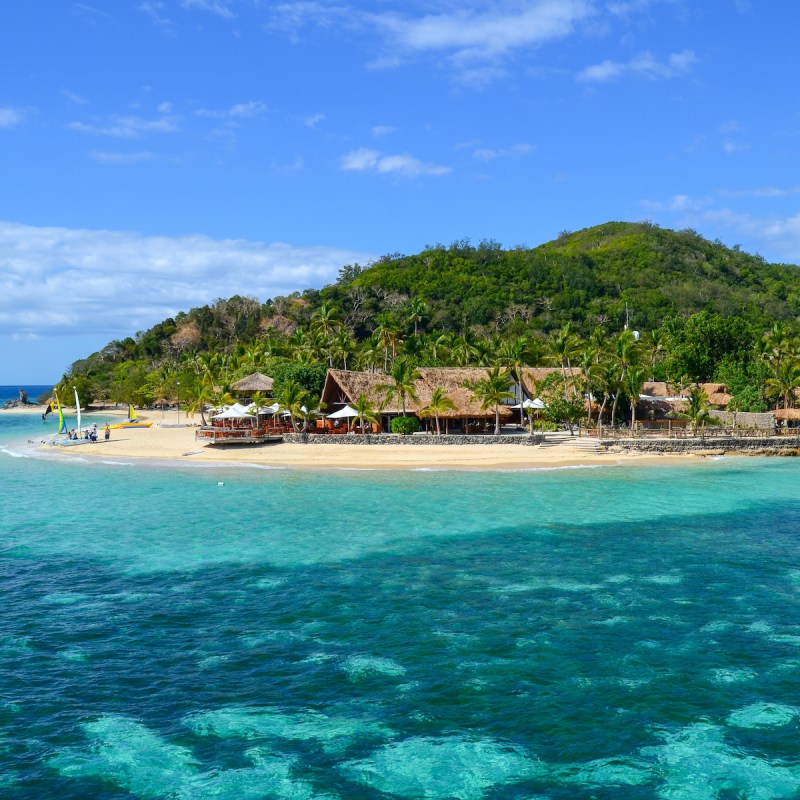 The government of Fiji had previously announced the country was on track to welcome fully vaccinated international travelers once again beginning November 1. The country's prime minister has now announced how the reopening strategy will work — although the timing is not definite.
"As of today, 62 percent of all adults in the country are fully vaccinated and over 97 percent have received their first dose," Prime Minister Josaia Voreqe Bainimarama said in a statement.
"For the sake of the tens of thousands of Fijians — and their families — who depend on our tourism industry, we are preparing to reopen Fiji as one of the world's safest tourism destinations."
The reopening strategy will loosen restrictions for residents of Fiji first. Then, once 80 percent of Fiji's adults are fully vaccinated, the phased plan will begin allowing fully vaccinated travelers from countries on Fiji's "green list" — countries with high vaccination rates and low-test positivity rates — to visit the country.
Those countries, which use the Pfizer, Moderna, and AstraZeneca vaccines, include "parts of the USA," Australia, New Zealand, Japan, Canada, Korea, and Singapore, Bainimarama said. Details about which portions of the U.S. were not announced.
The timing isn't exact since the plan depends on Fiji's vaccination rate. However, Bainimarama said the government expects to "be ready to accept travelers well before our goal of celebrating Christmas in Fiji."
A Tropical Paradise
Fiji, the South Pacific archipelago of more than 300 islands, is roughly two-thirds of the way from Hawaii to New Zealand and is 1,300 miles north of Auckland, New Zealand. It has a population of 939,535.
Fiji closed its borders to tourists in March 2020 due to the COVID-19 pandemic. That closure had a significant impact on the country because tourism makes up at least 40 percent of Fiji's gross domestic product. Since the country closed due to the pandemic, it's estimated that the country has lost approximately $1.3 million in potential revenue and an estimated 100,000 tourism-related jobs.
Traveling To Fiji
If you are planning to visit Fiji, keep in mind that the timing of the reopening to fully vaccinated international travelers depends on how quickly the country can reach its 80 percent milestone.
After that, here's what you need to know about visiting Fiji once the reopening plan goes into effect.
Fully vaccinated travelers from "green list" countries or areas will need to apply online for pre-departure approval. They also must present a negative COVID-19 test result conducted within 72 hours to board a flight to Fiji.
When they arrive in Fiji, these travelers must stay in designated "travel safe areas." Although the government is still working on the boundaries for these areas, it does explain that travelers will know "they can enjoy the best of Fiji knowing that everyone they interact with will be fully vaccinated, from their fellow guests, to the hotel staff, to the tour operators."
After spending 5 days in a "travel safe area," fully vaccinated travelers from green-list countries will be able to travel throughout Fiji.
Know Before You Go
The U.S. Embassy reports that on September 16, Fiji's Ministry of Health reported more than 190 new COVID-19 cases, which brings the total number of confirmed cases to more than 13,000 with 540 confirmed deaths. The U.S. Centers for Disease Control and Prevention has issued a "Level 4: Very High Level of COVID-19 in Fiji" alert.
While you're thinking about Fiji, be sure to read all of our Fiji and Australia and South Pacific coverage, including 4 Islands To Explore During Your Trip To Fiji.