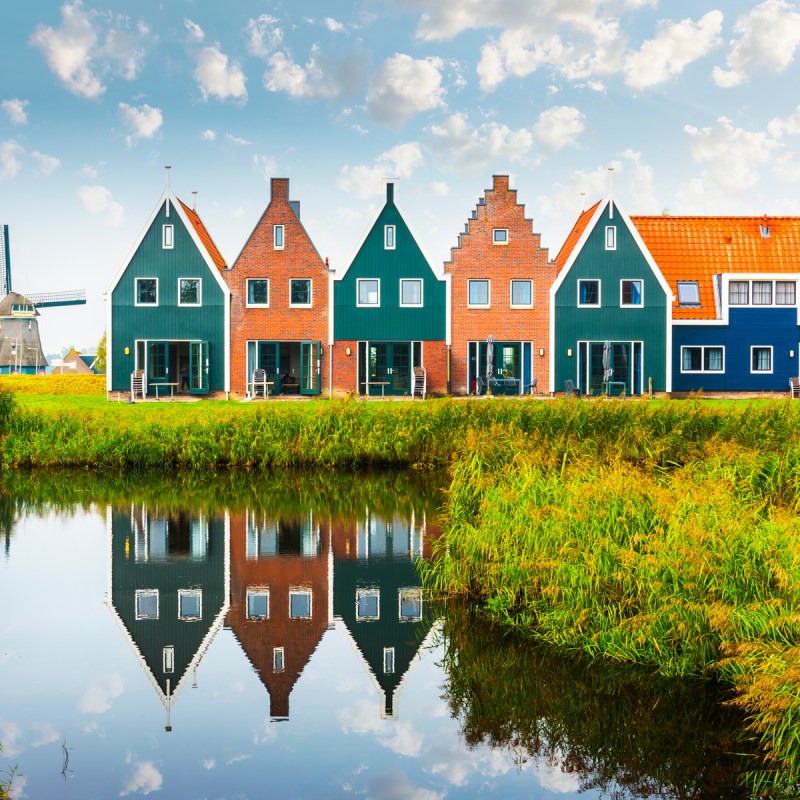 If you've been thinking about traveling to the Netherlands, your trip planning just got easier. That's because, beginning next week, vaccinated travelers from the U.S. will no longer need to quarantine upon arrival in the Netherlands.
It's understandable if you're confused. On August 30, the European Union recommended that member states should reimplement travel restrictions for visitors from the U.S. due to increasing numbers of COVID-19 in the country. Within days, the government of the Netherlands moved the U.S. onto its list of countries that pose a "very high-risk" due to increasing cases of COVID-19. That change prohibited unvaccinated American tourists from entering the Netherlands and also required pre-flight testing and a quarantine period for fully vaccinated travelers from the U.S.
Now, less than 2 weeks later, the Netherlands has reversed that decision.
"The rules on self-quarantining for people traveling to the Netherlands will change as of 22 September," an announcement from the country's Ministry of Health, Welfare and Sport explains. "Vaccinated travelers from the United States, the United Kingdom, and other very high-risk areas no longer have to self-quarantine on arrival in the Netherlands."
The change, the Ministry explains, is due to two developments. First, nearly 11 million people in the Netherlands (almost 63 percent) are now fully vaccinated. Secondly, hospital admissions and ICU admissions have now stabilized.
Traveling To The Netherlands
If you're planning a trip to Amsterdam, or anywhere in the Netherlands, here's what you now need to know.
First of all, unvaccinated U.S. tourists are still prohibited from entering the Netherlands. All vaccinated U.S. travelers over the age of 12 must show a negative COVID-19 test result to enter the country.
Secondly, all vaccinated travelers from the U.S. who are 13 and older must complete a health declaration stating that they do not have COVID-19 symptoms, and carry it with them while in the Netherlands during their trip. The form may be completed online and printed, or it can be completed digitally and stored on a cell phone or tablet.
All of the details about traveling to the Netherlands from the U.S. can be found here.
Other Important Changes
The Ministry of Health, Welfare and Sport has announced other important changes as well.
For instance, as of September 25, there will no longer be a requirement to maintain a distance of 3 feet from other people. However, while keeping that distance will no longer be mandatory, it is still strongly recommended by the Ministry of Health, Welfare and Sport.
Secondly, also beginning September 25, "The coronavirus entry pass system will apply to bars and restaurants (but not takeaways), events (such as festivals, concerts and professional sports matches), and cultural venues (such as cinemas and theatres)," the Ministry explains. "Whether people have a fixed seat or not, and whether the location is indoors or outdoors, everyone aged 13 and over will have to show a valid coronavirus entry pass to gain admission."
The "coronavirus entry pass" documents that a person is either fully vaccinated, has valid proof of recovery, or proof of a negative COVID-19 test result administered less than 24 hours prior.
Know Before You Go
While the rate of vaccination in the Netherlands is rising, it should be noted that the U.S. Centers for Disease Control and Prevention has issued a "Level 3: High Level of COVID-19 in the Netherlands" alert. Based on that guidance, the U.S. State Department issued its own "Level 3" alert for the Netherlands. That alert urges U.S. citizens to "reconsider travel to the Netherlands due to COVID-19."