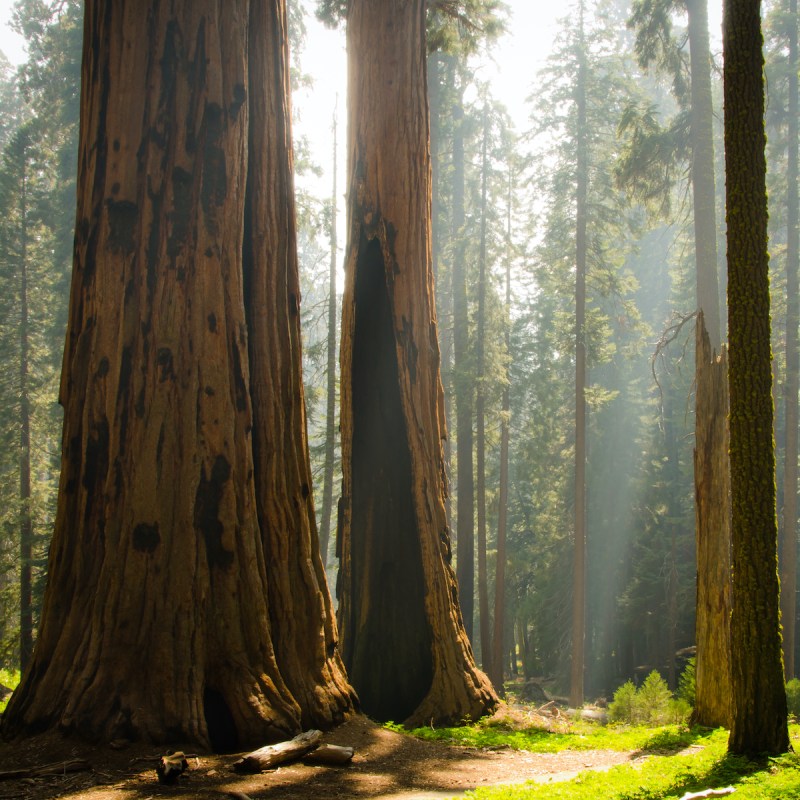 Sequoia National Park, home to some of the world's largest trees, has closed due to the threat from two advancing wildfires that have converged into a single massive fire.
"The park is being threatened by the KNP Complex Fire, which was started by lightning last week and comprises the Colony and Paradise Fires," according to the National Wildfire Coordination Group. "It has burned nearly 6,000 acres within the park's footprint."
While firefighters are "aggressively attacking" the fires to help suppress them, the fires do have the potential to damage the park's infrastructure and resources, an alert on the park's website explains.
With that threat in mind, park officials announced that all facilities and services in Sequoia National Park — including campgrounds, visitor centers, and park stores — are closed "until the fire threat is diminished," the park's statement explains. There are other closures as well.
"Due to wildfire activity in the area, we are closing all trailheads that enter into Sequoia National Park to backpacking and day use hiking," the park's alert continues. "All existing permit reservation holders will be issued a full refund."
Majestic Trees
Giant sequoias, which can grow to heights of hundreds of feet and can be thousands of years old, grow on the western slope of the Sierra Nevada. Sequoia National Park's Giant Forest is home to more than 2,000 giant sequoias, including the General Sherman Tree.
General Sherman is 275 feet tall and more than 36 feet in diameter at the base, making it the world's largest tree by volume, according to the U.S. National Park Service. General Sherman is also believed to be more than 2,200 years old, making it one of the world's oldest trees as well.
Sequoias are extremely resilient and have actually adapted to thrive after wildfires. First of all, their bark has evolved to protect them from fire. Secondly, their seed-carrying cones require flames to open. Finally, wildfires help clear undergrowth around the trees to create areas where seedlings can grow.
However, the increasing number of wildfires each year poses a significant threat to the sequoia population.
"Four fires, occurring between 2015 and 2020, killed many large giant sequoias in numerous groves across the Sierra Nevada," the National Park Service explains. "Two-thirds of all giant sequoia grove acreage across the Sierra Nevada has burned in wildfires between 2015 and 2020, compared to only one quarter in the preceding century."
The Current Threat
As of yesterday, "There's no imminent threat to Giant Forest but that is a potential," Mark Ruggiero, fire information officer for Sequoia and Kings Canyon National Parks, said at a press conference. However, he did note that the closest flames were about a mile from the grove.
Nevertheless, park officials are understandably concerned about the growing threat to the sequoias.
"Some of those trees are more important than our buildings," Clay Jordan, the superintendent of Sequoia and Kings Canyon National Park, said in an incident report. "We want people to come 200 and 300 years from now to enjoy those trees."
If you're interested in Sequoia National Park and sequoia trees in general, be sure to also read: