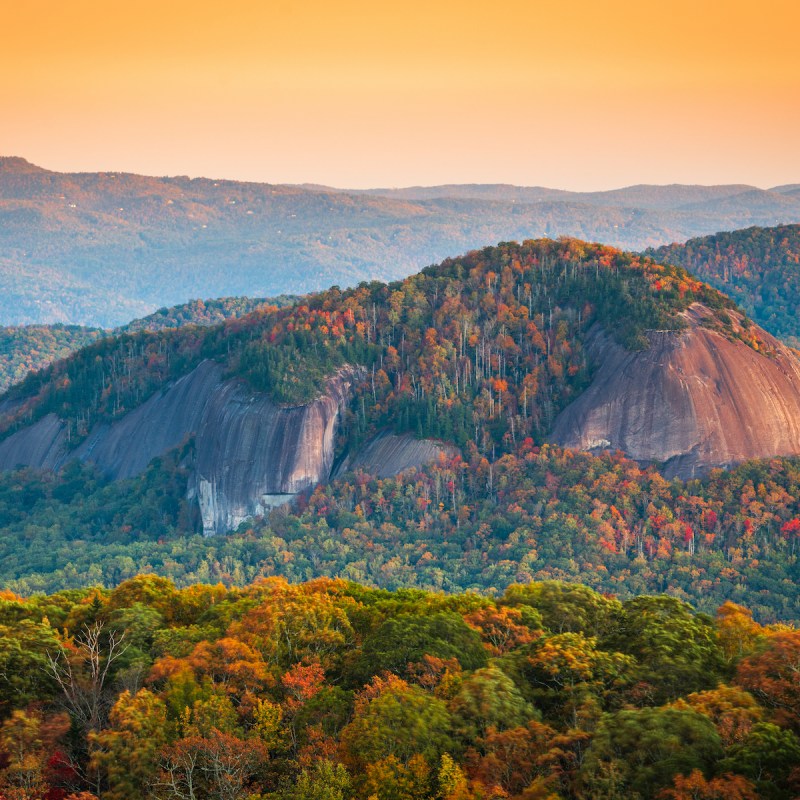 Now that summer has ended, unofficially at least, people's thoughts have turned to all things fall — especially viewing fall colors.
The challenge to planning leaf-peeping trips, however, is that it's difficult to know when tree leaves will reach their peak colors. Indeed, the leaves may still be pretty, but it's frustrating to arrive somewhere and realize you are either before or just after the leaves' peak.
Fortunately, SmokyMountains.com, the tourism site for the Smoky Mountain region, has released its annual Fall Foliage Prediction Map to help with your trip planning.
The interactive tool gives users a county-by-county and week-by-week prediction of when autumn colors are forecast to peak across the entire U.S.
How The Map Works
"The predictive map uses a complex algorithm that carefully analyzes several million data points and outputs approximately 50,000 predictive data pieces," David Angotti, a statistical expert and founder of SmokyMountains.com, told TravelAwaits. "This data then enables our program to forecast county-by-county the precise moment when peak fall will occur."
In case you're wondering, those data points come from a variety of private and government sources, including National Oceanic and Atmospheric Administration (NOAA) historical temperatures and historical precipitation records, forecast temperatures and forecast precipitation records, the type of tree that is predominant in geographic regions, and user data.
Now, here's how to use the interactive map.
When you visit the map, you'll see a sliding button at the bottom of the page. That slider is set to the current week. Then, as you move the slider from week to week, the map shows the predicted progression of fall colors.
Green, of course, indicates that trees have not begun to change colors while brown indicates the leaves are past their peak. The colors in between show the progression of leaves changing color.
Where To See Peak Fall Colors
Here's a quick snapshot of the best times to visit U.S. states known for their magnificent displays of fall colors, according to SmokyMountains.com.
Tennessee
The fall colors in Tennessee are expected to peak in mid-October, from October 23–27. Locations at lower elevations should see peak fall colors in mid-November.
Vermont
Fall foliage in Vermont should reach peak colors around October 9–13. Keep in mind though that you should still be able to see fall's beautiful colors in southern Vermont through late October.
Washington State
The leaves in Washington are expected to begin changing color in late September and then reach their peak colors October 9–13. Those colors will last until late October.
New York
Fall's peak colors will begin in northern New York in late September and last until around October 7. In the rest of the state, the leaves will begin reaching peak color around October 9–13 and last until mid-October.
Maine
Tree leaves in northern Maine are expected to be near their peak color around October 2. Their ultimate peak is forecast to occur around October 9–13.
Maryland
Meanwhile, tree leaves in Maryland are forecast to begin turning a vibrant yellow in mid-October and then reach peak colors around October 23. The peak will last until early November.
New Hampshire
Tree leaves in most of New Hampshire are expected to reach peak colors around the second week of October. The best time for viewing fall colors in the northern part of the state is expected to be October 2–6, while the best viewing time in southern New Hampshire should be October 9–13.
Rhode Island
Anyone living in or visiting Rhode Island should expect tree leaves to reach peak colors around October 9. The peak isn't forecast to fade until late October.
North Carolina
Leaves will begin changing color in North Carolina early in October. Then, they'll reach peak colors around October 23.
Oregon
Tree leaves in Oregon should begin to reach peak color by October 9. The best displays of fall color, however, should take place from October 26–November 6.
Know So You Can Go
SmokyMountains.com also has another tool to help find the best places to see fall colors. Indeed, the aptly titled "Top Places to See Fall Foliage in All 50 States" allows users to find suggestions for spectacular leaf peeping in all 50 states.
For more about seeing fall colors, be sure to also read: