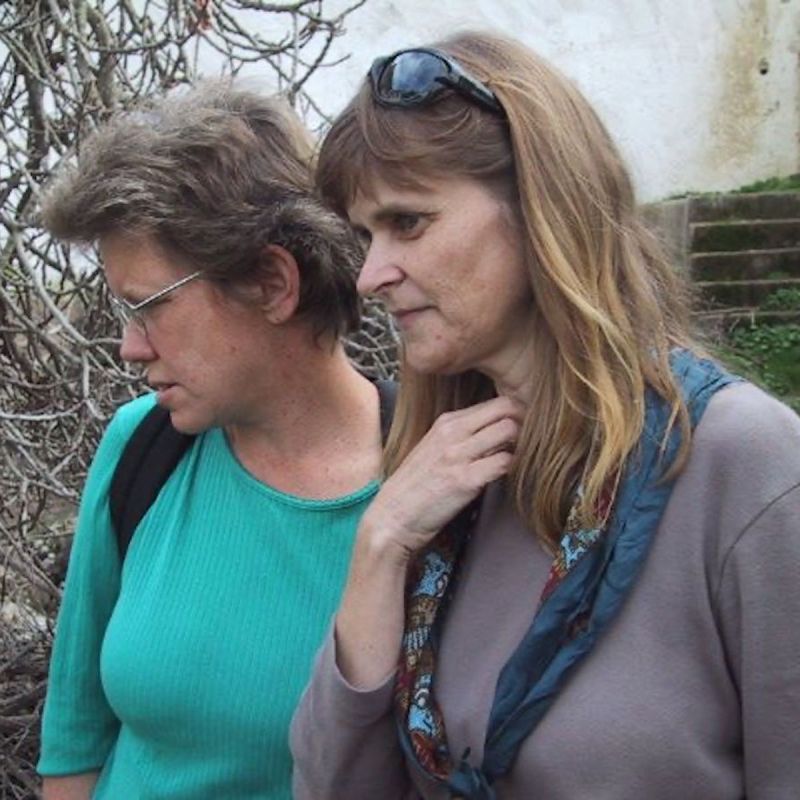 "Why were you gone for two months?" asked Bretta while we washed dishes in the communal house in Vancouver, B.C. that I shared with her boyfriend and three others. We had just met that evening.
"I went back east because my mother died," I said.
"Really?" She'd had no idea. While I was dismayed that no one had bothered to tell her, I wasn't surprised, because I didn't feel close to my housemates. But Bretta, of Danish ancestry, took an interest — so deeply, in fact, that we sat in the kitchen talking until 1 a.m., when we finally crashed. For the first time since my return, someone showed compassion for my loss. At 25, I didn't know anyone who had lost a parent, so I was not only grieving but felt very alone. Until that evening.
45 years later, Bretta and I are still friends. That one of my longest bonds of friendship arose from the ashes of my mother's death still touches me deeply. Over the years, she became a friend of my husband, Barry, too, and although he and I no longer live in Vancouver, the three of us get together regularly. We visit each other in our respective homes and have traveled together in Spain, Morocco, Cuba, Mexico, and around California and Oregon in our camper van.
Twenty-five years later, in England, Barry and I made another friend. In 2011, we were walking the Coast to Coast, a 200-mile network of trails that links the Lake District to the Yorkshire coast. After getting soaked one morning in the Yorkshire Dales, we were thrilled to find a bunkhouse (a small hostel) in the village of Keld. Soon after, in walked an Asian-looking woman with her terrier, Bee. Hasnah, we learned, lived in a small market town in rural England.
The next morning, Barry and I introduced her to the writing practice we've enjoyed for years, where we each start with the same prompt, then write free-form for about 10 minutes, followed by reading aloud. Some of our prompts have been, "If we were really wild…," "It's the end of a chapter…," and "I wonder what will surprise me next week…." As we sat in the kitchen looking out at the tree branches blowing, Barry suggested, "I see the wind," and we each described how weather affected our psyches.
We had so much fun with Hasnah in Keld that we decided to visit her after the hike. She showed us the local abbey, introduced us to a few friends, and took us on her favorite walks. Six months later, she joined us in the Yucatan. And ever since, we've visited different countries together — Wales, Spain, Mexico.
Hansah is half-English, half-Sri Lankan. Since she's not a traditional Brit, she's been invaluable in helping us decode British culture. And we need it sorely at times! Although Barry was raised in England, he left the country 60 years ago and sometimes finds he has violated a social norm without knowing it.
The four of us — Bretta, Hasnah, Barry, and I — have seen each other go through easy and tough periods: struggling in relationships, acquiring and losing jobs, enduring family estrangement, surviving midlife challenges, worrying about money, burying parents.
We all like to explore places of natural beauty. When we were in the Yucatan with Hasnah, she agreed to climb the steep ruins of Coba, despite her discomfort with heights, and we swam in cenotes (freshwater sinkholes). Another year, we rented an Airbnb and visited the Brecon Beacons, one of Britain's breathtaking national parks, and spent our days hiking, visiting villages, cooking, and talking.
Barry, Bretta, and I explored Morocco together. While walking in the hills outside the mountain town of Chefchaouen, we befriended a young lad and sat on the grass, opening up our pockets and showing each other our ID cards and driver's licenses. No language needed — show and tell always works a charm.
Our Two Friends
It's funny how much Bretta and Hasnah have in common: both are single, childless, second-generation immigrants, and great travelers who love animals. When we visited Cuba, Bretta would find a stray cat and follow it, which would lead to another cat and another. Before long, strings of cats were following her.
Both Bretta and Hasnah have had challenging lives. We didn't know in the early years of our friendship with Bretta (and neither did she) that she would struggle later with mental health. Although she graduated from law school, she never practiced law, because she developed obsessive-compulsive disorder and other issues that made a professional career too difficult to maintain. We've tried to support her through her up-and-down cycles. Thanks to our friendship, we've overcome our ignorance about mental illness. I'm afraid we used to have a "just get over it" attitude about depression and other mental illnesses; now we realize how complex they are.
But the support has by no means been one way. Throughout our marriage, Bretta has been an ally. Two years ago, after breaking my wrist while Barry was out of town, she called me regularly to cheer me up. When our teenage daughter was having problems in high school, Bretta was there for us. And earlier in our marriage, on several occasions, she served as an invaluable mediator when Barry and I couldn't reach an agreement over a problem. We haven't needed her in that role for years, but we're confident that if something intractable came up, she or Hannah would each be able to serve as impartial observers, taking neither side.
As a biracial person, Hasnah was bullied as a child and believes her greatest challenge growing up was living in a racist society. Her parents divorced when she was six, leaving her and her sister to live in affordable housing with their mother.
Both Bretta and Hasnah have worked hard to reach the state of stability and equanimity they possess today. Bretta has had to try one medication after another to find the right balance, and both have sought professional help.
Bretta and Hasnah are exceptions in our lives. During our marriage, Barry usually has his friends and I have mine, but they are close friends of each of us.
We would probably never have met either Bretta or Hasnah had we not all enjoyed travel. In fact, I harbor a secret travel fantasy. Because Hasnah's sister, who lives in Copenhagen, owns a house on the beach, I imagine Hasnah, Bretta, who still has relatives in Denmark, Barry, and I all hanging out at the beach — walking, talking, writing, cooking, and laughing late into the night. Who knows? Maybe it'll come to pass.