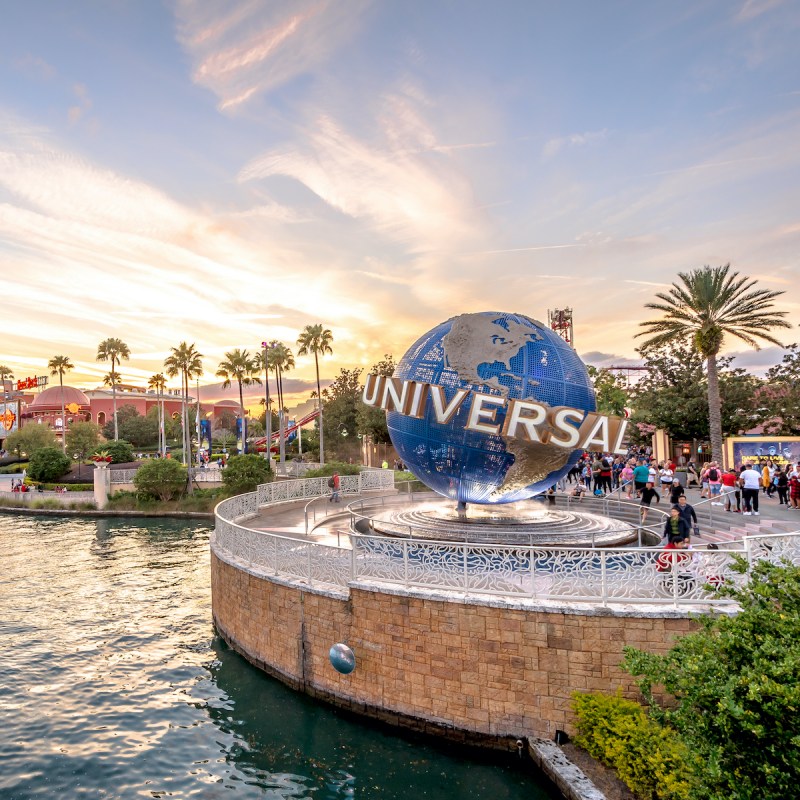 Universal Orlando is doing its part to reduce the amount of water the theme park uses, which enables the community's local hospitals to better care for the area's growing number of patients with COVID-19.
For example, Universal has stopped "hosing down" its parks and now only spot cleans areas as needed, a Spectrum News 13 article reports. It also has stopped window washing.
"As always, we are working hard to be responsive to the needs of our community," Universal Orlando spokesman Tom Schroder wrote in an email to Spectrum News.
A Critical Need To Conserve Water
Liquid oxygen is often used by municipalities to treat the community's water supply. However, liquid oxygen is also used by hospitals to treat critically ill patients with COVID-19. Consequently, there is now a nationwide liquid oxygen shortage due to the growing number of patients with COVID-19 who require oxygen treatment.
To reduce demand for liquid oxygen, the Orlando [Florida] Utilities Commission (OUC) asked customers to immediately reduce their water usage. Specifically, OUC recently asked customers to limit the amount of water used to water lawns and landscapes, take short showers, stop washing vehicles, and stop performing "non-critical activities" such as pressure washing exterior areas.
"If OUC's liquid oxygen supplies continue to be depleted and water usage isn't reduced, water quality may be impacted, but we believe that will not happen if everyone does their part to conserve water," OUC explained. "Suspending lawn/landscaping irrigation, which accounts for 40 percent of water use in Central Florida, is the most critical way to reduce water consumption."
In response, Orlando's mayor, Buddy Dyer, has also asked residents to conserve water. In a press conference, he stressed that if residents don't immediately reduce the amount of water they use, the community's water quality could be affected.
"The call to action for every single one of us is simple: Conserve water use by limiting the watering of lawns and washing of cars and get vaccinated," Dyer said. "At this time, we believe if our community takes these immediate actions, we'll be able to mitigate the impacts to our water supply."
Universal Orlando's Contribution
Universal Orlando has taken a number of steps to reduce its water usage in addition to reducing exterior cleaning.
For instance, sprinklers that use potable (drinkable) water were turned off at all of Universal's on-site hotels, including Cabana Bay Beach Resort, Portofino Bay, Hard Rock Hotel, and Sapphire Falls Resort, Spectrum News reports. The hotels also now use paper products in employee cafeterias to minimize dishwashing.
"We already have an aggressive water conservation program in place — using reclaimed water for much of our irrigation and using recycled and re-purified water for our rides and pools," Schroder at Universal wrote in an email to Spectrum News. "We have been working directly with OUC on this issue and we are significantly expanding our efforts."
Schroder went on to explain that the resort will review its water use for other "opportunities to conserve even more."
Know Before You Go
It doesn't appear the need to conserve water in the Orlando area will be ending anytime soon.
For example, water use in the area has been growing. Consequently, last week, OUC asked customers to continue to conserve water for another 4 weeks.
"It is imperative that this trend of increased water usage is reversed," OUC explained.
Secondly, while 56.5 percent of Florida's population is vaccinated for COVID-19, the state has seen an alarming surge in cases. Indeed, a record number of new cases — 151,764 — were reported in Florida the week of August 8 to 14, 2021, according to Johns Hopkins University data. What's more, a record-high number of deaths — 2,448 — were reported for the week of September 5 to 11, 2021.
If you are thinking of a trip, be sure to read all of our Universal coverage, including "Everything You Need To Know About Universal Orlando's Resorts." Be sure to also visit our Theme Parks, Orlando, and Florida coverage.