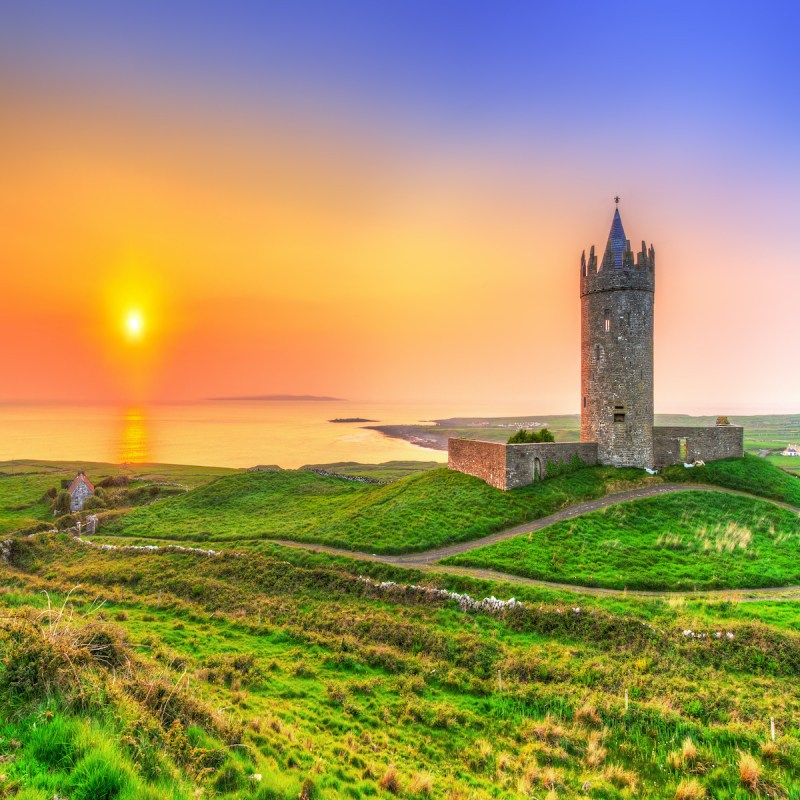 If you've been putting off visiting Ireland, it just may be time to start planning a trip. That's because Ireland's prime minister recently announced the country plans to drop almost all of its COVID-19 restrictions in October.
"Because of the effort of our vaccination team and because you have stepped up to the mark and taken the vaccine when it was offered, we are now entering a whole new phase of the pandemic," Prime Minister Micheál Martin said in a televised address, Reuters reports.
More than 88 percent of Ireland's citizens who are over 18 are fully vaccinated from COVID-19, according to the prime minister's office. Almost 92 percent of the country's citizens over the age of 18 have received at least one dose of the vaccine.
A Strict Lockdown
For months, Ireland maintained what some people called the most stringent COVID-19 restriction in Europe. That all changed this summer.
On July 19, Ireland adopted the European Union's COVID-19 certificate so citizens could travel to the EU — and visitors could travel from the EU to Ireland. What's more, people from Britain and the U.S. were able to travel to Ireland then as well. 
"This is an important time for us all," Prime Minister Martin said at the time during a national address, a BBC article reported. "After the trauma of the last 15 months, we are finally taking definite steps toward enjoying normal times with friends and loved ones again. We are almost back to a point where we can enjoy the ordinary and extraordinary moments in our lives; the excitement and relief is palpable."
Dropping Restrictions
"Subject to the continuation of this [vaccination] progress, we will enter a final phase on October 22, which is likely to last until at least next Spring," the prime minister's office explained in a statement. "This phase will see the majority of restrictions lifted and replaced by guidance and advice to enable us to work together to protect ourselves and to live our lives to the fullest extent possible."
Even so, the statement does go on to caution that "we will need to continue to monitor the ongoing risk from the disease and take steps individually and collectively in our everyday lives to keep this risk under control."
Here's how restrictions will be eased:
Beginning on September 6, organized indoor events and mass gatherings in Ireland can take place with venue capacity limits of 60 percent — when all attendees are vaccinated or immune. Cinemas and theaters will also operate at 60 percent of capacity limits, again, when all patrons are vaccinated or immune.
Organized outdoor events and mass gatherings can take place with venue capacity limits of 75 percent when all attendees are vaccinated or immune.
Then, beginning September 20, organized indoor group activities — including sports, arts, culture, and dance classes — can take place with capacity limits of 100 people when all attendees are vaccinated or immune. Restrictions on outdoor group activities will be removed.
Finally, beginning October 22, remaining restrictions will be lifted. At that time, there will no longer be requirements for physical distancing or wearing a mask while either indoors or outdoors.
Ireland will also lift the limits on the number of people at indoor and outdoor events and activities, restrictions on religious or civil ceremonies, limits on the number of people who can meet in private homes/gardens, and restrictions on high-risk activities such as attendance at nightclubs. Certification of vaccination, immunity, or a negative test result will no longer be required for access to, or engagement, at activities or events.
How To Travel To Ireland
Currently, the U.S. Embassy explains that to enter Ireland from the U.S., all passengers are required to complete a Passenger Locator Form, which will be used to streamline contact tracing in case the traveler is possibly exposed to COVID-19.
Travelers arriving in Ireland from the U.S. who present valid proof of vaccination or proof of recovery from COVID-19 within the past 180 days do not need to complete a travel-related test or quarantine.
On the other hand, travelers from the U.S. who do not have valid proof of vaccination or COVID-19 recovery will need to provide evidence of a negative result from an RT-PCR test taken within 72 hours prior to arrival in Ireland. Those travelers must also self-quarantine for 14 days in Ireland after arrival. However, that traveler can leave quarantine if they receive a negative result from an RT-PCR test taken 5 days or later after arrival in Ireland.
Know Before You Go
It's worth noting that even though a high number of people in Ireland are fully vaccinated, the country has still seen a seven-day average of 1,542 new cases of COVID-19 daily. Secondly, based on guidance from the Centers for Disease Control and Prevention, the U.S. State Department has issued a "Level 4: Do Not Travel" alert for Ireland. The alert plainly states "Do not travel to Ireland due to COVID-19."
For more information, be sure to read all of our Ireland and COVID-19 coverage.