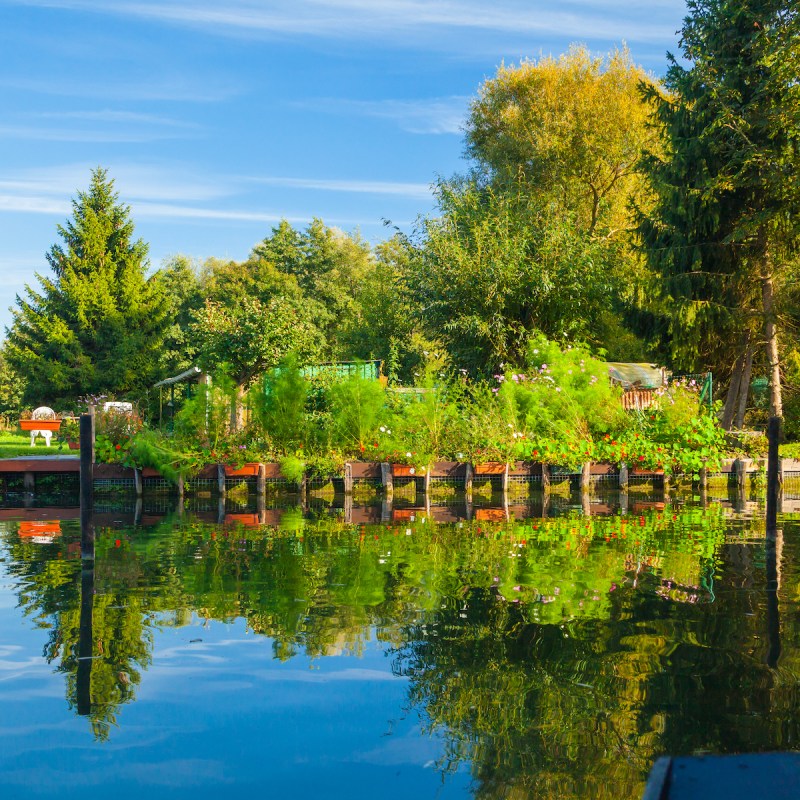 Gardens divide opinions. Some like them ornamental, others wild. Some prefer large, organized gardens with follies, others prefer small, hideaway places. That said, everybody loves Giverny, Monet's Garden in France because it not only showcases exactly how it has inspired the painter, but it is also beautiful in every season.
Then there is the garden of the Palace of Versailles, which, overall might be a little grand to even be called a garden, but looking at the smaller subsections is quite stunning. Nearly every city has botanical gardens, such as the fabulous Kew Gardens in London, which tend to wow their audiences with variety and breathtakingly arranged displays. And I do love them all.
But, on my travels, I have accidentally come across some smaller gardens, some unusual gardens, some that, by definition, aren't even gardens, but all somehow charmed me for their own reasons, and I would like to share them with you, so if you find yourself nearby one, you can pop in and be enchanted yourself.
1. The King's Vegetable Garden, Versailles, France
So, yes, Versailles gets a mention, but not the official, big, ornate garden but the King's Vegetable Plot just around the corner of the main gate to the palace. This is a walled, practically completely hidden gem that few visitors to Versailles get to see. A proper fruit and vegetable garden, beautifully arranged, with greenhouses, bees, and chickens, is still pretty much the same today as it was when Louis XIV used to pop in from the main garden of the palace through the King's Gate. This garden once used to feed everybody at the palace, and while useful, also had to cater to the extravagant tastes. Apples, for example, were grown with pictures or emblems stenciled onto them, and the pear trees were grown like hedges.
Pro Tip: There is another gorgeous royal vegetable plot in the little town of La Roche Guyon along the Seine, north of Paris.
2. Les Hortillonnages, Amiens, France
The beautiful town of Amiens, an hour by train from Paris, plays host to some amazing gardens. Again, more vegetable and fruit oriented than ornamental, Les Hortillonnages are floating gardens with countless canals, some 40 miles of them, separating the small green plots, and farmers tending their trade on small traditional, flat-bottomed boats. Sadly, it is a dying trade, and more and more of the plots are given over to private gardens, while the canals are still explored by boat, but with tourists in the boats rather than farmers. But that does not take away from the eerie beauty of these unusual gardens.
Pro Tip: Once a year, on the third Saturday in June, a traditional floating market is still held in Amiens, with the remaining farmers selling their wares while wearing traditional costumes.
3. Zen Rock Garden, Kyoto, Japan
When is a garden a garden? Usually, you'd expect some greenery, right? Not so in this example: the Zen Garden, at the 15th-century Ryoan-ji, the Temple of the Peaceful Dragon, in Kyoto. A rock garden, this is a simple plot of beautifully raked sand with 15 rocks standing in it, admittedly, each surrounded by a tiny fringe of grass. Extremely simple and, you'd think, boring. But it is a Zen Garden that invites you to look and be still and forget about your outside worries. Of the 15 rocks, you can only ever see 14 at any one time. And believe me, I tried to see them from every angle, not very Zen-like, but utterly fascinating. Sitting down in the pavilion just looking at the arrangement is certainly very calming.
Pro Tip: Try to arrange your travel to coincide either with cherry blossom time in April or during fall, when the leaves are turning, as the Zen Garden is also surrounded by a beautiful park.
4. William Ricketts Sanctuary, Olinda, Australia
The Dandenongs are one of my favorite locations in the world. This low mountain range not far from Melbourne is full of fern trees and gigantic mountain ash, waterfalls, and gurgling streams as well as numerous gardens, some more public than others. I love the William Ricketts Sanctuary, a secret garden even the locals often walk past. Hidden by tall ferns, the small garden is dotted with dozens of sculptures by artist William Ricketts. Sculptures are concealed in, and cut out of trees, in the undergrowth, standing quietly behind bushes, making a walk through this garden a magical experience. Many of the sculptures are fairies and perfectly suited to their surroundings.
Pro Tip: Stop in Olinda for lunch or afternoon tea and some shopping. It is a lovely little town full of quirky cafes and shops.
5. Forbidden Corner, Middleham, UK
This is a weird one. It is a garden, for sure, but a garden that started by the owner building a wall and planting trees to protect it from the wind. A small grotto was built into the wall for fun. A folly or two followed, as did other quirky corners, and long story short, the Forbidden Corner eventually opened to the public with lots of fun for adults and children. You can pick up a map, follow clues, discover hidden statues, a glass mountain, dragons in tunnels, and much more and all in a lovely garden setting. Great fun with children in tow, but honestly? Just as much fun without them.
Pro Tip: This lies in the heart of North Yorkshire, with lovely Middleham, a village full of horses, and the Yorkshire Dales asking to be explored. Stay awhile.
6. Ibirapuera Park, São Paulo, Brazil
A park rather than a garden, and a huge park that is proportionate to the enormous city it serves. But, the Ibirapuera Park is also a garden, with so many different areas making up this park that you can stroll through a small enough garden one minute, come across a vast bamboo walkway the next, go to a museum, see a concert in the amphitheater and walk, or bicycle around the numerous lanes for hours. Equally, you can find a quiet spot, buy a fresh coconut from a vendor, and sit and look at the impressive skyline on the horizon and watch the world go by. It is a lovely corner in a busy city, and as large or as small as you want it to be.
Pro Tip: Look out for Brazilian architect supreme Oscar Niemeyer's building (white with a bright red roof over the entrance), and one of Brazil's most famous street artist Eduard Kobra's mural in the park.
7. High Line, New York City, USA
While there are so many wonderful gardens in Manhattan, the High Line became a firm favorite of mine the first time I ever strolled along it. I have always loved cities reinventing old and disused places. Just like in Paris, the old railway lines high above the ground are perfect for urban gardens that not only offer a green retreat but also great views and that ideal mix of city and nature. The High Line is perfect to sit with your lunch or a book, for seeing bees buzzing through the city, for sniffing a bit of clean(er) air and getting a nature fix, together with experiencing art, music, and events in an extraordinary setting.
Pro Tip: Take a self-guided tour, or one led by a local, and learn more about the various projects, from art to sustainability, ongoing along the High Line.
8. Cezanne's Studio Garden, Aix-en-Provence, France
This is a little garden which is not even on the description when you research Cezanne's studio in Aix-en-Provence, it is simply there, outside the studio, but it is one of the most restful gardens I have ever set foot in. Cezanne's studio, just on the hill above Aix, is a beautiful little house and studio, and outside the private garden stretches a little to the side, and then meanders down the hill, allowing peeks through the trees into the distance. There are lots of places around Aix that tell you that Cezanne was inspired by them, but even as a non-painter, I would have loved to paint this little garden. Instead, I spent time on the bench just breathing the Provençal air, listening to the crickets, and allowing the sun and leaves above me to play shadow games.
Pro Tip: If the garden inspires you, why not join a local art course, suitable to beginners and those already skilled?
9. Mauritius National Botanical Garden, Pamplemousses, Mauritius
I must add one botanical garden for sheer variety, don't I? And this one I particularly liked, and not just because it is in a town called Pamplemousses (grapefruit), but because it was the first time I saw a baobab tree. That, together with the lily pond, complete with frogs sitting on leaves, and the Palm Tree Alley, and a walk around this botanical garden, which is the oldest in the southern hemisphere, is enchanting. If you are visiting from a tropical region, it might not be that exciting to you, but coming from Europe or North America, the sheer variety of exotic plants just makes this a wonderful day out when in Mauritius.
Pro Tip: If you prefer your nature a little less organized, go on the Monvert Nature Walk in central Mauritius. There are plenty of diverse trails of varying distance and difficulty.
There are gardens around the world that are worthy of a visit. Consider: