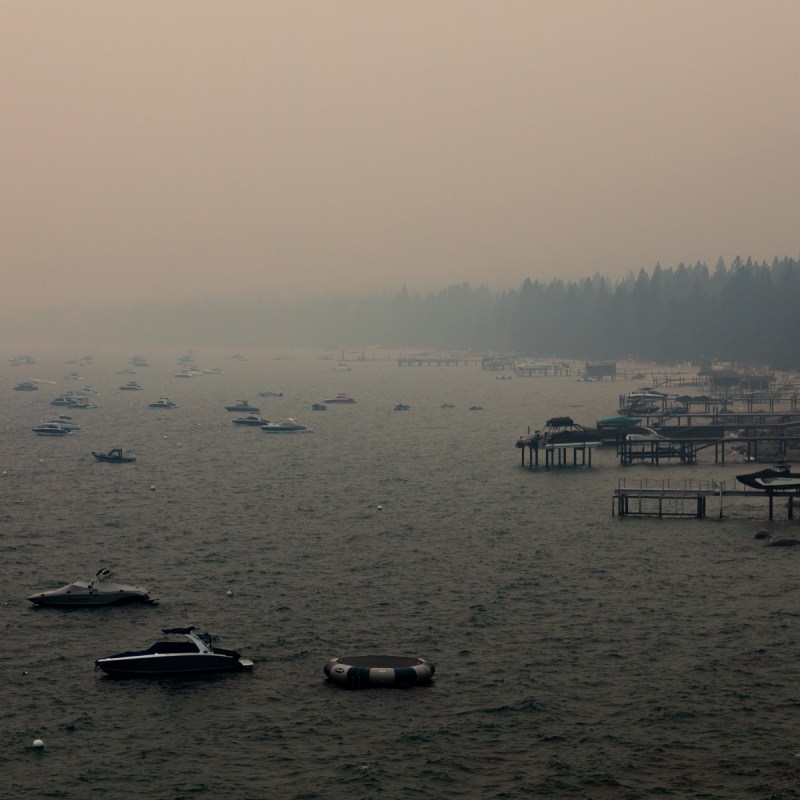 The weekend before Labor Day is normally an extremely busy weekend at Lake Tahoe, California, as visitors flock to its clear waters and beaches. That isn't the case this year as the Caldor Fire approaches the Lake Tahoe area, bringing smoky skies, air quality warnings, and the risk for destruction. 
The Lake Tahoe Visitors Authority now recommends that "visitors postpone any immediate travel plans to the area until further notice."
"Everything is closed and it's dangerous," Mike Papa, who works at the Lake Tahoe Visitors Authority, told a caller, the Los Angeles Times reports. "You don't want to be up here this weekend."
Another Fiery Summer
Scientists agree that climate change has made the western U.S. warmer and drier over the past 30 years, consequently leading to more extreme and destructive wildfires. Currently, there are nearly 90 large blazes in the U.S. — including more than a dozen big fires in California.
The Caldor Fire, which ignited August 14 near Little Mountain between Omo Ranch and Grizzly Flats, has burned at least 143,951 acres, or over 224 square miles, according to the California Department of Forestry and Fire Protection (Cal Fire). The fire was 12 percent contained as of Friday morning.
The Caldor Fire "is knocking on the door to the Lake Tahoe Basin," Cal Fire Director Thom Porter said during a news conference earlier this week.
The Lake Tahoe Area
According to USA Today, nearly 2,900 firefighters, 21 helicopters, 245 engines, and dozens of bulldozers have been assigned to fight the Caldor Fire.
If the fire continues burning through the Sierra Nevada forest, fire teams plan to make a stand near Echo Summit. That's a mountain pass where U.S. Route 50 begins its descent to Lake Tahoe.
"Everything's holding real good along Highway 50," Cal Fire Operations Section Chief Cody Bogan told the Associated Press. "The fire has been backing down real slowly. We've just been allowing it to do it on its own speed. It's working in our favor."
Making Plans, Just In Case
The fire is just miles away from Lake Tahoe. Officials now advise residents to stay indoors with doors and windows shut to — somewhat, anyway — keep the smoke outside.
The city of South Lake Tahoe announced on Friday that residents do not need to leave their homes, though their fire rescue team is "continually monitoring the situation." Evacuation orders have been creeping along with the blaze.
"We live at about 6,200-feet elevation in the mountains, where in the summertime and fire season, these are things that can arise," City Manager Joseph Irvin told the Los Angeles Times.
Irvin also noted that residents should be prepared to take action.
"Residents should trust that we will always inform them with enough time and accurate information to keep themselves safe," Irvin said. "As part of our emergency management preparations, we want to make sure that people always have a plan." 
While you're thinking about the area, be sure to also read the rest of our Lake Tahoe and California coverage.