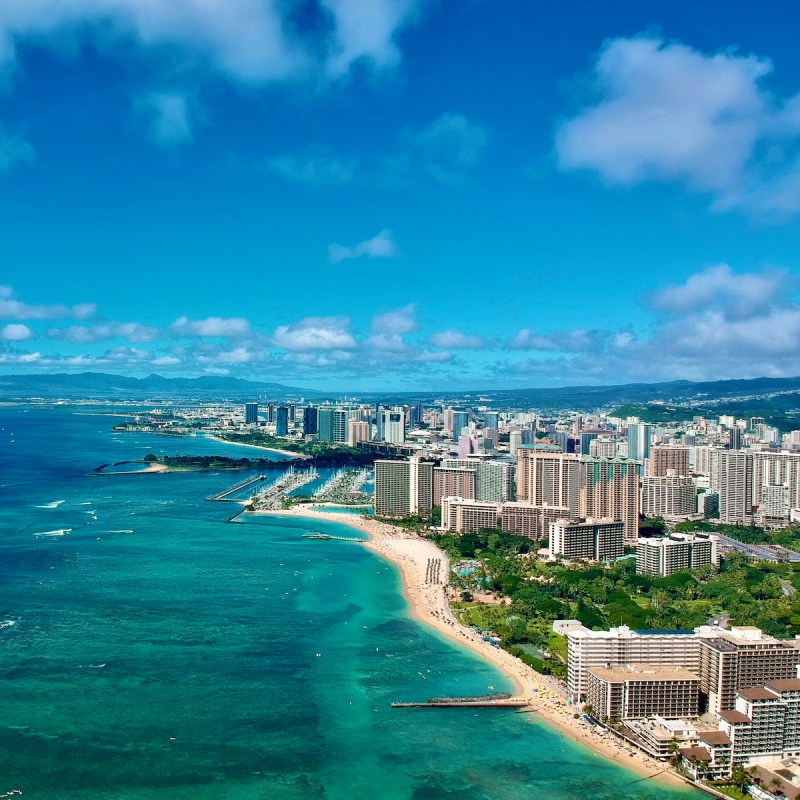 On August 24, the governor issued stricter guidance. Head here for more.
Hawaii had strict travel requirements to mitigate the spread of COVID-19. Over time, some of those measures have been eased.
Now, however, a troubling rise in the number of new COVID-19 cases has both state and local officials alarmed. Consequently, there are ongoing discussions about re-instituting some travel restrictions or possibly implementing new measures to slow the spread of the virus.
While 62 percent of Hawaii's population is fully vaccinated, this past Sunday was a record day — with a 1-day high of 885 new cases of COVID-19.
In a Honolulu Star-Advertiser article, Hawaii's Lieutenant Governor Josh Green says that there were 392 COVID-19 patients in hospitals Sunday.
While officials are considering pre-travel COVID-19 testing, that requirement could be challenged legally, Green says in the article. That's especially true given that the Centers for Disease Control and Prevention (CDC) has been promoting vaccination status as the standard for travel restrictions, Green continued.
Another alternative under consideration is a mandate that would require people to produce vaccination cards before they can enter gyms, restaurants, and other public places, Green explains.
"All we really have to do, is work with either Clear or CommonPass, who we already have a deep relationship with, who are helping us with the Hawaii Safe Travels program to show that people are vaccinated," Green said in a Khon2 article. "It may very well make things easier in life because then people can go to concerts and be vaccinated and safe."
Input From Mayors
It isn't just the governor's office that is concerned about the alarming rise in COVID-19 cases. Mayors have also been in close communications with Green and Hawaii's governor, David Ige.
Maui Mayor Michael Victorino said in the Khon2 article that the highly transmissible Delta variant of COVID-19 is a concern for the county. It is now, "time to take action and request more restrictions," he continued.
"It's spreading all over, all over the state, all over this county," Victorino said.
Last week, Hawaii island Mayor Mitch Roth asked Governor Ige in a letter to reinstate a pre-travel testing program for all visitors and residents flying into Hawaii– regardless of vaccination status.
"The consistent rise of COVID-19 cases within the state of Hawaii and across the country has reached record heights and has put an unbearable strain on our health systems and communities at-large," Roth wrote, the Star-Advertiser story reports. "On Hawaii Island alone, our hospitals are at capacity and are unable to in-take any more critical care patients."
Mayor Rick Blangiardi of Honolulu announced that large gatherings on the island of Oahu will be suspended for the next 4 weeks starting on Wednesday. Large gatherings include sporting events, weddings, various attractions on the island, and other situations in which over 10 people get together indoors or over 25 outdoors.
A Cautious Approach
Lieutenant Governor Green has said that Hawaii's Safe Travels travel program — used to monitor all travelers — was expected to end in September when 70 percent of Hawaii's population is expected to be fully vaccinated for COVID-19. Now, however, Green expects the program to stay in place through at least the end of the year, the Star-Advertiser reports.
It's important to note that while re-instituting pre-travel COVID-19 testing has been discussed, the requirement has not been put in place. At least not yet, anyway. Other measures such as the use of a so-called vaccination pass or curfews are only under discussion as well.
Know Before You Go
The State of Hawaii currently has a vaccination exemption program for domestic, Hawaii-bound travelers who were vaccinated for COVID-19 in the U.S. or U.S. Territories. The program allows those travelers to bypass the state's mandatory quarantine requirement with proof of vaccination.
The exemption program is only for travelers who received the second dose of the Pfizer or Moderna vaccine at least 15 days ago. Alternatively, travelers can apply if it has been at least 15 days since they received a single dose of the Johnson & Johnson vaccine.
These travelers will need to upload one of three vaccination documents to their Safe Travels Hawaii account prior to traveling to Hawaii. The acceptable documentation includes a CDC COVID-19 vaccination record card, a Vaccination Administration Management System (VAMS) printout, or a Department of Defense DD Form 2766C.
You can learn more about the mandatory use of the Safe Travels Hawaii program here.
If you are planning a trip to Hawaii, be sure to read all of our Hawaii coverage.