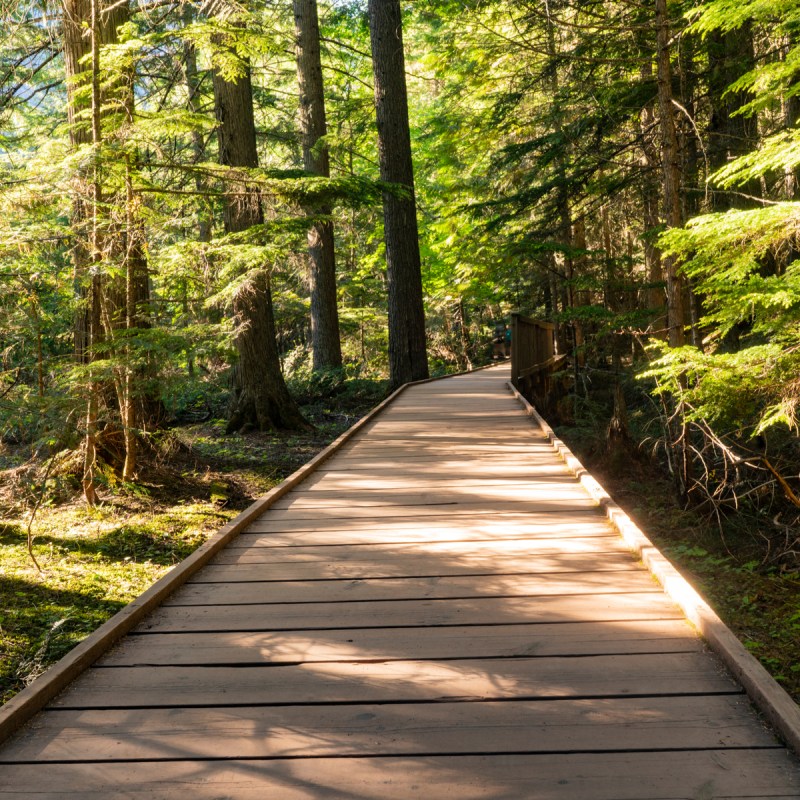 While the National Park Service has hiking trails through the most rugged landscapes in the country, there are a lot of people who just want to go for a short easy walk on a fairly flat surface — whether it's someone in a wheelchair, someone with toddlers, or someone who otherwise just wants or needs a fairly easy place to go for a stroll and experience the park.
I'm a retired park ranger. I've spent many, many hours at visitor center desks answering questions about which trails someone should take. One of the most frequently asked questions is for a recommendation for an easy hike for someone with limited mobility.
Whenever you visit a park, accessible hikes are shown on park maps, and you can always ask at the visitor center. If you're planning a trip and want to see what accessible areas there are in a park, just search for "NPS accessibility" to find the website of the NPS Accessibility office. It has a map, with a link to specific accessibility information for every park in the system, including hiking recommendations.
Most parks, big or small, make an effort to build and maintain at least one trail for accessibility. But let's face it, a lot of the areas chosen as parks are selected specifically because of their out-of-the-ordinary terrain, and some of the accessible trails offered are a bit of a compromise.
With that in mind, I've picked out some of the better accessible trails in the parks, and have tried to achieve a bit of diversity in terms of location around the country and in type of park (beach, forest, desert, etc.)
Pro Tip
If someone you know has a permanent disability that affects their mobility or other major life function, such as vision or hearing impairment — even diabetes — they're eligible for an Access Pass. The Access Pass gives free admission to national parks. And not always just to the pass holder. If the park charges by the car, the pass will probably get everyone in the car in for free. It can also save money on some other fees as well.
The Access Pass is free, and it's for a lifetime. You can get it at most national parks' visitor centers, or you can get it online (but there may be a processing fee). You're going to need to provide proof of a qualifying condition, so check out the details online.
1. Rodeo Valley Trail, Golden Gate National Recreation Area
Rodeo Beach is in the Marin Headlands section of Golden Gate NRA — the section of the park north of the Golden Gate bridge. It's a beach of colorful pebbles, coastal cliffs, and a lagoon with wildlife — a great birdwatching area.
Just northeast of the beach's lagoon you'll find the Rodeo Valley Trail. Park by building T1111. The trail is a 1.5-mile loop. It's an old ranch road, so it has a nice, wide natural surface with gentle grades.
The parking is accessible, and the restrooms are accessible. After the hike, the nearby beach is accessible as well. There are beach wheelchairs, and — in season — mats to make the beach accessible across the lagoon bridge.
Pro Tip: Call in advance to confirm the status of the beach mat and wheelchair availability.
2. Rim Trail, Bryce Canyon National Park
Southwest Utah's Bryce Canyon National Park has remarkably good access for most visitors in that a typical visit is done by driving or taking the park shuttle to viewpoints, getting out, taking a look, snapping some photos, then heading to the next viewpoint. The park's website has a list describing the accessibility of each viewpoint, as some are easier to access than others.
If you want an accessible trail, the bad news is your selection is limited. The good news is that your selection is limited to the most popular, and most scenic trail in the park — the Rim Trail. Several parking areas serve the rim trail, so getting there's not a problem. It's quite flat and has a paved surface.
If you're up for a bit longer hike and are able to walk on a trail that doesn't meet accessibility standards but is still mostly flat with few obstacles, try the trail at Rainbow Point. It offers views of majestic cliffs, panoramic hundred-mile vistas, bristlecone pines, and gets you out of the crowds that flock to the southern area of the park.
My big caveat for visits to Bryce Canyon is the elevation. The main park area is at 8,000 feet, and the area around Rainbow Point is over 9,000. Some people have trouble with the high elevation. There's a fix to this — lower elevation. In a half hour, you can be in the town of Panguitch, Utah, at 6,600 feet, or in an hour you can be in Kanab, Utah, at 4,900 feet.
Pro Tip: As a park ranger, I responded to a lot of people with altitude-related issues. For about $7 you can buy a pulse oximeter on eBay. That's the gadget they stick on your finger at the doctor's office to see how well your blood is oxygenated. Ask your doctor how to use it when traveling. A healthy reading for most people will be in the high 90s. Our healthy ranger staff at Bryce Canyon had readings in the mid-90s due to the elevation. Again, ask your doctor what number you should be concerned with when traveling. The sooner you know there's an issue, the sooner you can deal with it.
3. Desert Discovery Nature Trail, Saguaro National Park
Saguaro is located to the east and west of Tucson, and, like Bryce Canyon, is often visited by car.
However, if you want to get out and take a hike, there are two accessible trails — one on each side of the park.
My pick is the Desert Discovery Nature Trail, on the west side. It's a half-mile. It's paved. There are plenty of shade structures and benches, and lots of guidance in terms of exhibit signs — even an audio recording available from the visitor center for the visually impaired
The park hopes to develop another accessible trail near the western visitor center in the not-too-distant future, so stay tuned.
4. Simpson-Reed Grove Trail, Redwoods National And State Parks
Redwoods is a combination of federal and state parkland that goes by the combined "National and State Parks" banner. The transition between state and federal land in the park is fairly seamless.
The trail through the Simpson-Reed grove of redwoods is on state parkland. It's a bit less than a mile long and is quite flat. It's not paved, so those in a wheelchair may need some assistance. It offers a wonderful redwood forest experience — from nurse logs to ferns to flowing streams. It also has plenty of signs (or in Park Service terminology, "wayside exhibits") to help you learn about the forest.
If you want to capture the essence of a park in under a mile on just one trail, this is a good choice.
5. Trail Of The Cedars, Glacier National Park
Glacier National Park is known for rugged terrain, and accessible trails are in somewhat short supply. Fortunately, for those looking for an accessible trail, there's Trail of the Cedars. Located next to the accessible Avalanche campground with accessible flush toilets, the trail alternates between pavement and boardwalk. It's wide, and it meets accessibility standards. Having the trail adjacent to the campground makes it simple to go for a hike.
Guess what you're going to see on Trail of the Cedars? "Cedars" is the answer I'm looking for. In particular, these are old-growth cedars — they're really stunning in stature. And as a bonus, there's Avalanche Creek as well. The area is popular, but there is some wildlife viewing in the creek area early in the morning and as the sun begins setting.
6. Dingmans Creek, Delaware Water Gap National
If you're looking for an accessible hike to a waterfall, the Dingmans Creek Trail at Delaware Water Gap National Recreation Area is pretty easygoing.
The trail's a boardwalk. There are plenty of benches and handholds along the way. It's damp. There's lots of mist from the waterfalls. It's in the shade. There's a canopy of trees overhead.
This is a popular trail, so expect it to be congested mid-day, especially on weekends. If you're there early in the day, you're going to beat the rush.
7. Carriage Roads, Acadia National Park
John D. Rockefeller wanted to ride in a horse-drawn carriage through what is now Acadia National Park, so he built 45 miles of wide, broken-stone-surfaced carriage road.
This massive network makes Acadia National Park unsurpassed in accessible hiking opportunities.
Out of those 45 miles, there are some steep sections and some areas with erosion. And there are bikes and horses to deal with. That's no big deal if you're out for a walk, but those in a wheelchair will benefit from assistance.
With so much to pick from, ask a ranger where to find a section near you.