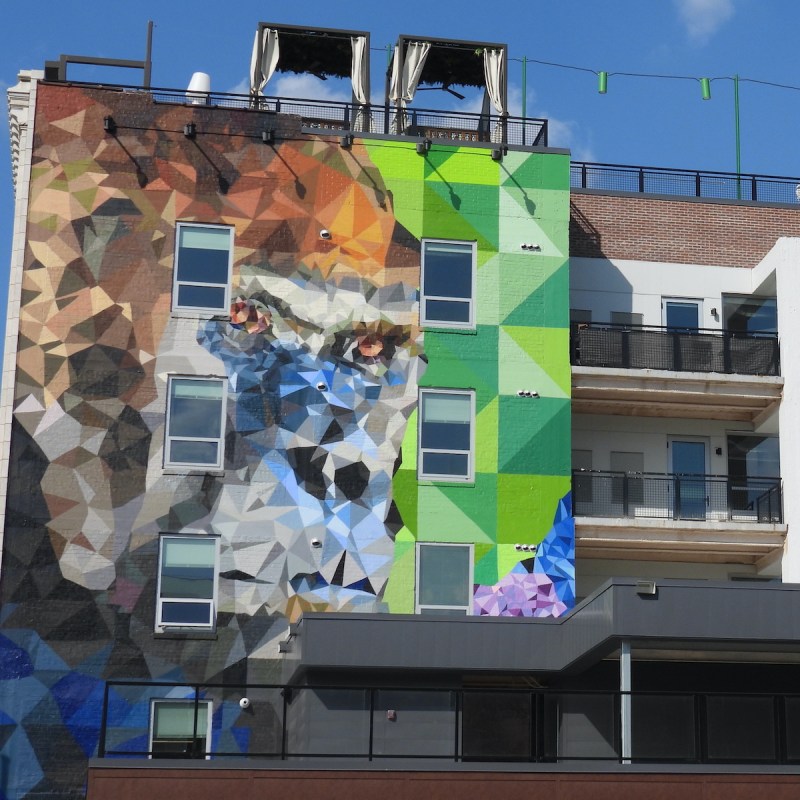 You don't need to visit museums anymore to take in beautiful art. Instead, hop in your auto — better yet, stretch your legs with a walk — and explore modern art through community murals and other public art. Midwestern cities have invested in creating murals and sculpture walks to help celebrate their history. Instead of a statue of a founding father or mother, you can explore a city and take in its history and culture through alley art and unique sculptures.
My wife and I are fans of public art. We believe it showcases a community's story, often with a nod to local history and culture. From Wichita's city flag murals to Omaha's South Omaha Mural Project, cities can easily tie their stories to works of art. Murals also create an opportunity to improve a neighborhood's beauty, as well as create a personal connection, such as Oklahoma City's Native American mural in Bricktown that honored my older brother John, who was an activist, actor, poet, and musician.
As communities discover that murals are an interesting way to help tell their stories and share culture, more have promoted them as part of their tourist attractions. As a public art fan, I find murals fascinating and fun. The creativity artists display is impressive, and no two paintings are alike.
Here's a look at nine unique Midwestern murals and public art projects.
1. Wichita, Kansas
Wichita's city flag was created more than 80 years ago but blossomed in popularity in recent years. With about 30 murals incorporating the city flag throughout downtown Wichita, and along Douglas Avenue, you'll find a mix of historical events and culture in the art. The flag, which combines a Native American sun symbol with unique shapes and colors, is strategically placed among the art pieces. Some paintings prominently display the flag as a centerpiece, while others use it in a subtle manner, from a flag on a boat to being a part of flowers.
Pro tip: Combine a mural walk with exploring other areas of Wichita, such as the Museum of World Treasures and the Old Cowtown living history museum.
2. Bismarck, North Dakota
Created in 2016, Reflections of North Dakota highlights some of the state's key attractions and historical figures, such as Lakota (Sioux) Chief Sitting Bull, Ebony magazine editor Era Bell Thompson (a University of North Dakota graduate), and Harold Shafer, who invented Mr. Bubbles. You'll also find cowboys riding bulls, as well as sunflowers and windmills. The alley art is located in downtown Bismarck and is a must-see when visiting. While there, check out the painted electrical boxes, featuring sunflowers and other creative designs.
Pro Tip: Bismarck offers an interesting look into North Dakota's history. From dinosaurs roaming the state to Lewis and Clark setting up their winter camp, you can learn a lot about North Dakota during a visit to Bismarck.
3. Dubuque, Iowa
History, art, and pop culture are the themes of the Voices Mural Project. Inspired by an art exhibit at the Historic Millwork District, more than 45 murals have been created since 2016 by artists from the region, as well as across the country. Ada Hayden, an Iowa botanist, and preservationist, may be the most recognizable mural among the downtown attractions. Created by Gaia, a Baltimore-based artist, the mural combines flowers and leaves with a portrait of Hayden. Among other murals are a man and his dog, monsters, as well as animals.
Pro tip: While in Dubuque, continue your adventure with a ride on the Fenelon Place Elevator.
4. Kansas City, Kansas
Kansas City can be described as a true multicultural city, with a diverse population, including Latinos, African Americans, Asian Americans, Native Americans, and Whites. With a look at the city's history and ethnic cultures, the Avenue of Murals consists of seven paintings downtown. From a look at an old-fashioned newspaper operation at the Kansas City Kansan, which called a downtown building home for eight decades, to multicultural paintings featuring Hispanic dancers from several areas of Mexico, Hmong residents, and Wyandot Native Americans. Visit the Argentine neighborhood for the block-long Anthology of Argentine Mural, tracing the history of Argentine immigrants to Kansas City.
Pro tip: While in Kansas City, take advantage of the ethnic dining available, such as the Taco Trail.
5. Rapid City, South Dakota
Created almost 20 years ago, Rapid City's Alley Art combines pop culture with political influences. You'll find colorful cartoon characters, monsters, and maybe even a minion. With a strong Native American population, Alley Art is home to murals sharing artists' social views, including Indigenous portraits. As home to Mount Rushmore National Memorial, Rapid City also features City of Presidents, a downtown sculpture walk featuring life-size statues of each American president. Presidents are added to the 15-block area following their time in office. The statues showcase the nation's chief executives in key moments or memorable occasions, such as Ronald Reagan wearing his trademark cowboy hat and boots.
Pro tip: Rapid City is part of an area home to Wall Drug and Badlands National Park.
6. Clay Center, Kansas
With a population of about 4,000 people, Clay Center leaders saw murals as a way to attract people to the town, about 90 minutes northwest of Topeka. Starting with plans to create one painting, A Mural Movement of Clay Center features at least 13 murals around town. From a mural featuring a farm at the grain mill to celebrate agriculture to a black-and-white painting depicting the flag raising at Iwo Jima, the art project is a fun way to explore the town, which is also the Clay County seat. Built in 1900, the county courthouse is a must-see with its Romanesque Revival design. Named to the National Register of Historic Places in 1973, the courthouse features a 65-foot-tall clock tower.
Pro tip: Check out 15-24 Brew House for locally crafted beer and a dynamite lunch and dinner menu, featuring burgers, salads, and steak.
7. Mason City, Iowa
The North Iowa community relishes its relationship with the architecture of world-famous architect Frank Lloyd Wright. From the last remaining hotel in the world designed by Wright to the Stockton House, the city is also home to other buildings designed using his Prairie School concept. The city also celebrates Wright's history through its public art, with downtown murals designed using the Prairie School design. While other murals highlight different styles of art, it's Wright that remains popular. The city also showcases the downtown area with a sculpture walk, featuring new exhibits each year, with some ending up as permanent displays, such as The Architect, which could pass for Wright looking at the Historic Park Inn Hotel from a park across the street.
Pro tip: Mason City is home to Thai Bistro, which features an outstanding menu of Thai and sushi.
8. Omaha, Nebraska
Omaha celebrates its history, culture, and pop culture interests with several murals scattered throughout neighborhoods, such as South Omaha, Benson, and North Omaha. Its South Omaha Mural Project shares the stories of the city's immigrants through a series of murals highlighting each ethnic group, such as Latinos, Czechs, Lithuanians, Germans, and Irish. The murals are located around the neighborhood. Benson's pop culture alley art is perfect for the eclectic neighborhood. North Omaha celebrates the city's African American history with several murals and sculptures, such as a mural honoring the Tuskegee Airmen and statues recognizing the area's jazz history.
Pro tip: Complement your historical mural walk with a tour of the city's international cuisine.
9. Kansas City, Missouri
With the Historical 18th and Vine District honoring legendary Negro Leagues Baseball player and manager Buck O'Neil and the Black Lives Matter movement, Kansas City is home to amazing murals honoring its past, recognizing unique art, and showcasing pop culture. While murals are located throughout the city, the Crossroads Art District features a bevy of impressive works. From the sublime to cartoon characters, you'll often find artists creating their masterpieces with spray paint. You can find the leaders of Star Trek's USS Enterprise on one block and then see a noir story being told on another building. From Mickey Mouse to King Kong, Kansas City is a mecca for murals. Another area to check out beautiful murals is the Power and Light District, where you can see art celebrating the city's professional sports teams, jazz, and Negro Leagues Baseball.
Pro tip: Kansas City is home to a lot of interesting attractions, such as the Harry S. Truman Presidential Museum and Nelson-Atkins Museum.
Public art can be found in a variety of locations: