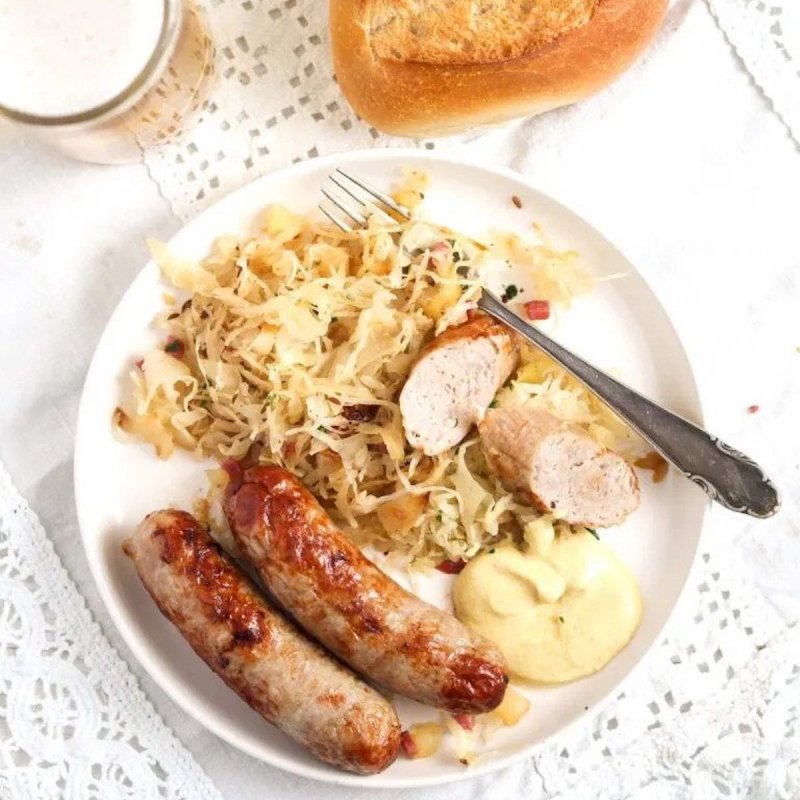 Nestled in the Alps in southern Germany, Bavaria is known for its fairytale castles, picturesque mountain villages, and thick forests. It's also the birthplace of Oktoberfest, an annual fall event that draws six million visitors to Munich, Bavaria's largest city.
Germany is the largest pork producer and the second-largest beef producer in Europe. As a result, many Bavarian dishes feature pork, beef, and veal. And, yes, bacon lovers may think they've discovered heaven on earth!
Bavaria's Alpine climate makes it the perfect place to grow cooler weather crops like potatoes, cabbage, and beets, so they are prominently featured in Bavarian dishes. And with the largest dairy cattle herd in the European Union, milk, cream, and cheese are also common ingredients in Bavarian dishes.
From appetizers to dessert, these are 15 can't-miss foods to try in Bavaria.
1. Schnitzel
The Sound of Music fans know that Maria was actually in Austria (and not Germany) when she listed schnitzel with noodles as some of her favorite things in a song she sang to the captain's children. But this breaded and pan-fried dish is also commonly served across the border in Bavaria. Schnitzel is typically made with thinly pounded veal or pork cutlets, but my family has long substituted boneless, skinless chicken breasts.
In a nod to its neighbor to the southeast, the most basic type of schnitzel found in Bavaria is Wiener schnitzel, named after the Austrian capital of Vienna. But you'll also see jägerschnitzel (topped with rich brown mushroom gravy), rahmschnitzel (topped with cream sauce), and Holsteiner schnitzel (topped with a fried egg) as alternatives.
Want to make schnitzel at home? Try this recipe.
Fun Fact: Just like bubbly wine from the Champagne region of France, Wiener schnitzel has protected legal status in Austria and Germany.
2. Spätzle
While Rodgers and Hammerstein chose to pair schnitzel with noodles in The Sound of Music, you're more likely to see it paired with spätzle when you visit Bavaria. Spätzle is made by mixing eggs, flour, and milk into a sticky dough and then slicing slivers of the mixture into boiling water. You'll commonly find buttery spätzle sprinkled with fresh parsley as a side dish. But you can also find spätzle tossed with shredded cheese (käsespätzle) which is the Bavarian equivalent of mac 'n cheese. In some cases, käsespätzle is also mixed with chunks of meat or mushrooms and served as a filling entree.
Want to make spätzle at home? Try this recipe.
3. Sauerbraten
This marinated and slowly simmered beef dish topped with tangy gravy is the Bavarian version of pot roast. It is typically served with either potato or bread dumplings, roasted root vegetables, or braised red cabbage.
Want to make sauerbraten at home? Try this recipe.
Pro Tip: Don't miss these beautiful places to visit in Bavaria, Germany.
4. Semmelknödel
While potato dumplings are common in northern Germany, semmelknödel (bread dumplings) are more popular in Bavaria. Made from dried chunks of leftover bread that have been mixed with egg, sauteed onion, and spices, you'll commonly find a semmelknödel or two sitting in a pool of spicy gravy when you order sauerbraten in Bavaria.
Make semmelknödel at home with this recipe.
5. German Potato Salad
If you're not a fan of the mayonnaise-laden mushy potato salad commonly served in the U.S., you might be tempted to visit Bavaria and not try the potato salad. This would be a terrible mistake since German potato salad, or kartoffelsalat is a much different dish. With chunks of bacon, brown mustard, and vinegar, German potato salad is a lighter dish that is typically served warm and quite different from the cold and creamy side dish served stateside.
Want to make German potato salad at home? Try this recipe.
6. Sauerkraut
Germany is widely associated with sauerkraut today. But did you know that fermenting vegetables dates back 4,000 years to northeastern China? Although it's far from a new concept, fermented foods like sauerkraut are enjoying a new day in the spotlight thanks to their health benefits.
Bavarian sauerkraut is typically a bit milder and sweeter than the kraut you find elsewhere in Germany, and it's frequently served with German sausages (like bratwurst).
Want to make Bavarian sauerkraut at home? Try this recipe.
7. Wurst
Known as wurst to the locals, you'll find a wide range of German sausages to sample in Bavaria. In fact, Germany boasts more than 1,500 varieties of sausages. Typically made from pork and beef, bratwurst is one of the most well-known German sausages. Look for them served grilled in a hard German roll (brötchen) and topped with spicy German mustard (senf). Another popular German sausage is bockwurst. Resembling an American hot dog, they are typically made from ground veal and pork and boiled rather than grilled. While you're sure to find bratwurst and bockwurst all over the country, weisswurst is a white sausage made of minced veal, bacon, and parsley that is a Bavarian specialty.
8. Rotkohl
While traditional sauerkraut is fermented green cabbage, rotkohl is sweet and sour red cabbage that is simmered with chunks of apples, red onion, sugar, vinegar, and spices. Yes, I'll sometimes cheat and use jarred rotkohl, but this Bavarian classic is a must-serve side dish when I make schnitzel and spätzle for my college kids when they are home.
Want to make rotkohl at home? Try this recipe.
9. Gurkensalat
Another side dish you'll discover on many menus in Bavaria is gurkensalat. Made with thinly sliced cucumbers, vinegar, sour cream, and fresh dill, creamy cucumber salad (gurkensalat) is another delicious dish to enjoy in Bavaria.
Pro Tip: Make creamy German cucumber salad at home with this recipe.
10. Beer
With its largest city as the site of the original Oktoberfest, Bavaria is certainly known for its beer (or bier in German). Each of the six Munich breweries hosts a beer tent, and from mid-September through the first weekend in October, more than six million people — many sporting lederhosen and dirndls — consume two million gallons of Münchener Bier.
But delicious Bavarian beer is brewed outside of Munich city limits. So after enjoying a buttery mug of Augustiner and a full-bodied stein of Spaten in Munich, check out Maibock, Märzen, Rauchbier, and Dunkel elsewhere in Bavaria.
Pro Tip: Despite the festival's name, most of Oktoberfest is held in September with the annual festivities ending the first Sunday of October. Get the most out of Oktoberfest in Munich with these tips.
11. Pretzels
Whether you sip your Bavarian beer from a ceramic stein or a sleek pilsner glass, chances are you'll want to pair your pour with a pretzel (brezel). Bavarian pretzels are soft on the inside, crunchy on the outside, and unlike anything you'll ever eat in the U.S. While Americans will commonly dip chunks of soft salty pretzels in highly processed nacho cheese sauce, Germans enjoy their brezel with Bavarian mustard or Obatzda.
12. Obatzda
You may have no trouble quickly listing delicious cheeses to enjoy in Europe — brie in France, gouda in the Netherlands, and Emmenthaler in Switzerland. But you may be shocked to learn that none of those countries produces more cheese than Germany. Therefore, no trip to Bavaria is complete without trying a schmear of Obatzda. However, this blend of soft cheese, onion, and spices can be a bit of an acquired taste.
Want to make Obatzda at home? Try this recipe.
13. Kaiserschmarrn
As we dig into dessert, Kaiserschmarrn is another Bavarian dish with ties to Austria. According to Alpine legend, Kaiserschmarrn was invented by a creative farmwife when the pancakes she was whipping up for Emperor Franz Josef I during an unexpected visit didn't turn out as planned. (Kaiserschmarrn loosely translates to "the emperor's mishmash.")
Kaiserschmarrn is made by whipping up a large pancake, tearing it into smaller pieces, and topping it with powdered sugar. It is commonly served with a side of applesauce or preserves.
Try a gluten-free vegan version of these bite-sized rum-soaked raisin pancakes at home with this recipe.
14. Lebkuchen
Lebkuchen is a traditional German Christmas treat. They are made by baking cake-like dough on a white wafer and then dipping the creation in a clear sugar or dark chocolate glaze. I describe lebkuchen as a piece of spice cake on a communion wafer that's been wrapped in chocolate.
Lebkuchen batter ranges from sweet (also known as Honigkuchen or honey cake) to spicy (also known as Pfefferkuchen or pepper cake). It also typically includes spices (like cinnamon, cloves, nutmeg, and ginger), chopped or sliced nuts, and candied fruit (like orange or lemon).
As the setting for the Nutcracker Ballet and the country that began the tradition of decorating a Christmas tree, no holiday visit to Bavaria would be complete without enjoying lebkuchen.
Pro Tip: Whip up a batch of lebkuchen at home with this recipe.
15. Apple Strudel
Americans have apple pie, and Bavarians have apfelstrudel (apple strudel). This classic Bavarian dessert fills a flaky pastry dough with chopped apples, almonds, rum-soaked raisins, and cinnamon. While it can be served warm topped with vanilla ice cream, we love it topped with fresh whipped cream (especially when a splash of rum is added to the heavy cream before it's whipped).
Try it at home with this recipe that makes the strudel dough from scratch (rather than using phyllo dough as a shortcut).
From cheese dip with pretzels to schnitzel with spätzle, these are the 15 foods you can't miss when you visit Bavaria.
Bavaria offers visitors views of alpine peaks, charming villages, and vast, enchanting forests: