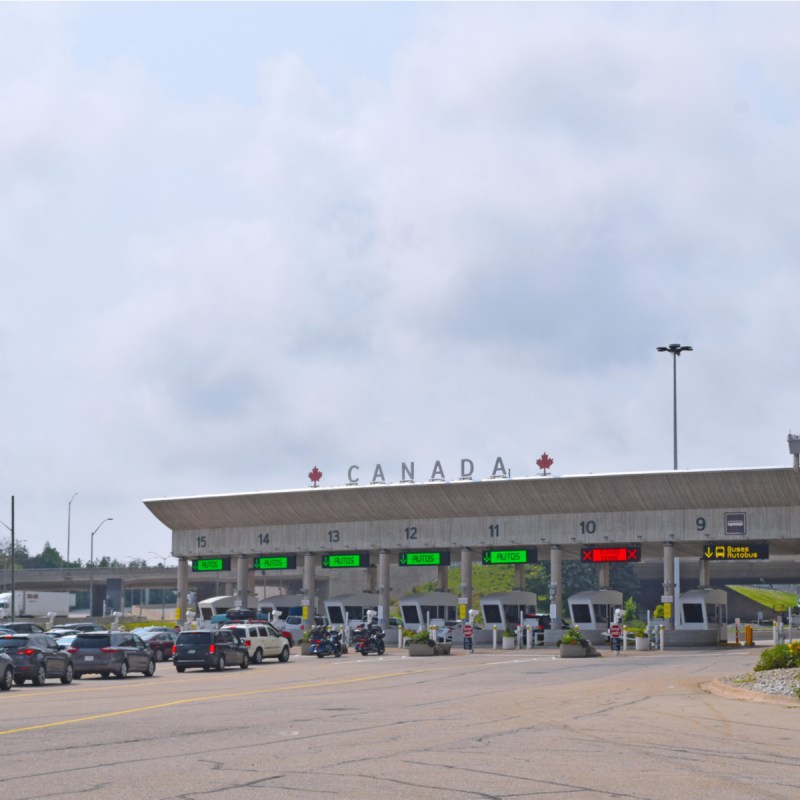 Canada's border closed to American tourists in March 2020 as the number of COVID-19 cases began to grow. Now, 17 months later, Canada is poised to once more welcome tourists — although important restrictions will be in place.
Beginning August 9, the Canadian government will allow fully vaccinated American citizens and permanent residents who currently live in the U.S. to enter Canada for non-essential travel, including tourism. They need to have received their last dose of a Canada-approved COVID-19 vaccine 14 days prior to arrival. They also must meet other specific entry requirements.
If the "domestic epidemiologic situation remains favorable," the Government of Canada announced that on September 7, it will open Canada's borders to all fully vaccinated travelers who meet the same entry requirements.
Allowing fully vaccinated Americans in early allows Canada "to fully operationalize the adjusted border measures ahead of September 7, 2021, and recognizes the many close ties between Canadians and Americans," the Government of Canada explains.
"Canadians' safety and security always come first. With rising vaccination rates and fewer cases in Canada, we can begin to safely ease border measures," Patty Hajdu, Canada's Minister of Health, said. "A gradual approach to reopening will allow our health authorities to monitor the COVID-19 situation here and abroad. Canadians have worked hard and sacrificed for each other, and because of that work, we can take these next steps safely."
The Government of Canada also pointed out that while the people of Canada look forward to welcoming fully vaccinated travelers from the U.S., it will continue to closely monitor the epidemiological situation. Furthermore, border measures "remain subject to change as the epidemiological situation evolves."
Strict Entry Requirements
Here's what will be required to enter Canada for non-essential travel:
First, travelers must wait a minimum of 14 days after their last dose of a COVID-19 vaccination. All travelers over the age of five years old must take a COVID-19 molecular test and receive a negative result before traveling to Canada.
All fully vaccinated travelers must then provide the Canadian government with their COVID-19-related information — submitted electronically using Canada's ArriveCAN app or its web portal before arriving in Canada.
Travelers must also be asymptomatic upon arrival and have a paper or digital copy of their vaccination documentation — in English, French, or with a certified translation — they can show a government official upon request.
Importantly, because vaccination rates are rising in Canada and the number of COVID-19 cases is declining, fully vaccinated travelers from the U.S. who meet all other requirements and arrive in Canada on or after August 9 will not need to complete a mandatory quarantine upon arrival. That said, all travelers must present a suitable plan for quarantine for their time in Canada — and be prepared to quarantine in case it is determined at the border that they do not meet all necessary requirements.
As you expect, travelers will be required to follow all public health measures, which include mask mandates and continually monitoring for signs and symptoms of COVID-19. They also must keep a copy of their vaccination documentation, test results, and a list of close contacts and locations they have visited for 14 days after entering Canada.
The process, understandably, is complex. If you are planning to visit Canada, you probably have lots of questions. Here's what else you need to know:
Accepted Vaccines
Beginning August 9, American citizens and permanent residents traveling to Canada must have received the full series of a vaccine — or a combination of vaccines — accepted by the Government of Canada at least 14 days before arrival in Canada. Those vaccines must be manufactured by Pfizer-BioNTech, Moderna, AstraZeneca, or Janssen (Johnson & Johnson).
Travelers can have received their vaccines in any country. However, they must provide vaccination documentation in English, French, or with a certified translation accompanying the original documentation completed in another language.
Acceptable COVID-19 Tests
All travelers five years old and older must provide proof of a negative COVID-19 test result to enter Canada. Only results from a molecular test will be accepted. Results from antigen tests will not be accepted.
You can learn more about accepted types of COVID-19 tests here.
When To Get Tested
If you will be flying into Canada from the U.S., you must take a COVID-19 test within 72 hours of your flight's scheduled departure time. Keep in mind that airlines will not allow travelers who are unable to provide a valid molecular test result to board planes bound for Canada.
If you have a connecting flight, the test must be conducted within 72 hours of the scheduled departure time of your direct flight to Canada. Depending on your itinerary, that may mean you need to schedule the test in a transit or layover city.
If you will be driving to Canada, you must take a COVID-19 test in the U.S. within 72 hours of your planned entry.
Pro Tip: All travelers must take proof of their negative test with them. A paper or electronic copy must show the person's name and date of birth, the name and address of the facility which administered the test, the date on which the test was conducted, the type of test conducted, and the test's result, Canada's government explains.
The ArriveCAN Platform
International travelers must complete a Canada Health Declaration Form to enter the country so the government has the means to monitor potential imported cases of COVID-19. This information includes travelers' date of arrival, port of entry/flight details, purpose of travel, contact information, COVID-19 test details, recent travel history, and plan for quarantine in case it is needed.
The health declaration form must be completed in Canada's ArriveCAN platform. To download and install the mobile ArriveCAN app, you'll need an Apple device running iOS 12 or above, or an Android device running OS 6 or above. Alternatively, you can use the ArriveCAN online portal.
Pro-Tip: ArriveCAN is free to use. "Be wary of sites that ask for a payment," the Government of Canada cautions. "There are several third-party hoax sites that charge money."
COVID-19 Testing Upon Arrival In Canada
Beginning August 9, tourists entering Canada from the U.S. will not need an on-arrival COVID-19 test unless they are randomly selected for a mandatory molecular test at the border.
Kids Under 12
The Public Health Agency of Canada explains that after August 9, unvaccinated children under 12 years of age, or unvaccinated dependent children, who are U.S. citizens or permanent residents currently residing in the U.S. will be able to enter Canada if they are traveling with a fully vaccinated parent or guardian. However, those children must still meet all other required criteria, including submitting information electronically through ArriveCAN and completing all testing requirements.
Unvaccinated Travelers
Until further notice, unvaccinated tourists cannot enter Canada. At a press conference last month, Prime Minister Justin Trudeau said it will be "quite a while" before unvaccinated tourists can travel to Canada.
Returning To The U.S.
The U.S. Customs and Border Protection has announced that American citizens and permanent residents who traveled to Canada after August 9 will be allowed to return to the U.S. Returning home from such a trip has been deemed "essential travel" by the agency.
Know Before You Go
If you are planning a trip to Canada after August 9, you'll want to know about the country's COVID-19 vaccination rate. As of July 30, about 55 percent of Canada's total population is fully vaccinated. Just over 70 percent of the total population has received at least one dose of the COVID-19 vaccination.
If you are planning to travel to Canada after August 9, be sure to read all of our Canada coverage.