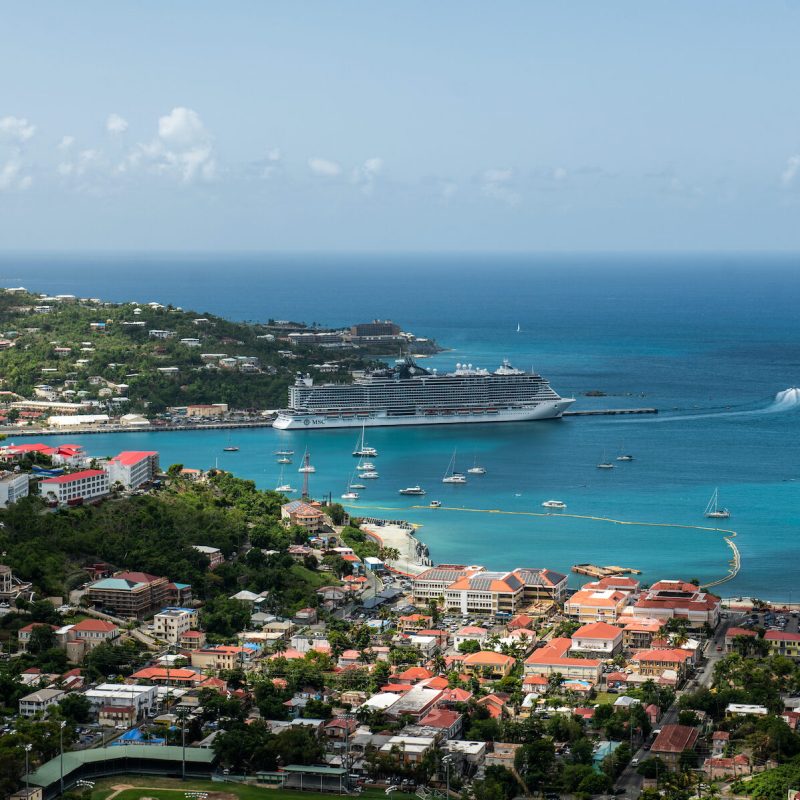 Passengers on any ship sailing the Caribbean scheduled to stop in the U.S. Virgin Islands must be fully vaccinated, according to a new rule effective immediately.
The USVI government has informed cruise lines of the new rule, and it will immediately impact a Royal Caribbean sailing. The Allure of the Seas sailing August 8 includes a stop in St. Thomas. The company has told passengers booked for the cruise of the sudden change.
"The Government of the United States Virgin Islands has informed us of their plans to require all passengers 12 years and older traveling aboard a cruise ship to be fully vaccinated in order for the cruise ship to be allowed entry into St. Thomas," the message reads. "The latest requirement will impact all cruise ships scheduled to call on St. Thomas in the near future."
The message goes on to tell passengers they must provide vaccination documentation in order to board the ship. Those who cannot or refuse can contact the company to get a refund, rebook for a later date, or change their itinerary to a different voyage.
The USVI government has not released any information about the change, but Governor Albert Bryan Jr. said the coronavirus pandemic is causing the territory to realize its worst fears.
"I see the jokes and the internet memes, and I hear the debates, and while most are very entertaining, the sobering reality is that this is as dire a situation as our healthcare system has ever faced," Bryan said Monday. "We are at a turning point, Virgin Islanders. And this debate about whether to take the vaccine is not worth your health and safety."
Less than 45 percent of the USVI population is fully vaccinated, while 53 percent have received at least the first dose. The small territory has had 4,663 cases since the outbreak and 39 deaths, including two in the past week.
"I believe that we as Virgin Islanders should be able to enjoy all the freedoms that every other American enjoys," Bryan said. "Having said that, I must also face the grave truth that as a leader, I have to make decisions that are for the betterment of our entire community over those individual rights. The time is coming when we are going to have to make such a decision if we do not get the cooperation of the public."
Royal Caribbean noted it was not clear why the change has been made, but the surge in new cases from the Delta variant is the likely cause. Many of its cruises depart from Florida, and the cruise line noted that the state is setting records for hospitalizations and cases.
Royal Caribbean noted one other change in its sailings due to a new rule in St. Kitts, which allows a maximum of 700 passengers to visit their island per ship. As a result, the Allure of the Seas will bypass St. Kitts and dock in St. Maarten instead.