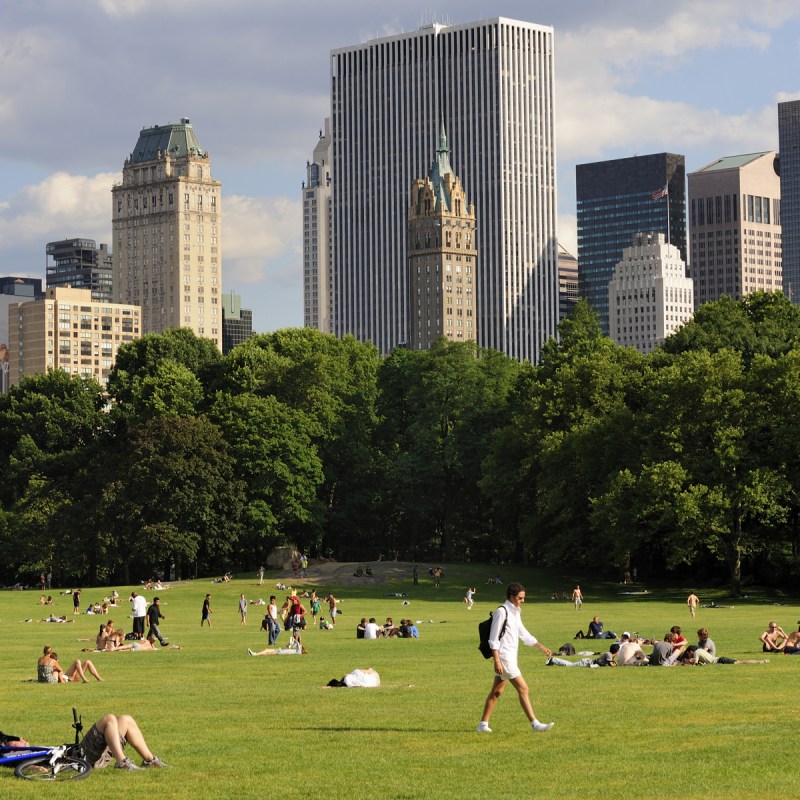 Roughly 60,000 people are expected to be in New York City's Central Park on August 21 for a free, star-studded concert celebrating "New York City's resilience and comeback from COVID-19."
The concert, called We Love NYC: The Homecoming Concert, is part of the city's NYC Homecoming Week — running August 14 to August 22.
"This concert is going to be a once in a lifetime opportunity," New York City Mayor Bill de Blasio told The New York Times. "It's going to be an amazing lineup. The whole week is going to be like nothing you've ever seen before in New York City."
Mayor de Blasio went on to say in a statement, "This is a celebration of our city, and of every working family who faced — and overcame — incredible challenges last year."
The concert, which will be produced by veteran New York City music producer Clive Davis — and Live Nation — will be held on Central Park's Great Lawn at 5:00 p.m., on Saturday, August 21. Gates will open at 3:00 p.m.
"New Yorkers know that their city is waking up and coming back strongly — and I can't think of a more uplifting way to celebrate than to enjoy live music from some of the world's most renowned artists, on the Great Lawn of NYC's Central Park," said Danny Meyer, Board Chairman of the NYCEDC and CEO of Union Square Hospitality Group.
The Concert Lineup
We Love NYC: The Homecoming Concert is expected to last approximately three hours.
There will be a lot of performers from numerous musical and entertainment genres. The scheduled performers include Bruce Springsteen, Andrea Bocelli, Carlos Santana, Paul Simon, The New York Philharmonic, and many more acts. You can see the complete list of performers here.
It should be pointed out that proof of COVID-19 vaccination will be required for all attendees. However, since the concert will be held outside, and there will be a vaccination requirement, mask-wearing will be optional.
How You Can Go
Importantly, 80 percent of the tickets for the concert will be free.
Free tickets, as well as VIP tickets for sale, will be released to the public in batches. You can find all of the ticket details — including release times for all batches of tickets — here.
Don't worry if you would love to see the concert but don't live in NYC. We Love NYC: The Homecoming Concert will air worldwide exclusively on CNN, CNN International, and CNN en Español. You can also watch it on CNN.com/go on a desktop, smartphone, and iPad; or via CNNgo apps for Apple TV, Amazon Fire, Android TV, Chromecast, and Roku.
Wait, There's More
In addition to We Love NYC: The Homecoming Concert, NYC Homecoming Week will host other live concerts — produced by the Universal Hip Hop Museum — in the Bronx, Staten Island, Brooklyn, and Queens. The weeklong event will also feature free movie screenings by Rooftop Films, cultural activities, public art, and numerous other events intended to "support the mom-and-pop businesses that define our neighborhoods and that kept the heart of our city beating throughout the COVID-19 pandemic," according to the official website of NYC.
You can learn more about NYC Homecoming Week here.